The world of marketing has undergone a technical revolution. Over the last two decades, marketers' ability to serve content directly to audiences has increased vastly. Platforms that enable marketers to deliver targeted messages, buy media programmatically and automate distribution have changed the marketing landscape dramatically.
As a result, content marketing has become an industry of its own to augment and assist marketers' efforts to sell their brands.
According to the Content Marketing Institute, "Content marketing's purpose is to attract and retain customers by consistently creating and curating relevant and valuable content with the intention of changing or enhancing consumer behavior. It is an ongoing process that is best integrated into your overall marketing strategy, and it focuses on owning media, not renting it."
It is about promoting you brand or business by sharing educational and entertaining information that adds value to people's lives with the aim to ultimately inspire a purchase decision. Content marketing is about encouraging potential customers towards a decision that is in their best interest (and, hopefully, yours).
But what about the way that marketers collaborate on, plan, and produce content? Many marketers still rely on spreadsheets and emails to manage their marketing. These manual tools offer little opportunity to improve "upstream" marketing operations. This is where content management platforms (CMPs) come in.
A Content Marketing Platform is a software solution that enables marketing organizations to centralize and streamline their upstream marketing processes from beginning to end, including planning and briefing to collaboration and approvals.
While different Content Marketing Platforms have different purposes, their main aim is to assist enterprise brands in solving difficult coordination and management challenges and garner concrete business successes by improving the efficiency of the content management process, increasing the effectiveness of content, and reducing risks to brands.
In short, Content Marketing Platforms help marketers ensure that the content that gets targeted, served, and optimized in the distribution phase of their process is meaningful, engaging, on-brand and compliant.
It also helps you save time in the creation and the promotion of content, while the measurement can focus on the wider business objectives, going beyond the social KPIs.
When it comes to CMPs, there are plentiful options. Choosing one of them is a major decision that will profoundly influence the efficiency of your organization and the satisfaction of your team. Doing thorough research and carefully considering your options before committing to a platform is crucial.
---
Best Content Marketing Platforms For 2022:
---
Brand24 is one of the most powerful online monitoring tools available today. It's used by the likes of Uber, Intel, and Ogilvy, proof that it acts as an effective reputation management tool. Brand24's feature set includes Mentions Feed, a place to track what people are saying about your brand online; Discussion Volume Chart, a graphical interpretation of discussions about your brand that could lead to positive or negative publicity; Alerts that show when there's a spike in brand mentions, blog visits, or any other specific metric. Having access to this much information only makes sense if you can do more with it. Brand24 offers exports and filtering capabilities to help you dig deeper into data.
---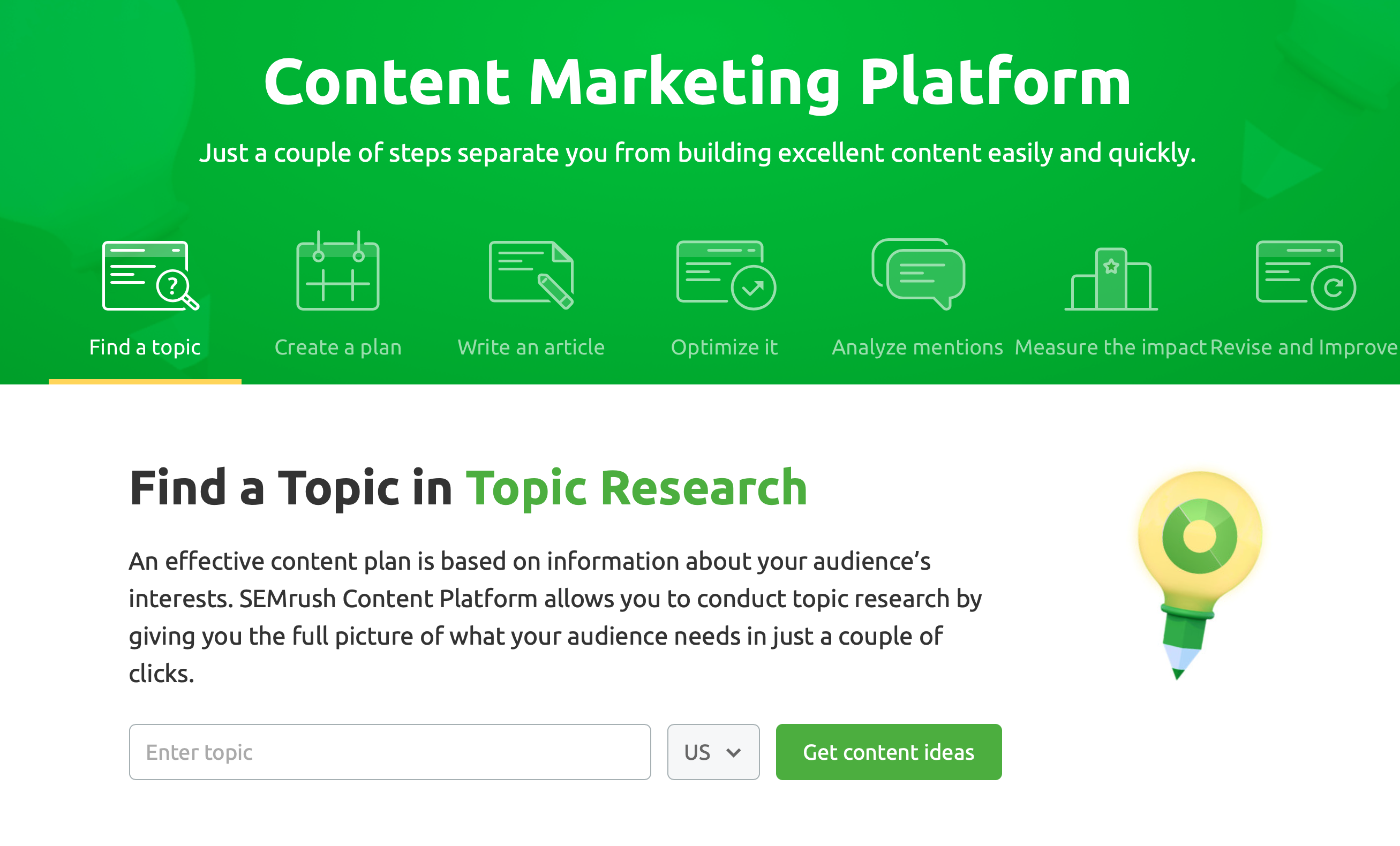 Price: Starting at $199.95/month for the Guru subscription 
SEMrush Content Marketing Platform covers the complete content marketing workflow from ideation to creation, optimization and measurement. The platform aims to help an entire content marketing team to create and execute a data-informed content strategy based on their audience's needs. 
The SEMrush CMP allows you to compile a content plan with great SEO potential by finding popular topics, headlines and questions. It lets you manage an editorial calendar and marketing activities with your colleagues and track your progress in one place. 
Also, the platform generates briefs featuring actionable optimization tips based on your competition in search results. A handy Google doc add-on ensures your content is SEO friendly and meets your audience's expectations on the go.
You can automate your content audits based on your own criteria, combining data from Google Analytics, Google Search Console and SEMrush. The platform helps you to quickly analyze your guest posts or any content published on third-party websites. Finally, it lets you find content promotional and backlink opportunities based on mention analysis.
A 7-day free Guru trial is available to try out all the functionality of the platform. Apart from the CMP, a user gets access to SEO, competitive analysis, PPC, and social media tools within SEMrush.
---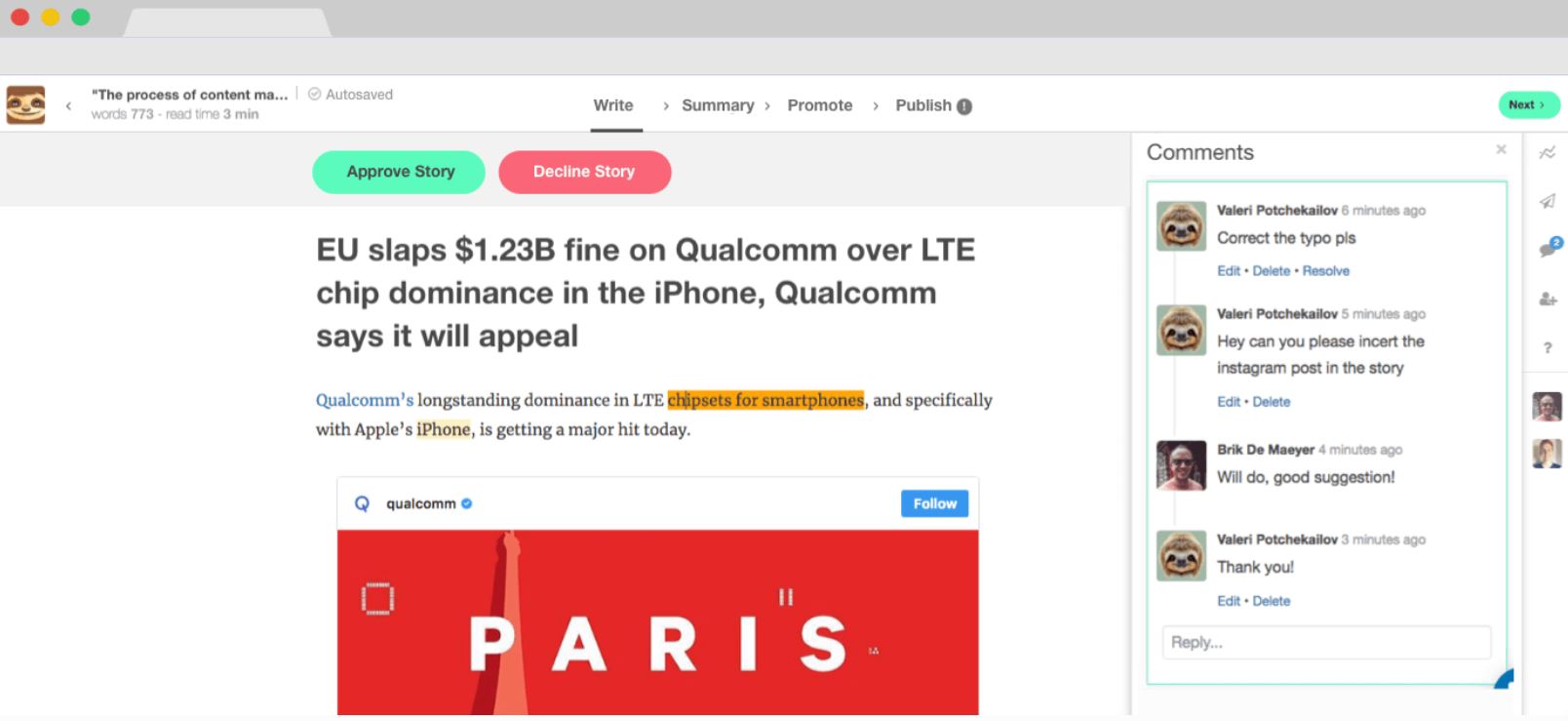 Price: $10/month (starting price)
StoryChief is an editorial CMP that allows you to create and publish interactive articles across multiple channels at the same time. This means it is possible to publish an article simultaneously in channels such as Medium, WordPress, Shopify, etc. as well as in social media channels and Mailchimp.
StoryChief is an especially useful platform if you want team members to collaborate and be able to review each other's work. When an article is created, users can get notifications that there is something new for them to review. By making the link to the article public everyone can view the story in read-only mode.
It has a simple and easy to use design and stories can be grouped into campaigns, which makes it easy to track the success of the content and analyze it compared to other stories from the same campaign.
A useful feature is that StoryChief allows you to see the success of your SEO keywords immediately in the article. A content calendar allows you to plan future articles.
Paid plans are based on the number of articles you want to publish every month and the features you'll need. A free trial is also available.
---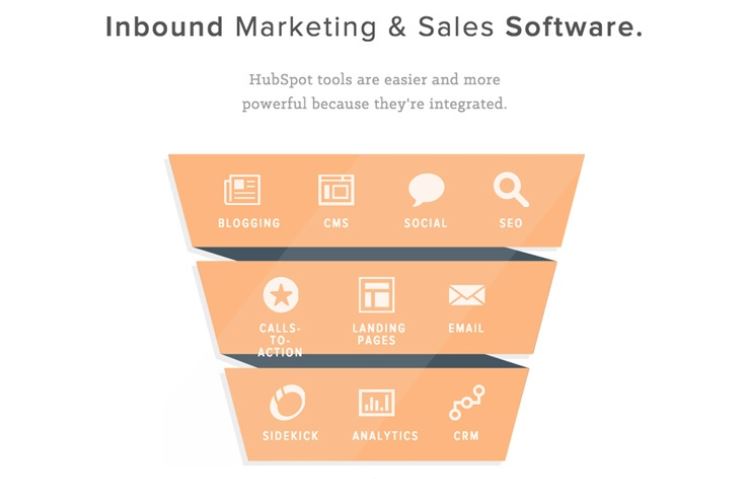 Price: Free (limited features) to Enterprise ($3200/month)
HubSpot is an inbound marketing tool that offers both a marketing hub and a tool for sales and customer service management. The marketing hub helps marketers create quality content, while the sales hub lets you target customers and manage your contact lists professionally.
Hubspot's marketing hub provides tools that allow you to blog, and guide you in SEO, social media, email, landing pages, marketing automation, and web analytics. You can either integrate the software into your current website, or build your entire website on HubSpot as it acts as a content management system (CMS) as well.
The sales platform generates leads and gets in touch with prospective customers. It has various helpful options like calls, emails, scheduling meetings, appointments and creating to-do lists and keeps track of emails and calls for future use. It has a full-funnel marketing system which helps marketers build, administer and distribute emails with the help of their marketing tools and applications.
---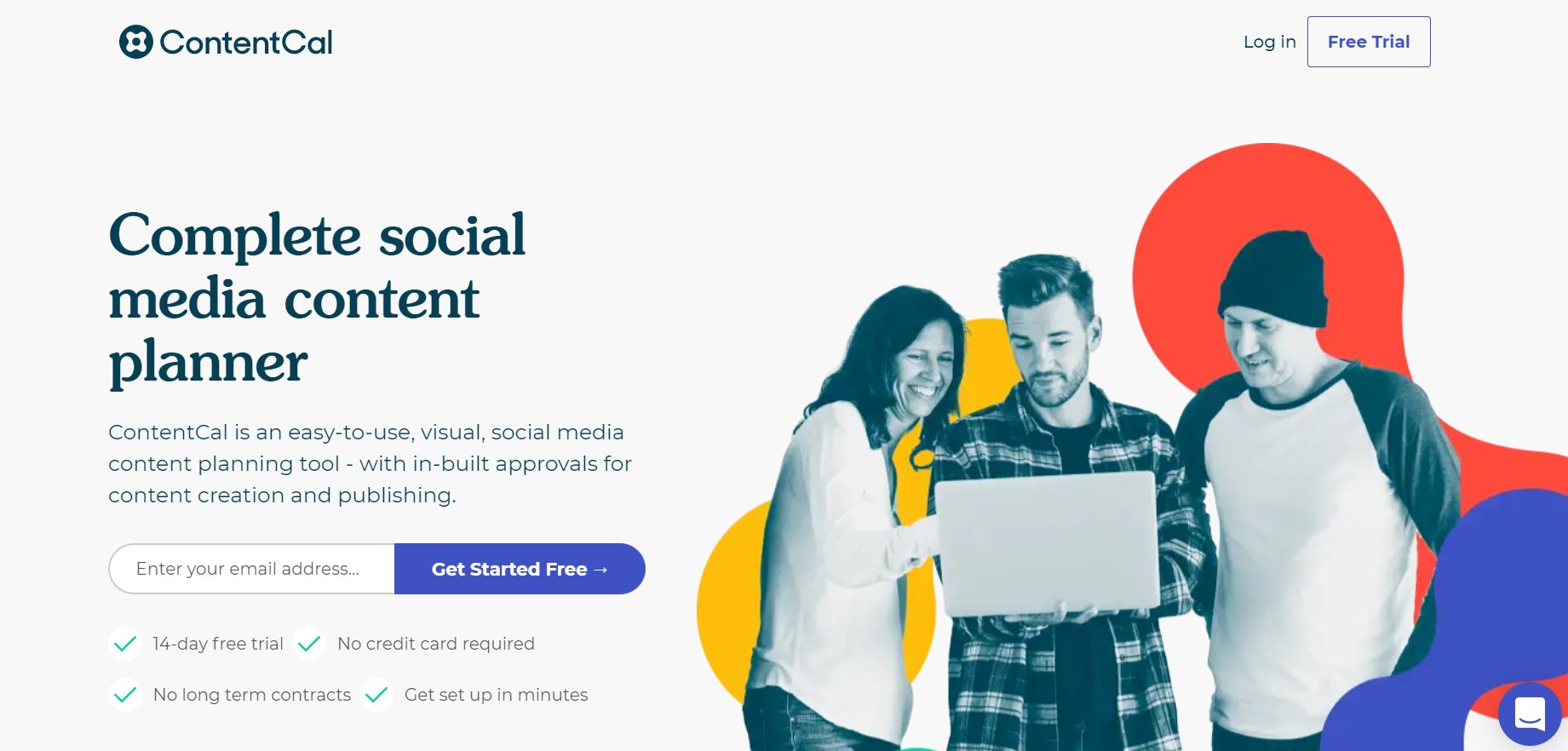 Price: $37/month to $119/month (custom pricing for the Expert plan). A 20% discount applies for annual payment.
ContentCal makes it quick and easy to manage your content marketing planning and processes. It is a multipurpose content marketing platform that allows you to plan, create, collaborate, publish and analyze your content. In addition, it has in-built approval flows to help streamline the process and avoid bottlenecks.
ContentCal is at its heart a visual calendar. It features a well-organized interface requiring little learning curve from the user. You will find nearly an hour of tutorial videos covering almost everything the platform has to offer.
The platform uses color-coding to give users an at-a-glance understanding of where they're at with their queue. The colors also make it easy to ensure there is a balance of content types.
One timesaver is the ability to create Snippets, repetitive text that goes into each piece of content. You can pre-define as many different strings of text as you wish.
ContentCal automatically adds each post to your Content Hub Library. You can also add ideas here and return to them later to create a post. With Contributions, you can create custom-made forms to collect content ideas and suggestions from customers, clients, and your team members.
ContentCal's Advanced Analytics helps you measure your success, identify content marketing growth opportunities and analyze all your social data. You can view your performance across organic social, paid social, and your website. 
The platform has a limited range of important inbuilt integrations, such as Google Drive, Dropbox, and Bit.ly. However, it also integrates with Zapier, meaning you can design a connection with thousands more apps.
---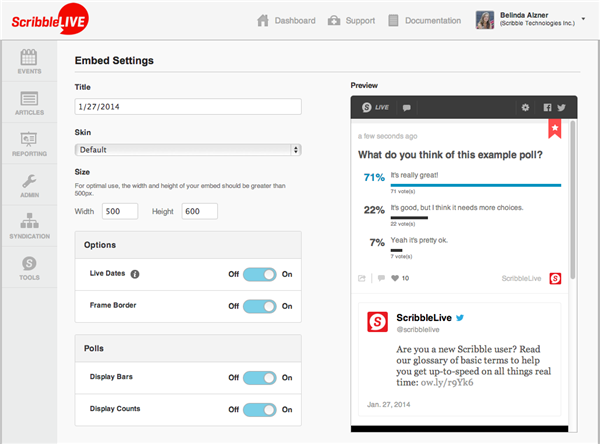 Price: Starting at $2500/month for the PRO version
ScribbleLive is a content cloud provider that allows companies to manage the lifecycle of their content – from ideation, to planning, creation, distributing and measurement – across the buyer's journey. It is an all-in-one SaaS system aimed at marketers that combines predictive analytics with content planning, creation and distribution technologies to deliver optimized business results.
The software lets you create premium visual, video and interactive content. It allows you to publish in multiple channels, it tracks conversions and has a social media manager. It also lets you plan your content management strategy with an editorial calendar and accommodates live publishing, making it great for promoting live events and in-venue engagement.
ScribbleLive is used by over 500 businesses including global brands such as Red Bull, Ferrari and CNN.
---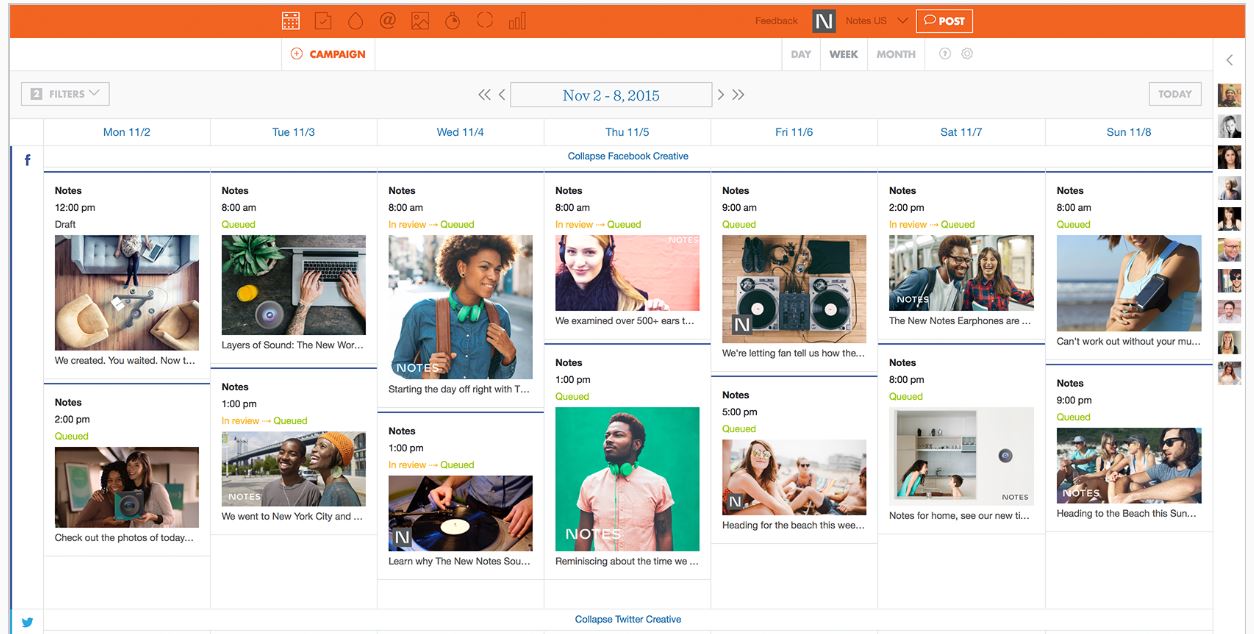 Price: Not provided by vendor
Percolate is an end-to-end CMP that offers content management, brand management and social media management.
Its asset management library lets you store all your content in one place, organized by client and into different subcategories, or however you may need them. It has a seamless and simple-to-use content approval workflow which makes sending and receiving approvals from clients easy.
Percolate's social media scheduling system allows you to sync up all your social platforms and easily post to each one. Its scheduling capability is great for planning several weeks of social posts at a time. The calendar planning tool lets you look at your social content in a more holistic manner. It is great for analytics and evaluating campaign effectiveness. The mobile app makes on-the-go social listening and posting fast and easy. One draw-back in terms of content management, is that you won't be able to assign tasks which means you have to find a workaround to let team members know when there is a new brief.
Percolate is used by Google, General Electric and Cisco and in 2018 was named one of the world's best CMPs by Gartner Research.
---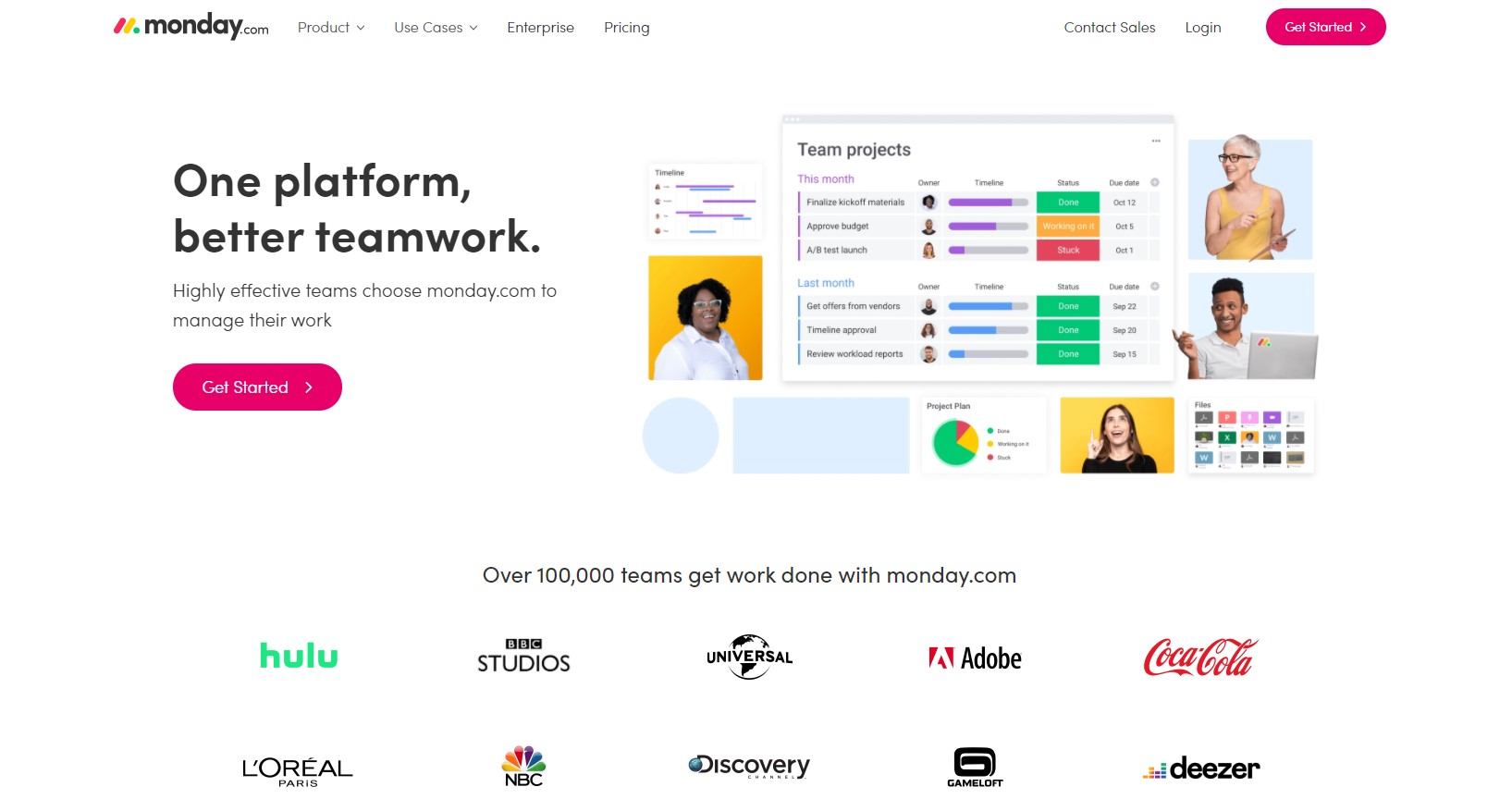 Price: $8/seat/month to $16/seat/month
Monday.com helps you organize, collaborate, and execute an effective marketing strategy across a single visual platform. You can organize all your content pieces by publish date and easily assign writers, designers, and editors to every post.
Monday.com is a visual platform that helps you manage your team's work, and you can use it for much more than just content marketing. The easy-to-use, visual interface lets any team member jump in and get started, no training required. You start with one of more than 200 templates or drag and drop 30+ column types to customize the workflow. You can show your data in many different ways, depending on the plan you choose, including Kanban, calendar, timeline, Gantt, map, form, workload.
Realistically, you should select at least the $10/seat/month Standard plan if you intend to use Monday.com to manage your content marketing, as you only gain access to timeline and calendar views at this price point. With this plan and above, you can also set automated actions on your board to boost your workflow. You can also integrate with your other apps, including Gmail and Outlook.
---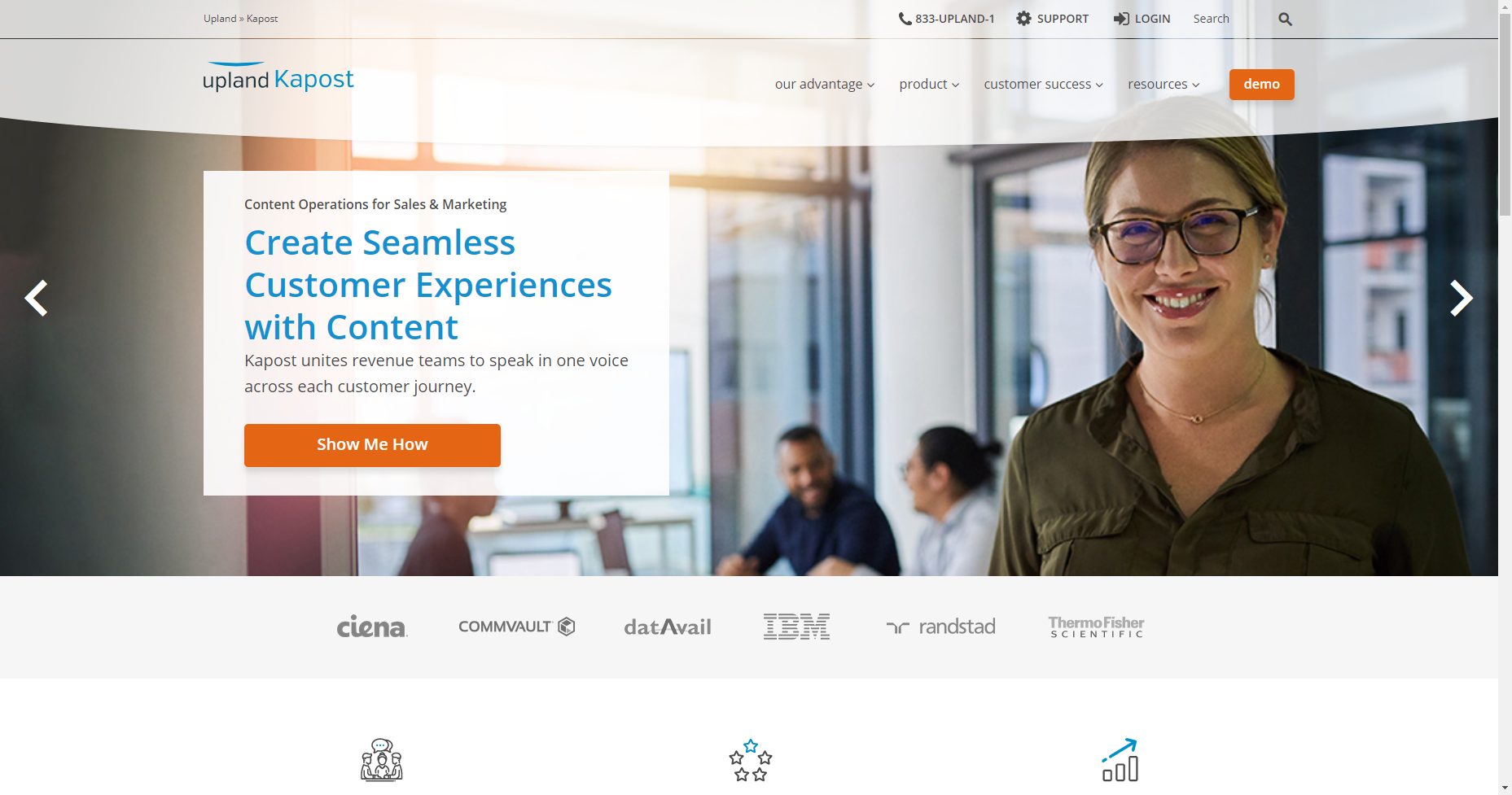 Price: $1200/month to $3000/month
Kapost not only lets you manage your editorial processes from beginning to end, but will help you deliver the right content to the right person at the right time. Kapost gives you the ability to create and update workflows easily and let team members give each other feedback directly in the tool during all creation stages.
The product has a content store of documents much like Google Docs/Drive where you can see the status of each asset, the next steps, the author and the submission deadline. You can edit content directly in Kapost and designate metadata properties such as which client it is for (useful for agencies), deadlines, buying stages, tags, twitter status, etc.
You can brainstorm content ideas, onboard and organize writers, run the content production process and calendar, distribute content, promote it, and measure results with Kapost. The program works best for written content but can also accommodate video, tweets and eBooks.
---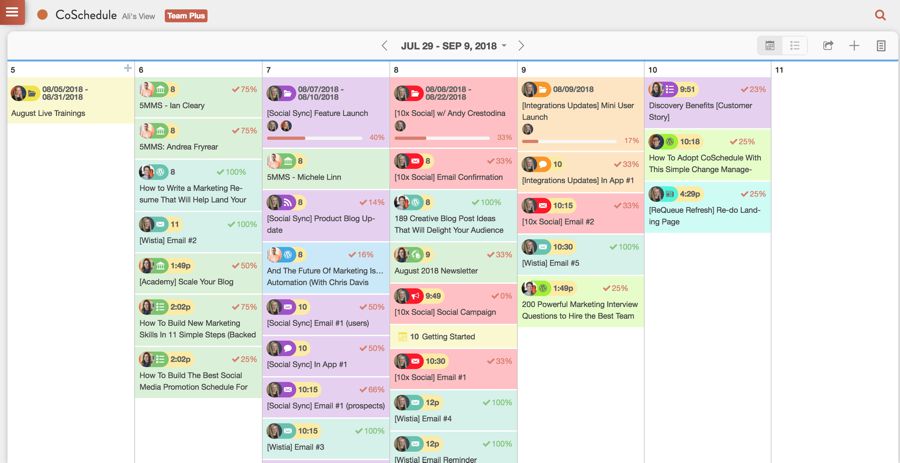 Price: $49/month (Essential) to $300/month (Professional)
CoSchedule calls itself a marketing project management platform although it is more an editorial calendar and social media marketing tool.
It lets you create tasks, add discussions and assign tasks to team members. Its handy ReQueued feature lets you identify and repost popular content. For instance, if you published a blog post a two years ago that is still popular and relevant, you can repost it on your social media profiles.
CoSchedule has a built-in text editor that allows you to write content in the tasks page or if you're already using another word processing program like Google Docs, the platform has the capabilities to let you upload your doc and process it from there.
---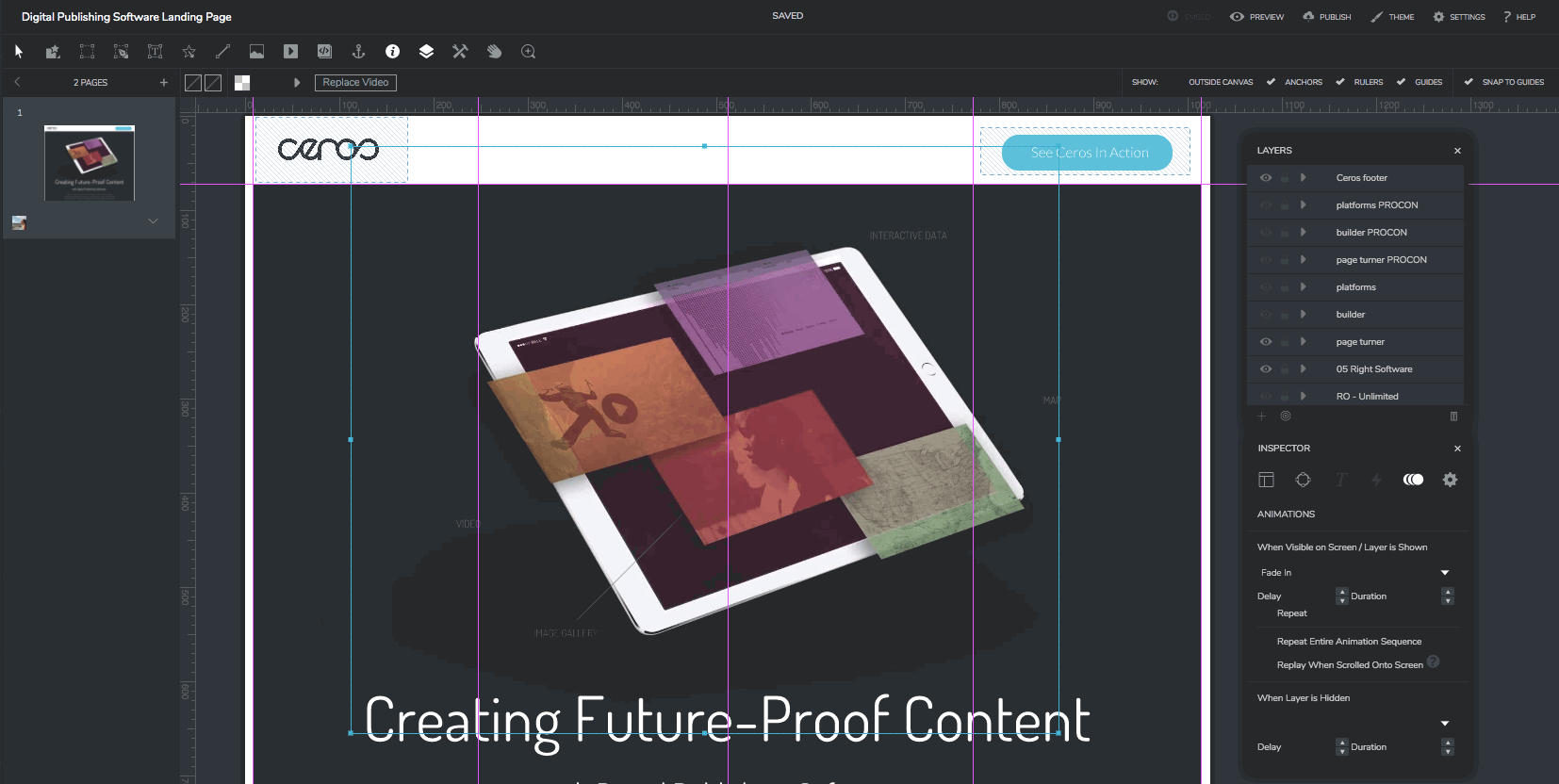 Price: Not provided by vendor
Ceros is an experiential content creation platform that enable marketers and designers to create interactive and immersive content experiences without traditional development or code. It's more design and layout than it is a text-based content management system.
Using a cloud-based canvas, Ceros' design studio lets users design beautiful digital content freely by dragging and dropping assets into the canvas and using its tools to create the design they want. The design canvas has a range of animation and interactive effects the you can apply to your content to bring your ideas to life. Preview your content in real-time as you build it.
Ceros also provides easy ways to share interactive content. Any content created in Ceros can be incorporated into a website or blog as standalone web pages or embedded assets. The platform also allows you to publish and distribute your content on Facebook and other landing pages. Published content can also be edited or updated easily. With the URL and embed code, Ceros lets you change an already published item and republish it.
Ceros also has an analytics tool that lets you track how your audiences are consuming your content.
---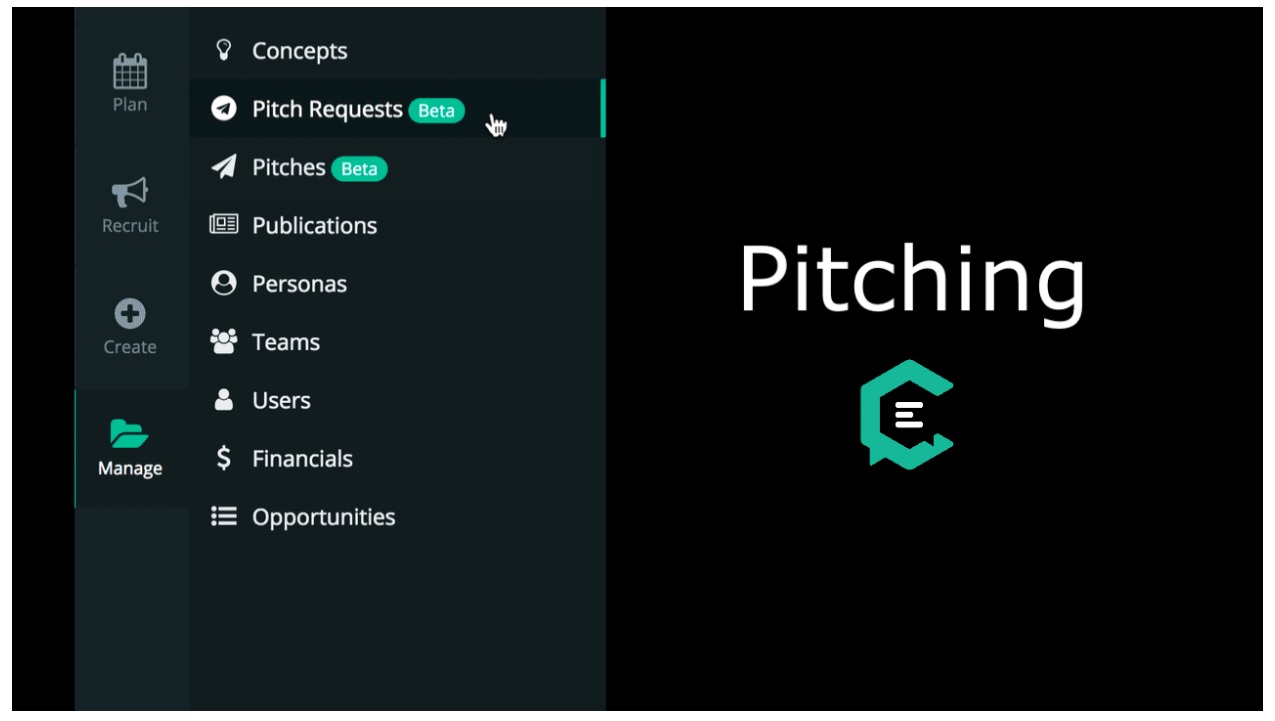 Price: $249/month (Standard Plan) to $1449 (Managed Plan)
ClearVoice does everything a regular CMP does, but is also a freelance marketplace where you can get the best freelance writers and editors suited to your needs. It allows you to search for journalists, influencers and bloggers within a certain budget and lets you request pitch ideas for articles, as well as see pitches for articles from freelancers.
It's a really easy way for agencies, marketers and brands to connect with content writers.
Freelancers on ClearVoice have to submit their level of experience and qualification which allows the site to recommend them to marketers according to their needs.
ClearVoice is a perfect fit for online media companies but is also used in sales and marketing. The CMP accommodates most files such as images, videos and text and lets you gather all your data necessary for a project in one place an organize it. It has a handy collaborative editing feature that allows team members to edit each other's work in real-time. Its filter options allow you to manage several campaigns at the same time without getting your data mixed up. Track the progress of your assignments and automate features such as follow-up emails to your freelancers or team members.
---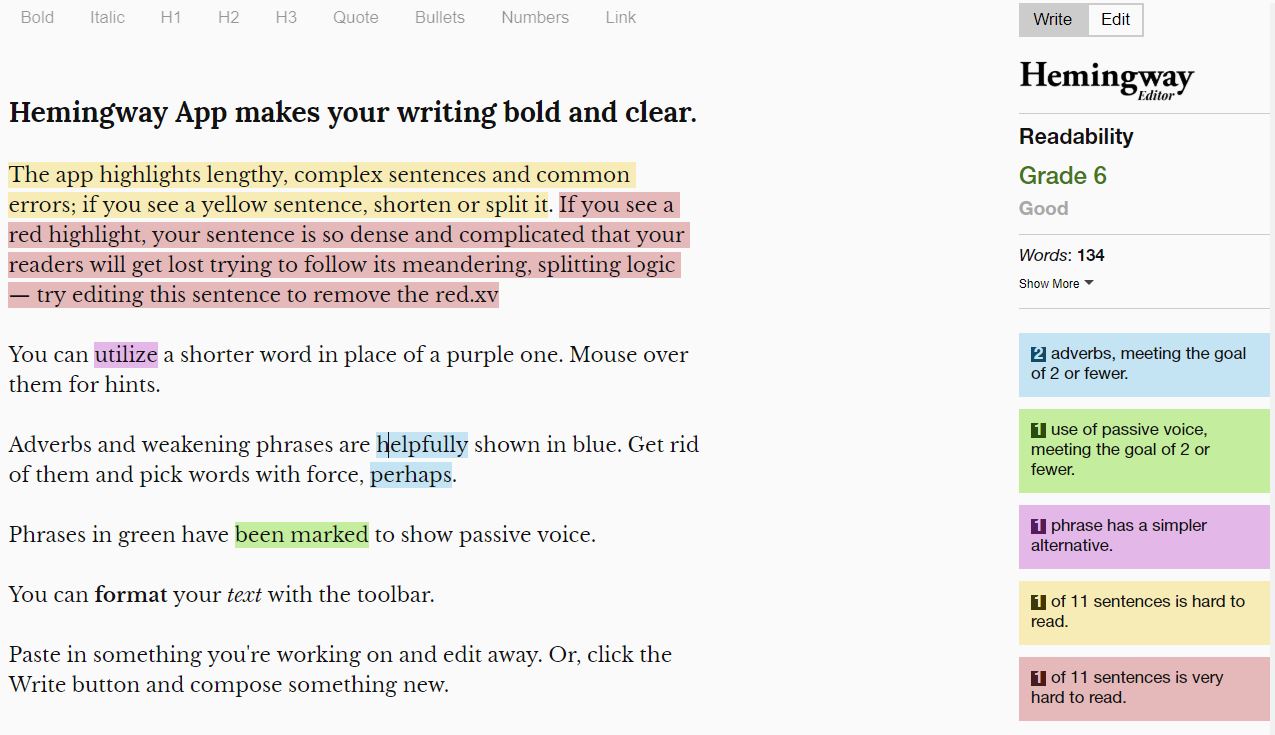 Price: Free (Online version) to $19 (Desktop app)
The Hemingway app makes your life as an editor super easy! It is a simple-to-use word processing and proofreading tool that can be accessed online or by downloading the desktop app. It can also be integrated with platforms such as WordPress and Medium to make your writing and editing in those systems seamless.
The app highlights long and complicated sentences and errors. For example, if you see a sentence is highlighted in yellow, shorten or split it. If you see a red highlight, it means your sentence is so dense and complicated readers will get lost trying to understand it. Formatting tools include bold and italic font styles, bullet points and headline formatting.
The Hemingway Editor can import copy from Microsoft Word and other word processing software. This means you don't have to copy and paste between programs as you work. Once you've finished revising your text in the app, you can export it as a PDF or Word document file.
---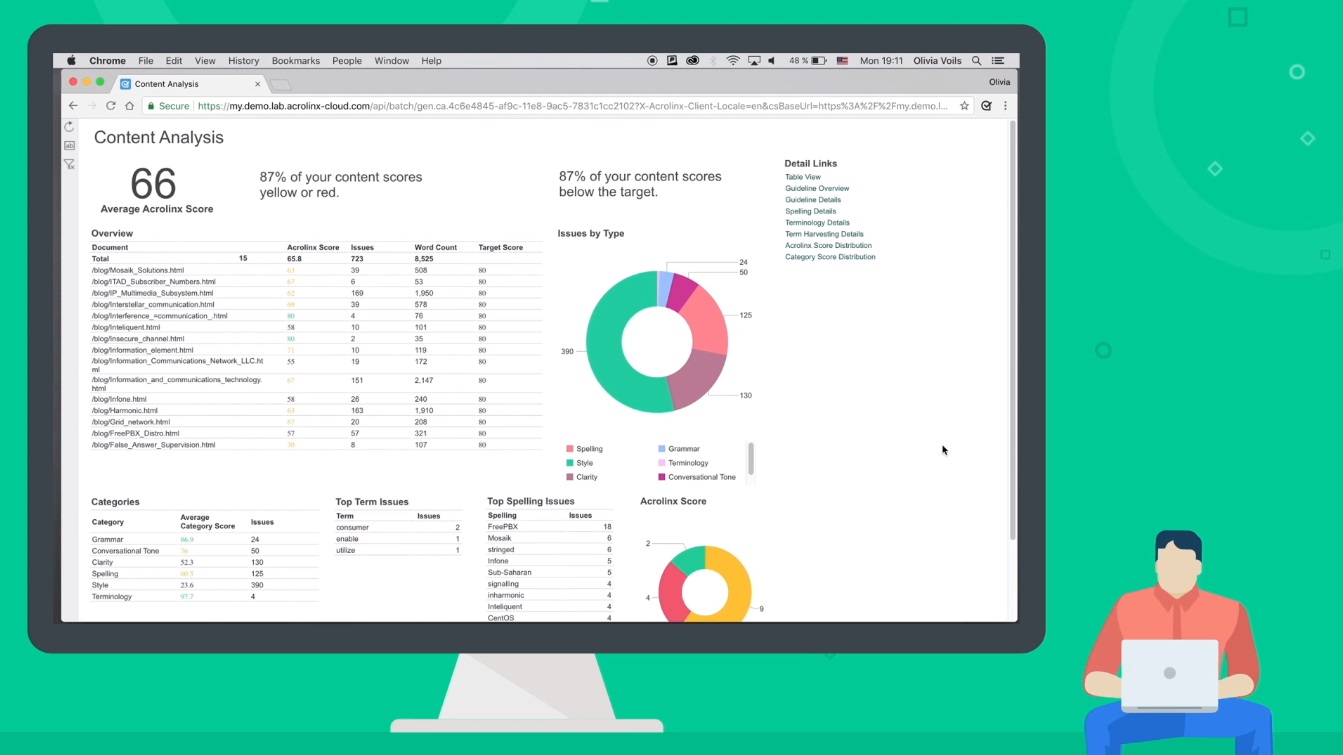 Price: Not provided by vendor
Acrolinx is a CMP that uses Artificial Intelligence to learn the style and goals of your content to help you stay on-brand and on-message with every piece of content you create. As you create content, Acrolinx gives you real-time feedback based on what it's learned. It helps you write more clearly, consistently, and in line with your brand. It even guides your tone of voice depending on the type of audience and in which medium you are writing for at any given moment. The program can be installed as an add-on in your web browser which allows you to apply its analytics and editing suggestions anywhere you work.
---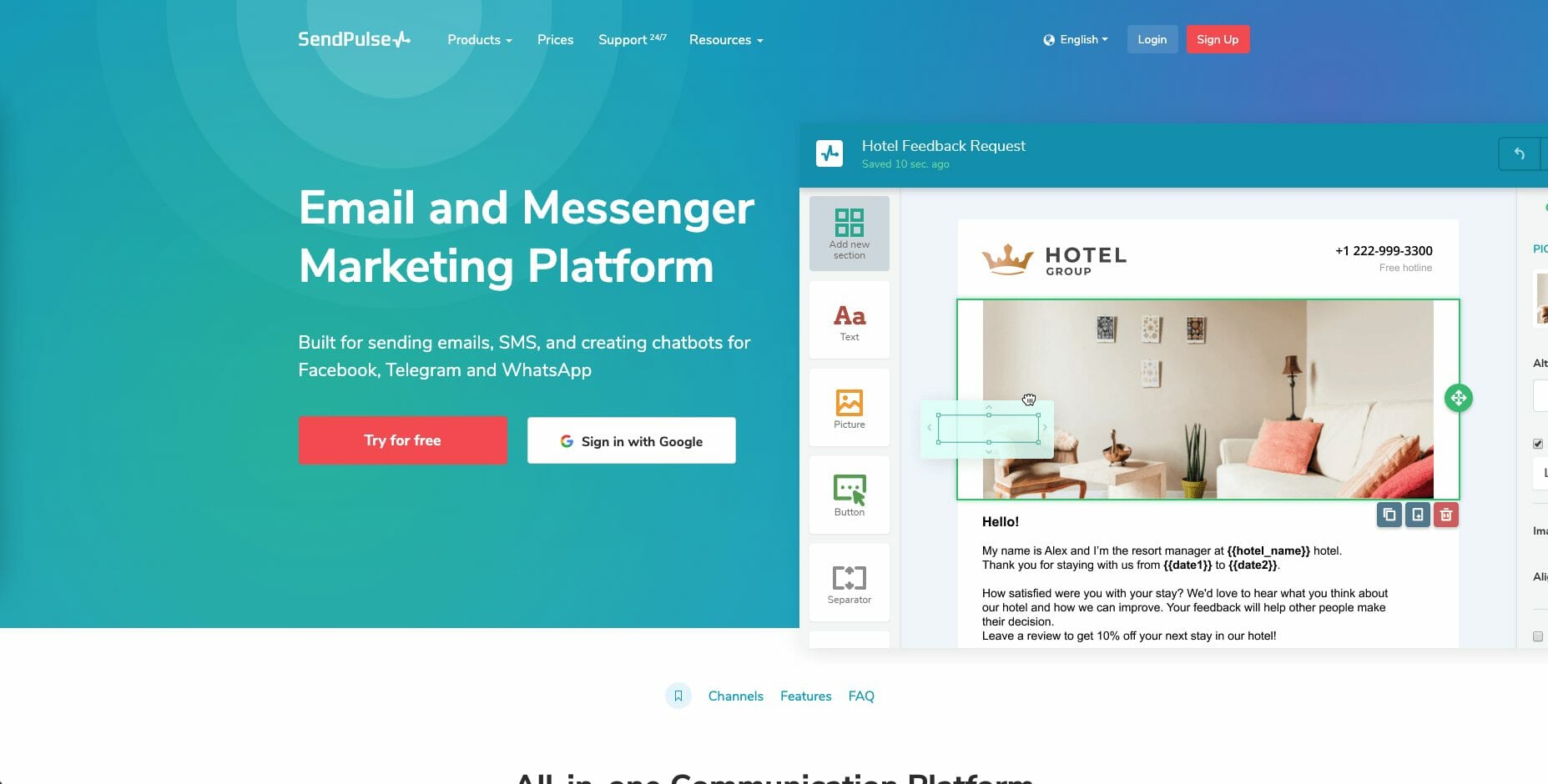 SendPulse is a multi-channel marketing platform. It brings together the most critical components that brands rely on to communicate with buyers. You get email marketing and automation, the ability to develop and implement web push notifications, rollout SMS messaging, and leverage chatbots on platforms like Facebook Messenger and Telegram. While using a tool like this may seem intimidating, much of the platform is designed to streamline marketing. Emails are built using an intuitive drag-and-drop editor, and you can create and manage chatbots and conversation flows using triggers in a few easy steps. SendPulse also comes with over 40 integrations with apps you're likely using or plan to use. These include Salesforce, Typeform, Shopify, Slack, WordPress, PayPal, Zapier, and more.
---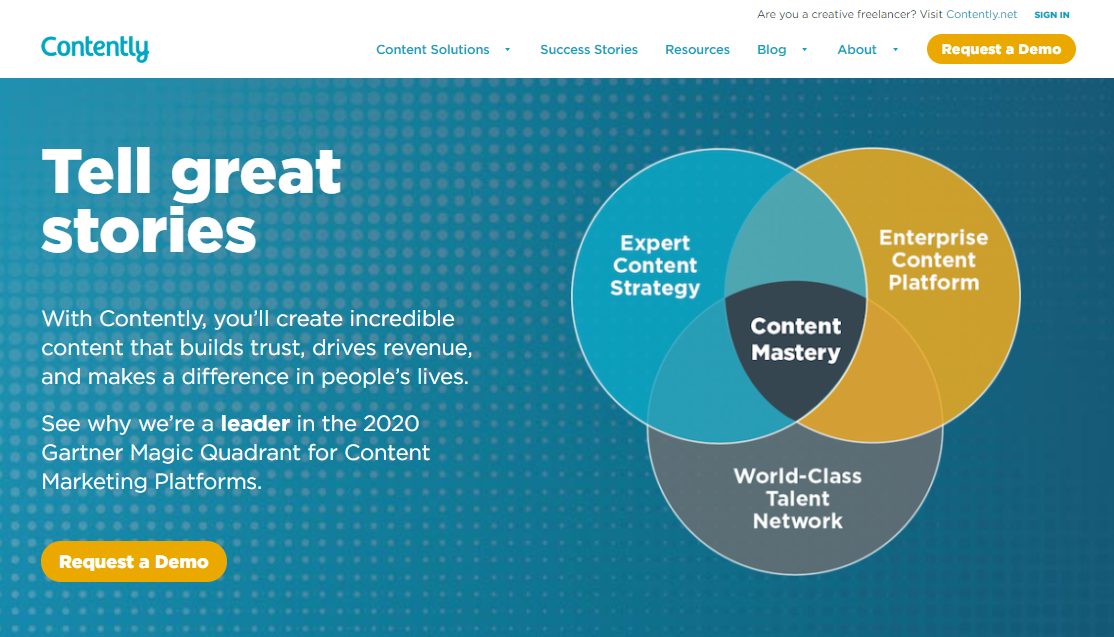 There's a reason why Contently has been recognised as a leader in Gartner's Magic Quadrant for Content Marketing Platforms. Contently is robust and built for enterprise usage. It offers brands all they need to plan and create content, engage with their audiences, and optimize their output for the best results. Contently acts as a core component of your martech stack. While it connects to your CMS and host of other integral apps, it also offers powerful analytics and access to contributors to help you produce amazing content. The platform handles all the aspects of contributor interactions, from finding the right person to do the job to tracking all the content and sign-offs you need to publish your brand's best work. What's more, you get a content calendar to manage all campaigns, ensuring that you stay on top of everything marketing.
---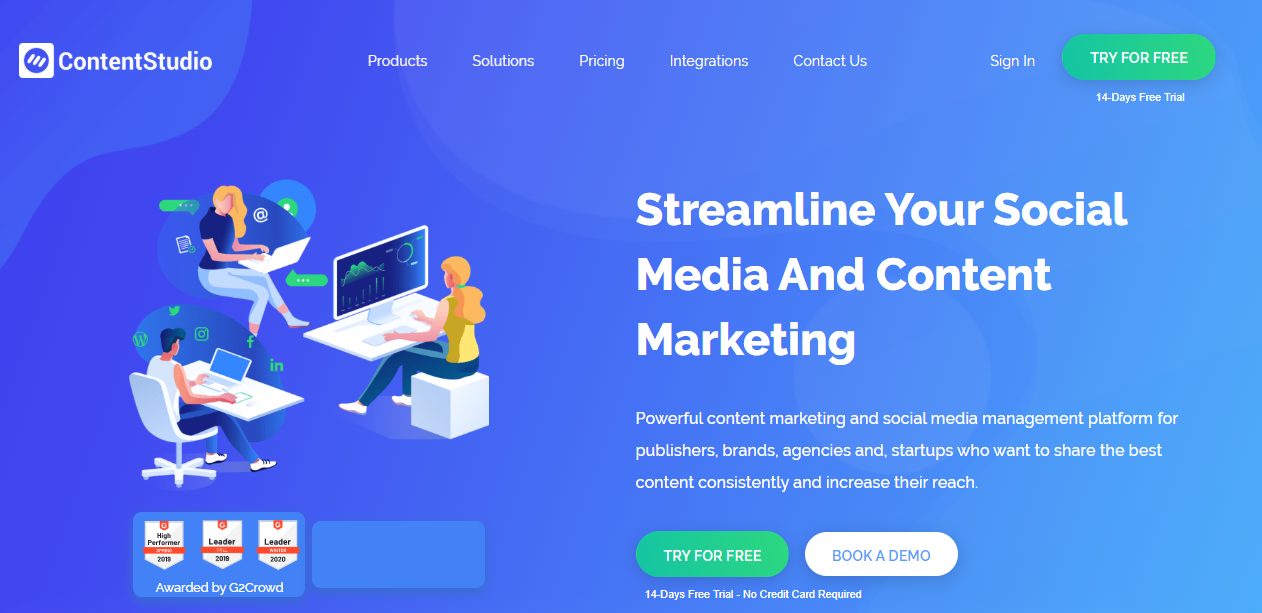 Contentstudio is an all-in-one platforrm worth taking a closer look at. It's designed to help brands discover, plan, publish and track their content marketing efforts. And when it comes to delivering engaging content, these are all the functions you'll need from a content marketing platform. Discover helps you find and analyze performing content for your industry, Planner adds structure to teamwork and collaboration with an easy-to-use calendar, Publisher helps schedule content delivery, and analytics make measuring and reporting on marketing performance clearer. Contentstudio is also AI-powered and offers drag-and-drop content creation.
---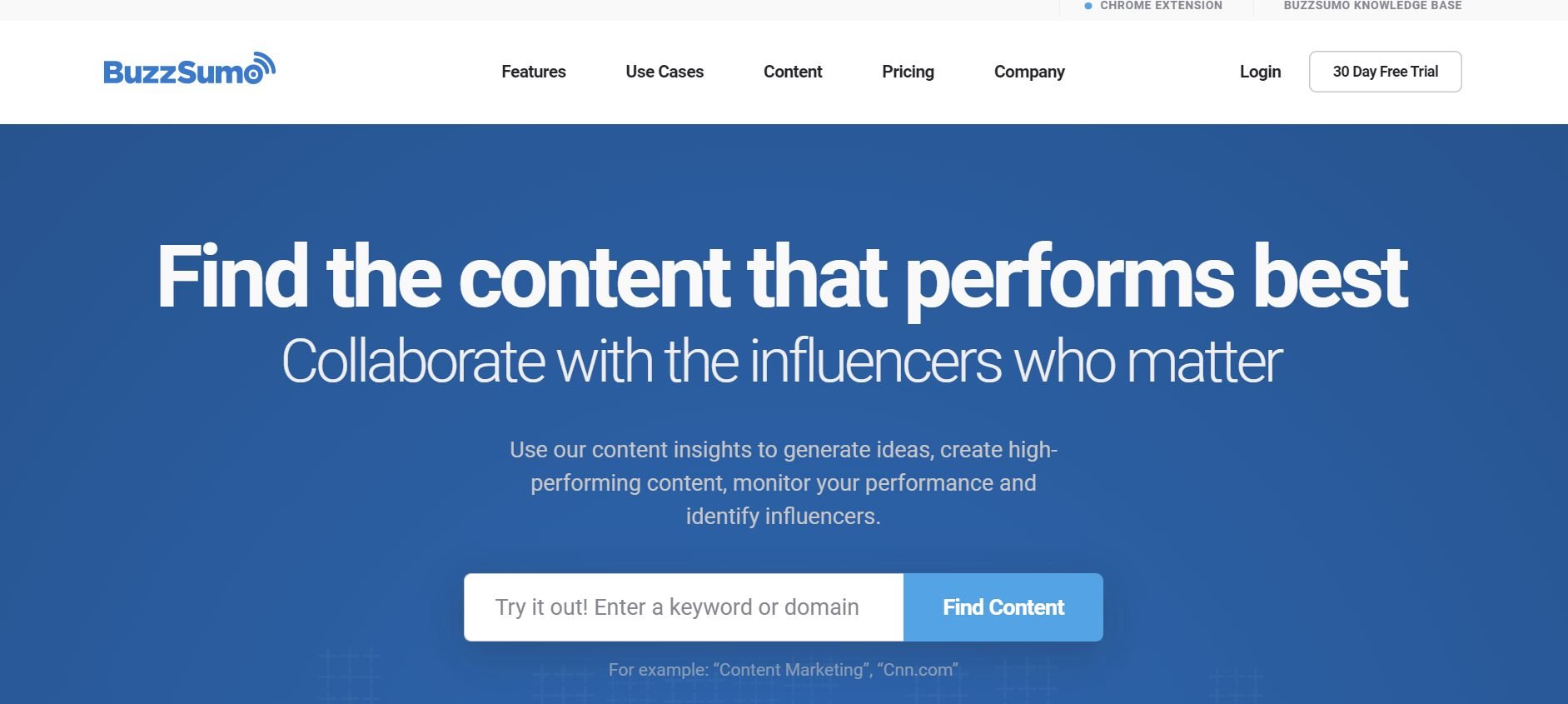 If you've ever dug into the world of online research, there's a good chance you've come across BuzzSumo. It's a search engine with more data insights to offer, all of which help better position your brand for market domination. BuzzSumo helps you discover the best performing content online and research and analyze tons of data points to identify which types of content perform best. You're also able to find influencers to help promote your content more effectively and monitor comments and trends around your content to capitalize on any and all opportunities to grow your brand. BuzzSumo comes with many other unique features. From filters and customer feeds, to identifying topics and questions your audience is asking about solutions like yours.
---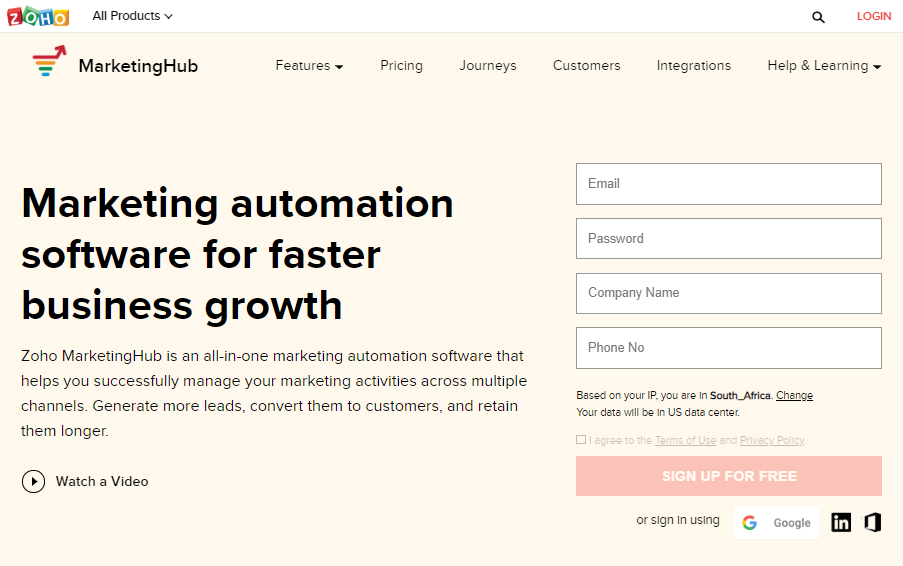 Zoho Marketing Hub packs a punch. Like most content marketing platforms, it integrates social media management and email marketing. But what makes it really stand out is the smart customer journey builder. It's a tool designed to help you create the highest converting path buyers follow on their road to becoming customers. Zoho Marketing Hub's journey builder is capable of creating trigger-based automations, and also integrates perfectly with Zoho CRM to help brands efficiently convert sales-ready leads. Other notable features include website analytics to track where your visitors come from, what they spend their time doing, and which sources of content or events generate the most leads. You also get to create customized marketing plans for teams with the opportunity to assign each team a budget and track their ROI.
---
Curata is a content curation platform. It helps brands find trending content that they can share with audiences to stay top-of-mind. While content curation may seem like a simple task, it isn't. Finding relevant and timely material requires incredible amounts of attention to detail. Curata helps you find content that matches your brand's voice, tone, and uses AI to get smarter over time. As you identify the type of content aligned with your brand, Curata pays attention, quietly scouring the web for more of the same content. Curation is also just one part of the tool. Curata integrates with CMS, social media, and email marketing tools to make sharing a breeze.
---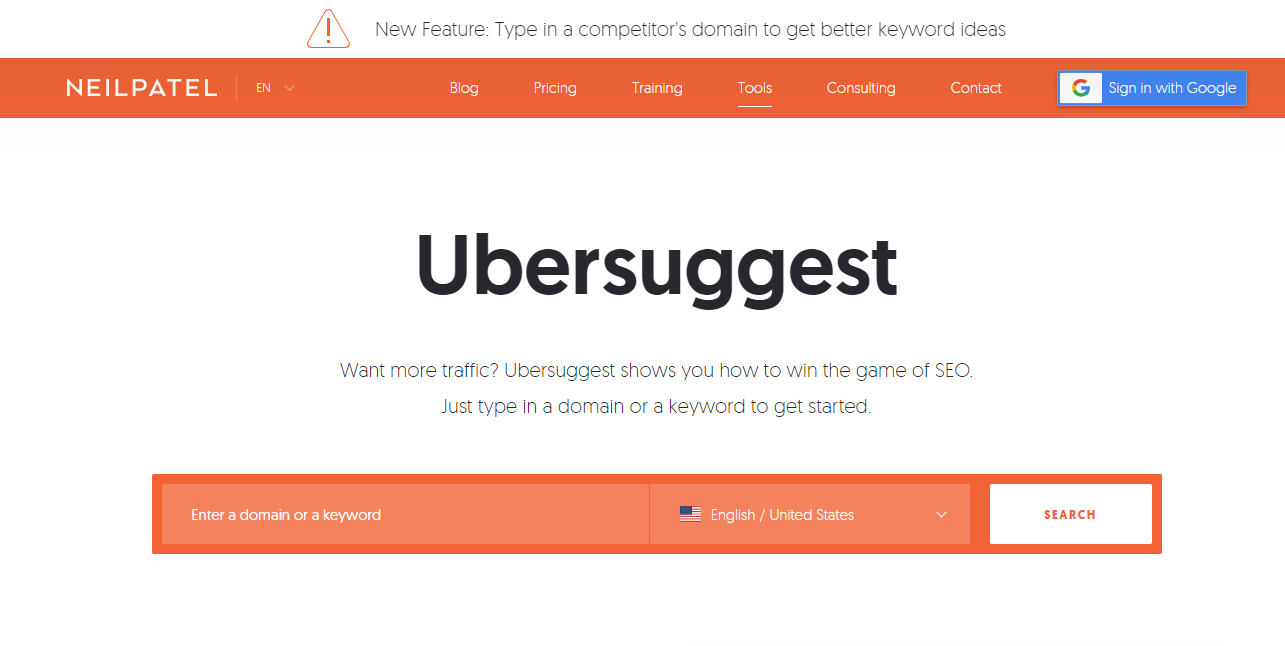 Content marketing and SEO are inseparable. For more of your content to rank high in search, it's got to be competitive, designed to engage, and be optimized. Ubersuggest helps bridge the gap between great content and SEO. It comes with a collection of features that help you find top-performing competitive content, provides SEO-related metrics, and shows backlinks and keywords. Ubersuggest also goes a step further. Unpacking what makes competitive content rank higher is great, but what about tracking your site? To hepl, it offers premium users the chance to measure how well their site is performing. Through extensive SEO reports, you'll get to see what SEO errors your site has, how it's tracking for visits, keyword ranking, and more.
---

Navigating lead generation isn't always easy. Sure, you can make offers for great content and downloads at different stages in the buyer's journey, but often most marketers struggle to determine buyer intent. SnapApp aims to solve that problem. By embedding qualifying questions for prospects where you get the most traffic, SnapApp transforms your content from passive material into active and conversational gold. SnapApp allows brands to embed qualifying questions in blog pages, landing pages, PDFs, e-books, reports, and white papers. The upside? By qualifying your customers along their journey you're able to tell exactly what they need to take the next step. Not all buyers are ready to purchase immediately, SnapApp makes it possible to determine who your hot leads are from those who need to be nurtured.
---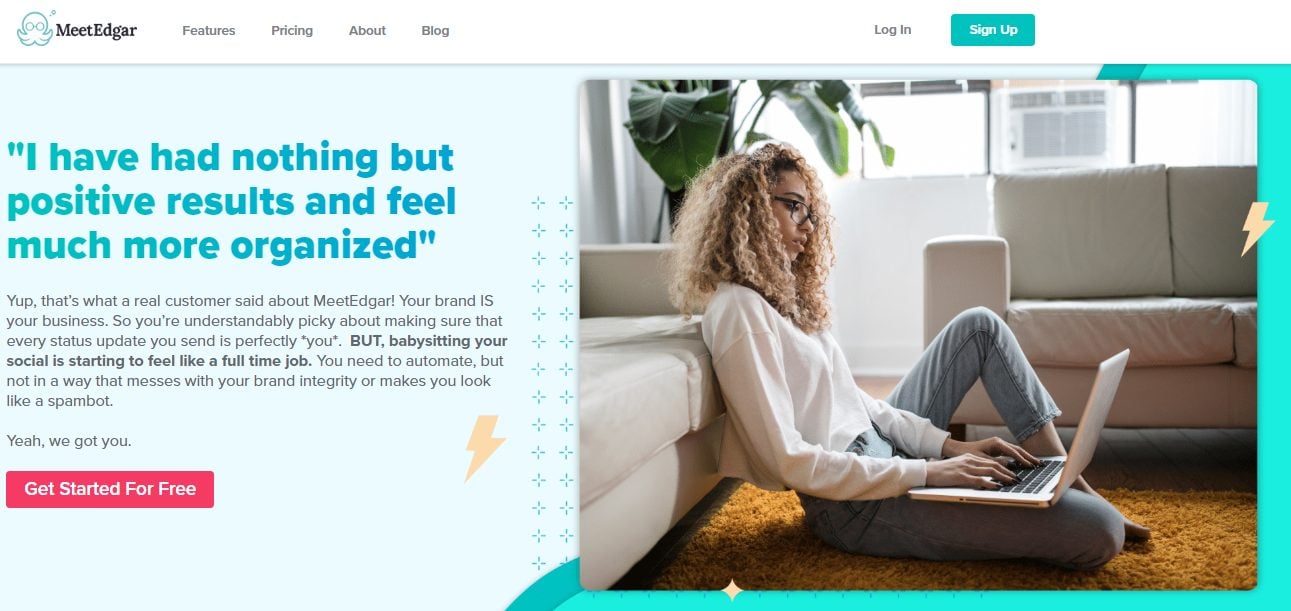 There's something pretty special about Meat Edgar. It was designed and developed to cater to businesses who want to control their social media. And it's packed with tons of amazing features and functions. On the social media automation front, Meet Edgar can write posts for you. It gets started by scanning through articles and blogs you've created to grab quotes and post them directly to your social media profiles. Like most social media platforms, you have the ability to schedule content. But with Meet Edgar, you can categorize your schedule by the type of content you plan to share with the world. Meet Edgar also comes with continuous posting, a way for the platform to reshare evergreen content and help you stay top-of-mind with audiences. The platform also comes with A/B testing for social messaging, reporting, short links, native photo and video support, and an unlimited content library.
---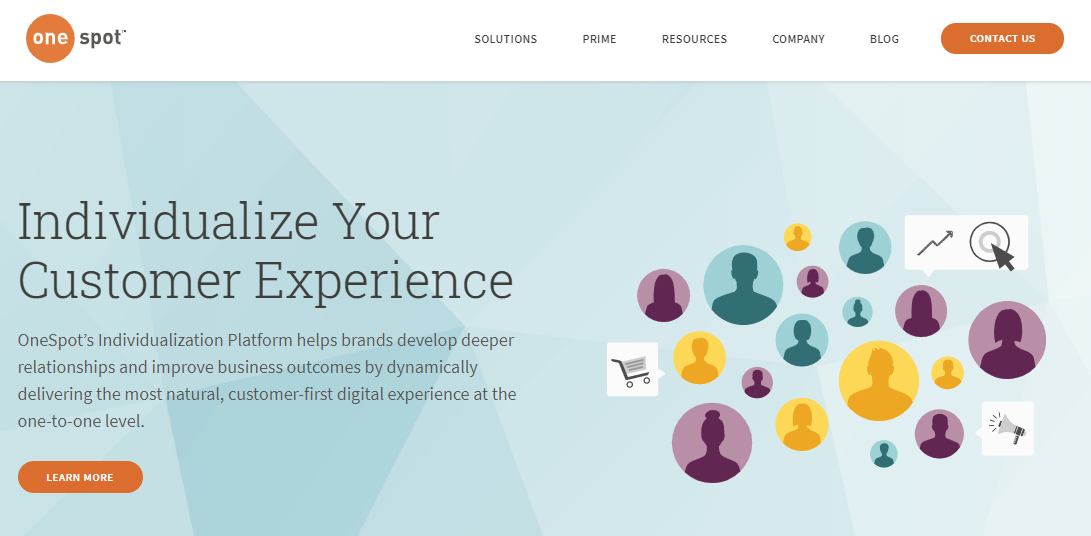 One Spot is a custom individualization platform. It's built to help brands better understand the customers by paying attention to each buyer experience. With the use of powerful analytics and AI, One Spot is able to create individualized buyer engagements that span web, mobile, and email. And as personalization becomes a must-have, One Spot makes for a perfect fit for any brand that needs to meet their buyer where they are and help them take the next step.
---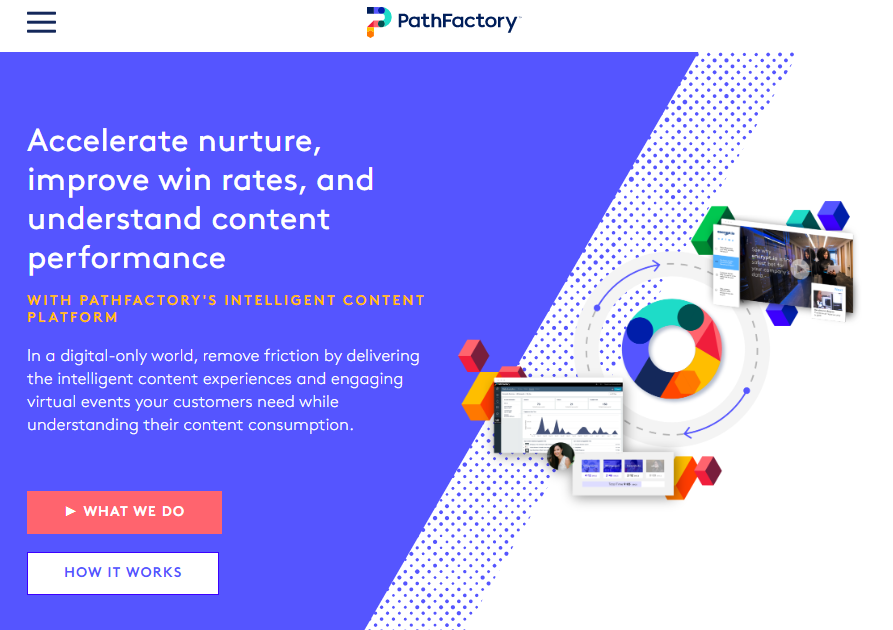 There's no getting around the importance of content. But as marketers the world-over are learning, not all content is created equally, generates the same results or moves more buyers down your funnel. That's where Path Factory comes in. Using the concept of content activation (creating content tracks with relevant and related content), marketers can present more structured and highly effective content to buyers when and as they need. Path Factory also comes with powerful AI that's designed to help you identify what's working and what isn't in your campaigns. Altogether, if you're looking for a way to create more effective content marketing campaigns, closely track how effective every piece of content you use or publish is, this tool will help you do that and more.
---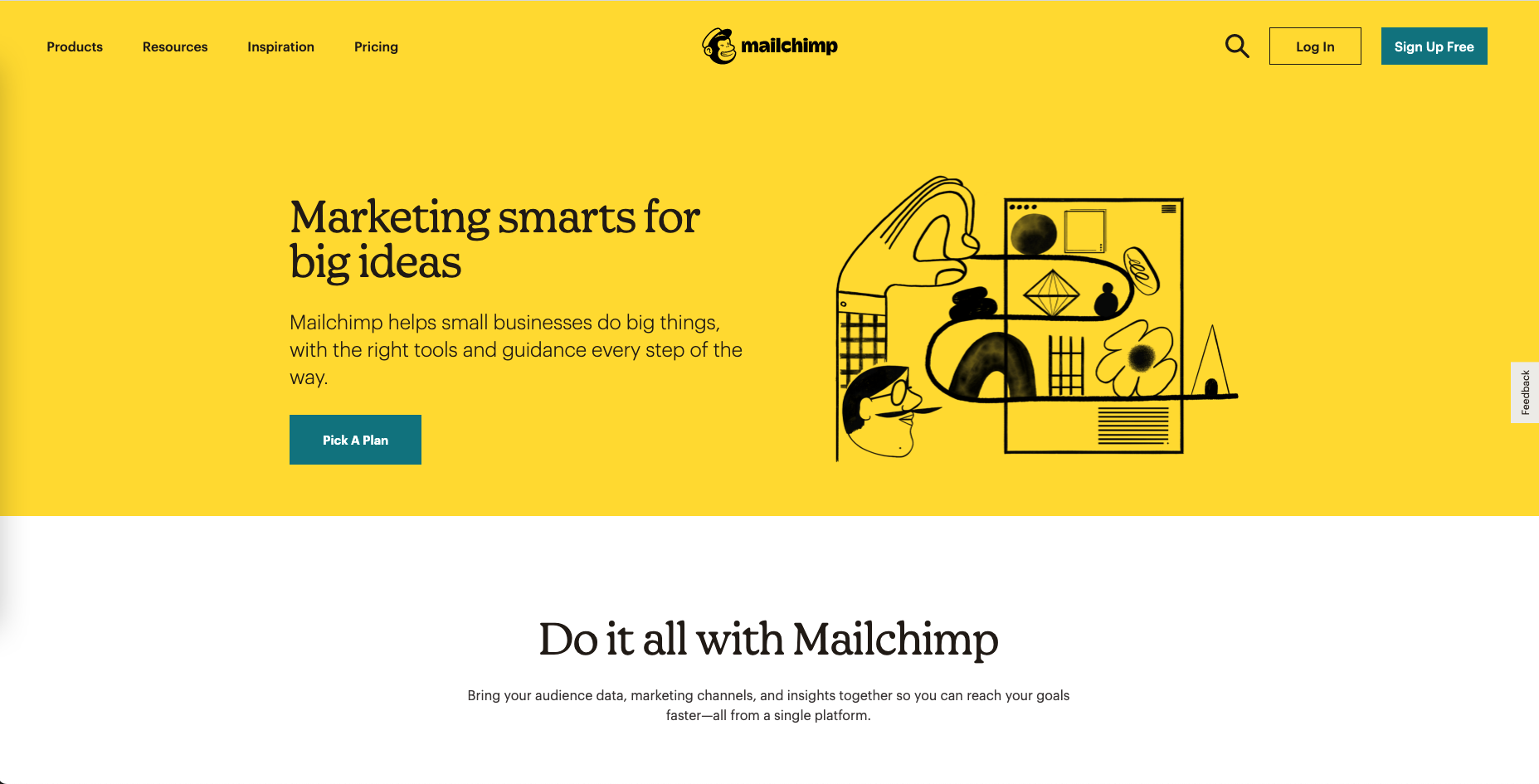 Wayback Mailchimp used to be all about email marketing. Today, that's changed. Mailchimp is now a complete marketing platform. Malechimp is now a marketing CRM. And this makes sense. Since everything you do online is tracked and measured in some way, tracking how buyers interact with the content and dropping all of that important information into CRM is perfect. You also have access to an audience dashboard to give you insights on your campaigns, and personalization tools to help you create content that appeals to your buyers. Don't forget landing pages. You can now build them and include forms, publish social posts and ads.
---
Frequently Asked Questions
What are the best content marketing platforms?
We have examined a range of content marketing platforms in this article. Although we haven't chosen a single best content marketing platform, we have found that all the platforms we have examined have strengths and will meet the needs of different firms. All these Content Marketing Platforms help marketers ensure that content gets targeted, served, and optimized in the distribution phase of their process and is meaningful, engaging, on-brand, and compliant.
What are content marketing platforms?
As we have described in this article, a content marketing platform is a software solution that enables marketing organizations to centralize and streamline their upstream marketing processes from beginning to end, including planning and briefing to collaboration and approvals. They provide the tools to help you schedule and create all of your content marketing and analyze the results of your content marketing efforts. Their main aim is to assist enterprise brands in solving difficult coordination and management challenges.
What are content marketing tools?
All of the content marketing platforms covered in this post make useful content marketing tools. Each has its strengths and weaknesses, so you should look at what focuses on the features that would most benefit your business. Some tools, such as the SEMrush Content Marketing Platform, cover the complete content marketing workflow from ideation to creation, optimization, and measurement. Others, like CoSchedule, focus more on an editorial calendar and social media marketing.
What programs do marketers use?
Marketers use a wide range of programs, including the content marketing platforms we cover in this article. Marketers have many needs, and you will find software to cater to all of these. These include influencer marketing tools, social media marketing tools, SEO tools, communications tools, organization tools, customer relation management (CRM) tools, and online advertising platforms. There are also all-encompassing marketing tools, such as Hubspot, Asana, Altitude by Impact, Marketo, and Hootsuite.
What are the best ways to do content marketing?
The way you do content marketing will depend on your size and the budget you are prepared to devote to it. Larger businesses can use one of the content marketing platforms covered in this post to organize and coordinate their content marketing. Smaller companies may have to use a more manual approach, either creating content internally or outsourcing to freelancers or a content marketing agency. You need to have a purpose for your content marketing, however, so you first need to plan your content strategy.
How do you write attractive content?
It's essential to remember that content needs to interest its intended audience. You can find millions of content pieces on the web, much of it mediocre and boring, providing nothing of value. Your subject may be dry, but that doesn't mean your writing needs to be boring. Try and find a more practical side to your topic. Focus on something that could affect your readers in everyday life. Try and make your brand voice come across as casual and personable without being too informal.