Referral marketing involves promoting your products or services by using referrals from your existing customer base. This is usually done by word-of-mouth and can be a highly effective form of marketing. As with most types of marketing, you can simplify your workload by automating the process, using specialist referral marketing software tools.
We have looked at a selection of tools here to give you an idea of some of the referral marketing software now available.
---
Top Referral Marketing Software Tools to Look at in 2022: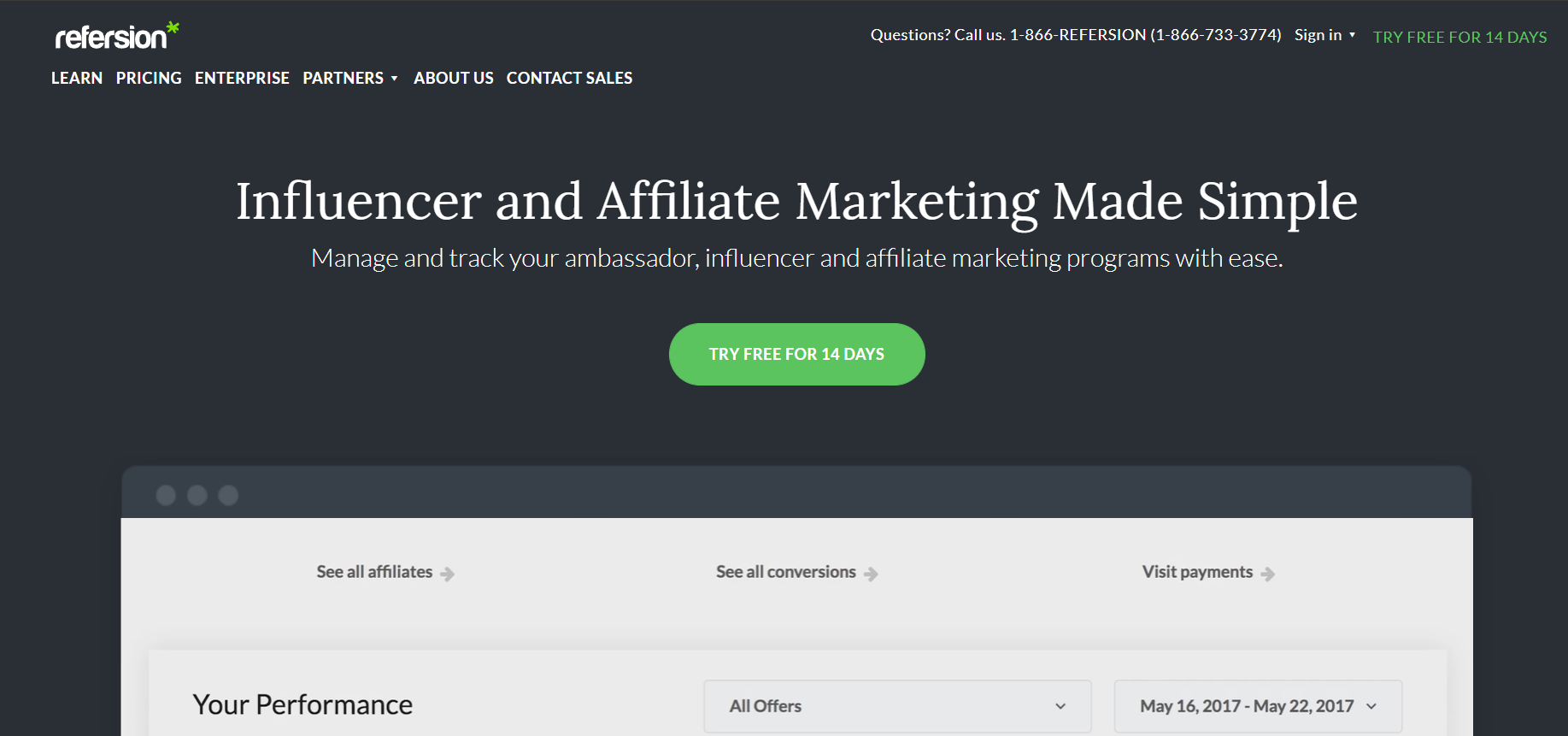 Although primarily an affiliate marketing network, Refersion also acts as a referral marketing tool and an influencer marketing platform. If you are involved with eCommerce, you can integrate Refersion into your online store, either with a special app (for Shopify, BigCommerce, WooCommerce, Magento, Stripe, and Chargebee) or using a custom integration with Refersion's API.
Once you've set up an eCommerce integration, you enter any existing affiliates and influencers into Refersion.
Refersion includes a marketplace where you can publish an "Offer," where you give specifics about what you need and what you are willing to pay. You can include trackable links and coupon codes. In addition, Refersion helps you set up a targeted landing page. Refersion is flexible enough to help you structure your offers in a way that makes the most sense for each campaign. For example, you can set a flat rate commission or set an elaborate highly tiered performance payment scheme.
You can go beyond just setting up simple referral rewards. For example, you can structure offers requiring a conversion to meet specific requirements to be considered payable. Refersion can then make sure that the sales it tracks conform to these requirements. Refersion refers to sales that don't meet these requirements as Unqualified.
Refersion's reporting function is all focused on sales. You can see the data from various angles, and you can request customized reports from the Refersion team, breaking the data down in different ways.
---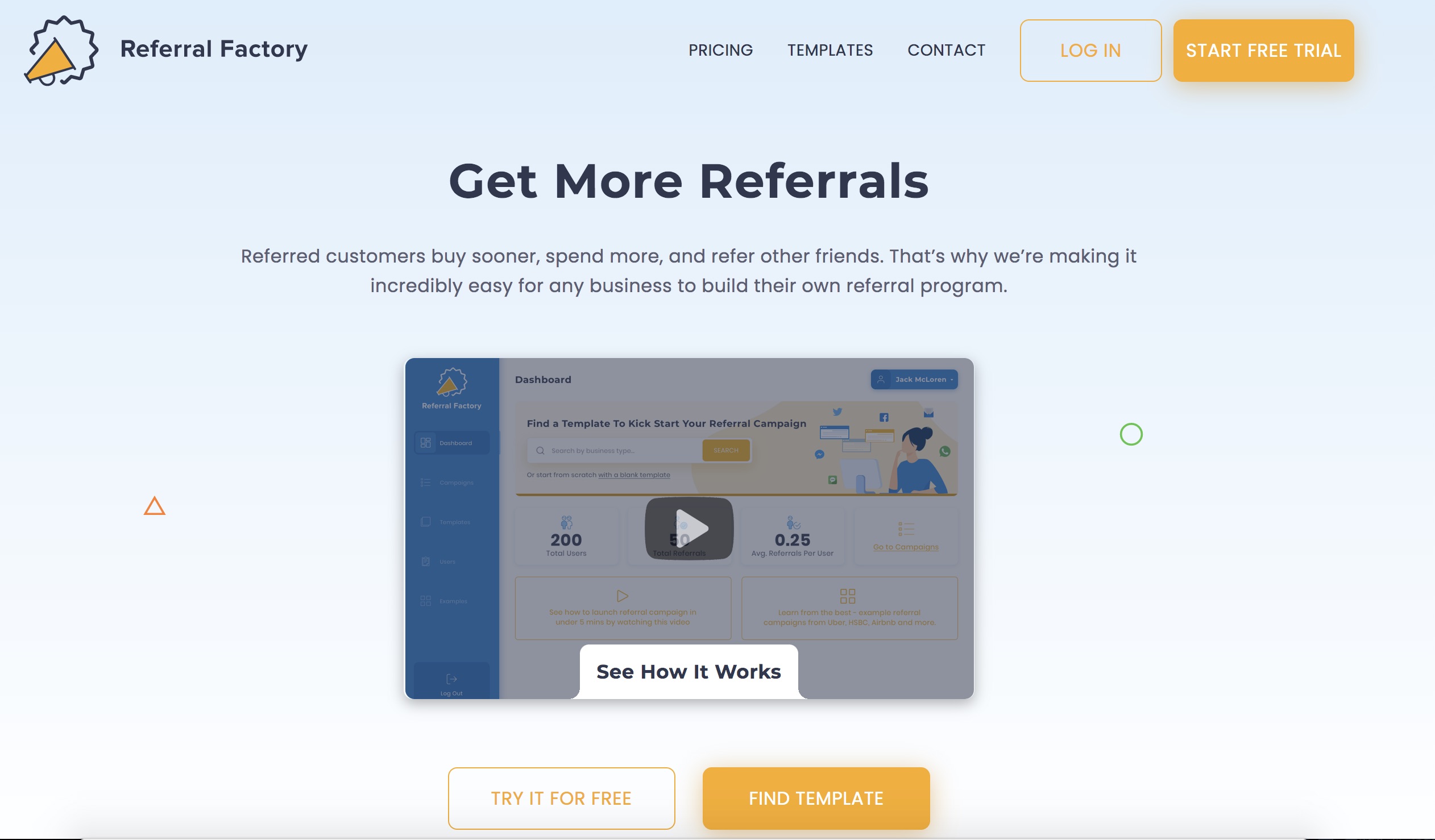 Referral Factory has built an incredibly easy to use referral marketing solution that is geared at helping you get more referred customers. Their solution allows you to 'build your own referral program in under 5 minutes' by giving you access to over 1000 pre-built referral program templates that you can duplicate and use as your own. You can either copy a referral program from one of their templates, OR build your own referral program from scratch. 
What is unique about Referral Factory is that you don't need to install any tracking scripts on your website – which means that marketers don't need the help of developers to implement their basic solution. Their referral software comes with a built in 'page builder' so you can build your own pages to capture referrals, and these can look and feel 100% on brand. 
Once you've built your referral program you'll need to onboard referrers – which you can either do by uploading a database, or by marketing your referral program to your customers. You'll then be able to track and monitor all the users in your referral program from your client dashboard – with the option to export your data, sync it to google sheets, or collect it in real time from a secure webhook.
The reason there are so many ways to interact with your data is because of the flexible reward structure – meaning that you can offer literally anything as rewards to your customers, because you will need to manage the redemption of those rewards. This gives you complete control over how and when you will reward your customers for their referrals. 

Services Offered: Referral invites & notifications, multiple referral program types, 1000+ referral program templates, landing page builder, social media sharing buttons, fraud and user verification alerts, integrations,
Channels: Facebook, Instagram, Twitter, WeChat, Telegram, WhatsApp, Messenger, Email, and SMS.
---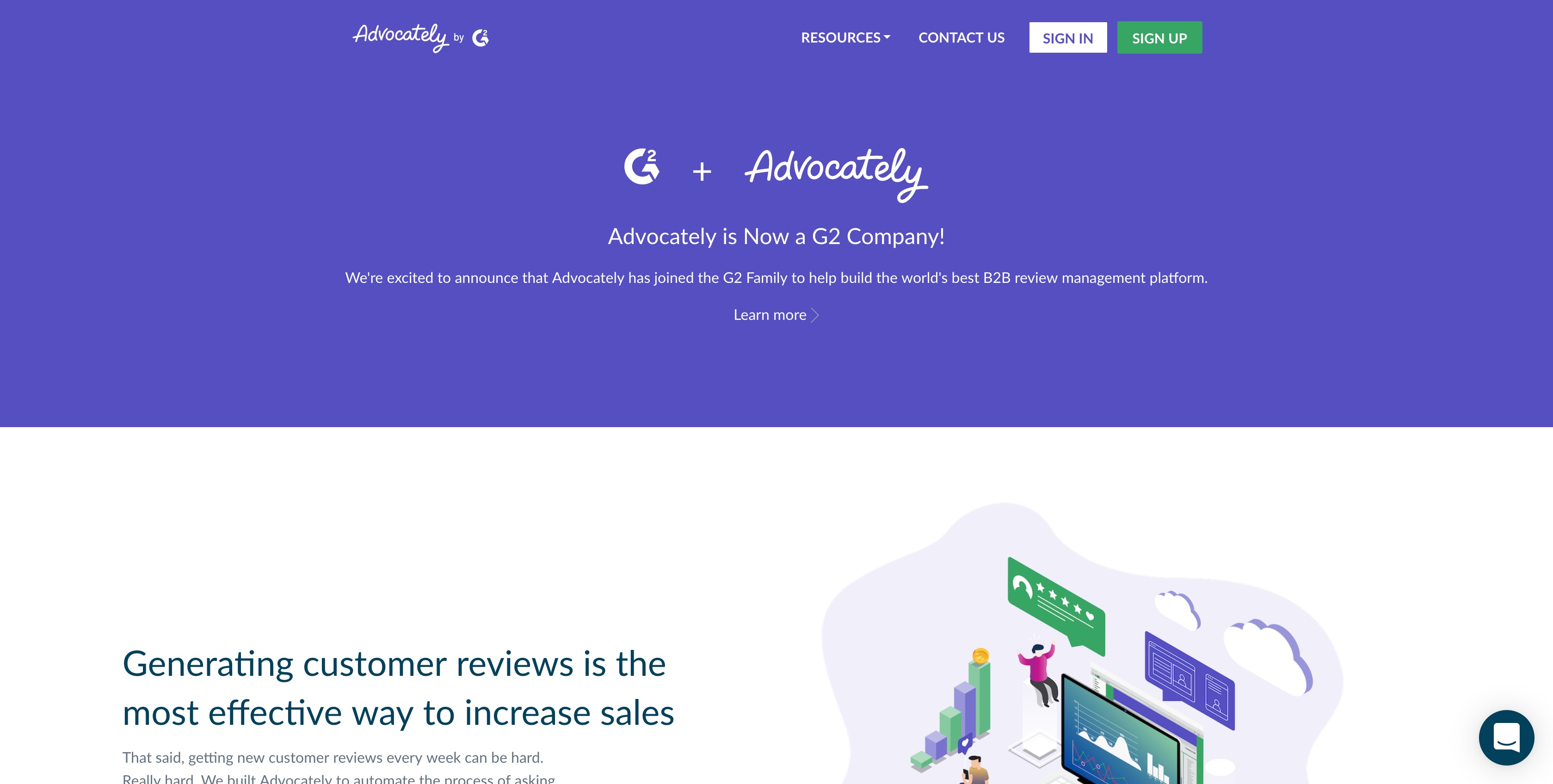 Advocately believes generating customer reviews is the most effective way to increase sales. Advocately automates the process of asking your happiest customers to write reviews.
It helps you automate review generation campaigns via email and print, increasing your review volumes on G2 Crowd, Capterra, Facebook, Google, and industry-specific review sites relevant to your business. You can even control your reputation with a process that will catch unhappy customers before they review.
Advocately collects reviews from all your listings into one central dashboard. It notifies your team of reviews via email, SMS, or Slack. You can respond to your reviews via email or directly on the review site.
It helps you automatically post positive reviews as compelling social media content. You post customer reviews in SEO-friendly markup on your website to drive search visibility.
---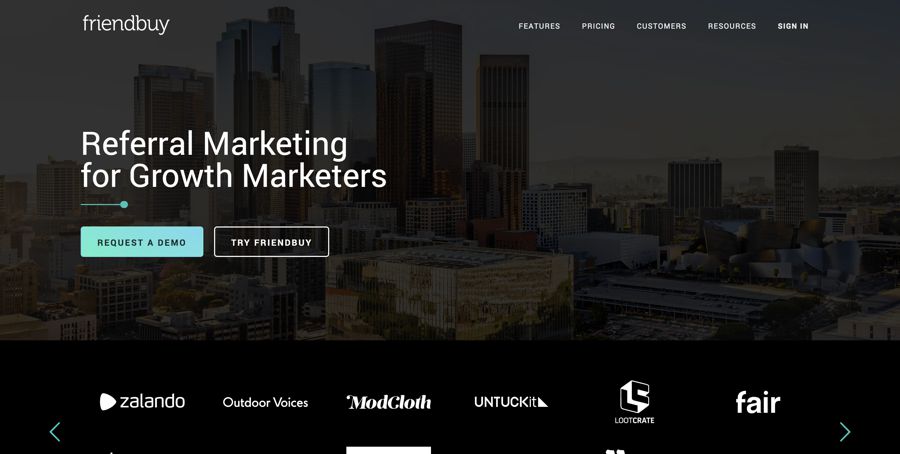 Friendbuy helps you launch your referral program quickly and easily with lightweight code snippets to get the program live.
Friendbuy widget templates are mobile-friendly and optimized for encouraging, easy sharing. You can activate referrals anywhere on your site or in your mobile app.
Friendbuy automates fulfillment for any reward type: coupon code, account credit, loyalty points, gift cards, and more. With robust algorithms for fraud detection and flexible reward criteria, it evaluates every purchase to ensure quality reward eligibility.
You can optimize user referral with easy A/B testing for every part of the referral funnel. Experiment with different offers, creative, and messaging, and discover what drives more sharing and conversions. Friendbuy makes it simple to create variants and measure gain for all your key performance indicators, and quickly pivot when you identify a champion.
Friendbuy equips you with email templates to maximize an automated program, plus the flexibility to design custom communications. You can easily set event-based triggers and reports to power more communications to customers and prospects.
You can track real-time performance through each step in the referral funnel.
---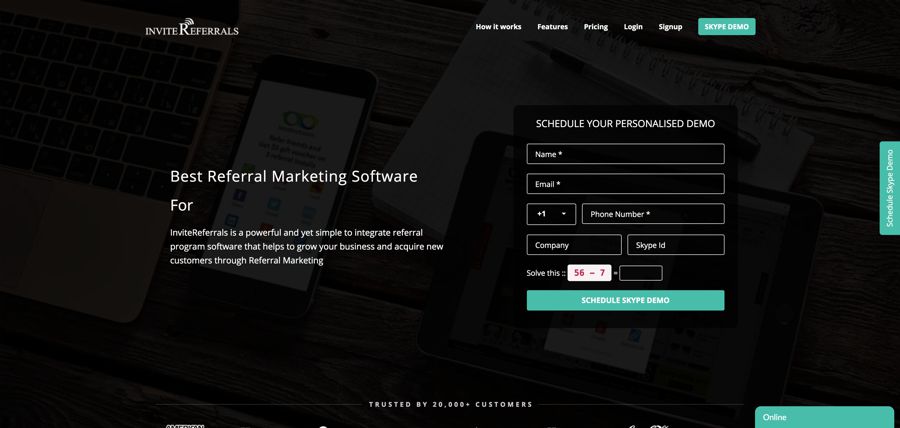 InviteReferrals is powerful, yet simple-to-integrate, referral program software that helps to grow your business and acquire new customers through referral marketing. It integrates with multiple eCommerce platforms, including WooCommerce, Shopify, Magento, MailChimp, and many more.
It works across all devices and platforms. Referral Program Widgets automatically adapt themselves according to the platform.
Customers can use the InviteReferrals mobile application to invite their friends through the referral program. Friends who accept the invite then install the mobile app.  InviteReferrals then sends coupons to the referrer over email for driving a referral install.
InviteReferrals provides detailed customer referral program analytics, including invites filtered by referral channels. They track every step of the program, from shares to clicks to successful referral conversions (registrations, sales, mobile application installs). This helps you to identify your most influential referrers and track data to the individual customer level.
All campaigns are WYSIWYG, meaning you can design the complete campaign without the help of a designer or a coder.
---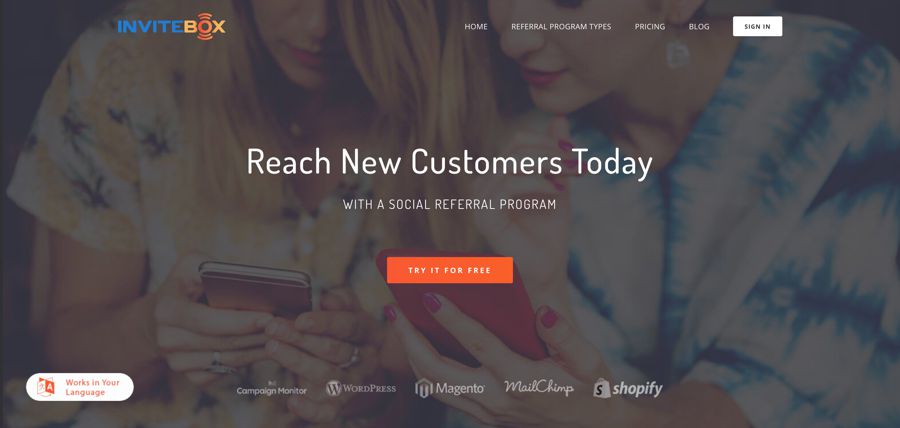 InviteBox enables you to add a referral program to your site in minutes. Their platform includes all the technology you need in one package. Just set the rules of your referral program and copy and paste your widget code into your website pages. Their software takes care of the rest.
InviteBox lets you reward users in multiple ways:
Instant Rewards referral program, where you reward your customers immediately as they share your link via their social channels

Goal-based rewards – gives you more control over ROI at the expense of putting a higher strain on participating customers. Best for referral programs with high-value bonuses

Referral contest – rewards the customers who bring the most referrals over a specified period

Sweepstakes and giveaways – rewards the customers randomly over a specified period. The customers' chances of winning are proportional to the number of entries they earn (for social posts, conversions, etc.)
---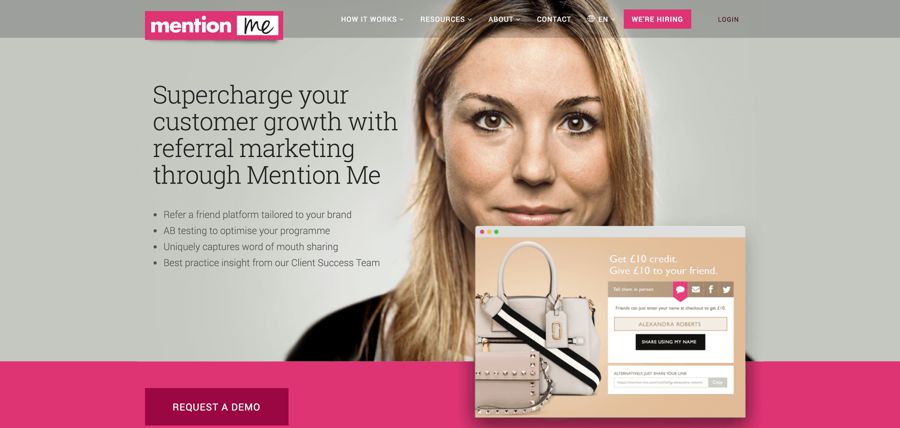 Mention Me provides a refer-a-friend platform tailored to your brand. It uniquely captures word of mouth sharing. 
You can A/B test by cohort, testing all elements of your campaigns, typically resulting in an uplift of 3-7x during the first six months. The Mention Me platform offers "Name Sharing" to capture real-world conversations. Friends can access discounts just by entering the name of the friend who referred them.
Mention Me delivers rewards to new customers and the friend who introduced them. You have control over every element of your campaign and can see real-time results in your referral dashboard.
---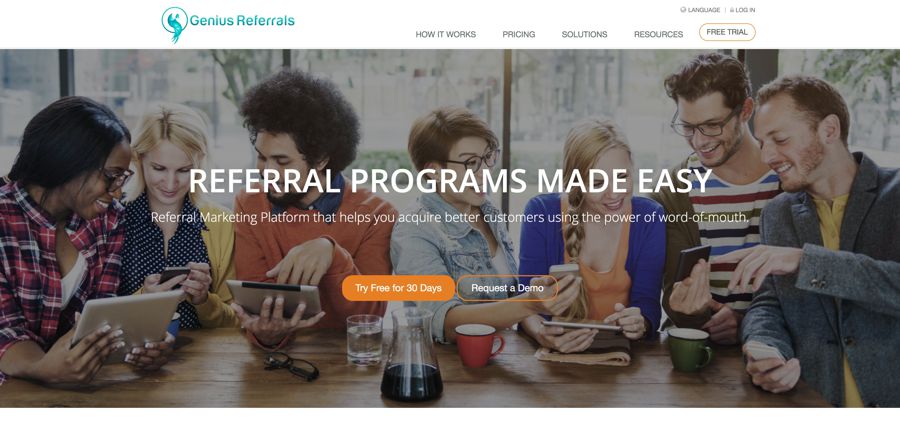 The Genius Referrals platform makes it easy to create and operate a referral program. They break their system into seven basic steps:
Sign up for a free program and get your program running in minutes. This mainly involves configuring the program to customize it for your business. You can create new referral campaigns with multiple restriction and tiers, choosing and designing templates using the Genius Referrals design center.

Create a program and campaign for your referral program. Indeed you can even run multiple marketing campaigns in parallel, configuring multiple tiers per campaigns

Define the default contents to be published on social media using a Wizard to create widget packages. 

Choose and design the perfect template in the design center. They provide multiple options depending on the type of referral program you implement.

Install the referral program on your website. You use the codes snippets generated on the Design Center to install the referral program template.

Notify your prospects and customers via email and social media.

Monitor, manage and optimize your programs. Analyze and tweak your referral marketing program easily with the tools Genius Referrals provides.
---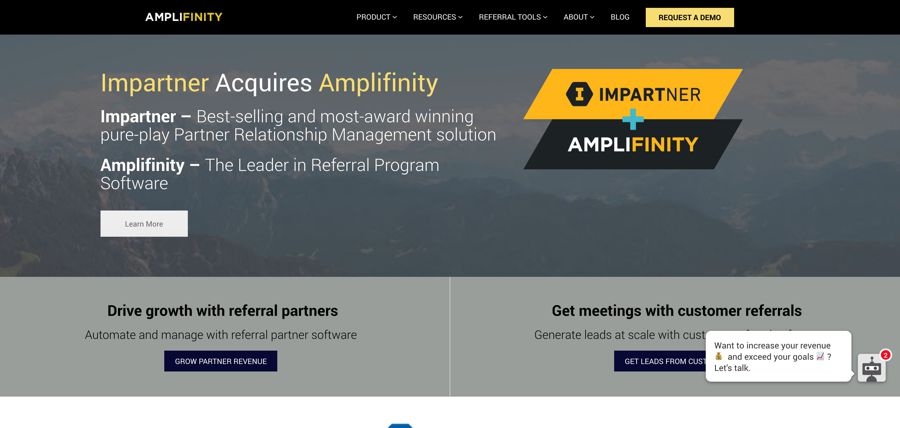 Amplifinity helps marketers to implement personalized lead generation at scale while putting sales at the center of the referral program by integrating referral program software data and functionality into Salesforce.
You can use Amplifinity to:
automate the referral process for 1-to-1 lead generation at scale

enable sales to engage with customers and nurture relationships

allow sales to involve referral sources and reduce the sales cycle

remove operational hassles and improve marketing productivity

provide holistic marketing data to optimize referral program performance
It offers an engaging white-labeled user experience. Referral sources have a wide selection of referral methods. You can fully integrate your brand's look and flow through design templates, branded URLs, and SSO. 
You can select one of three Amplifinity program packages: 
Partner Program Package – ideal for companies with a partner based referral program

Customer Program Package – designed for companies with a customer referral program

Employee Program Package – designed to help you create custom incentive and reward structures to encourage your employees to grow your lead generation.
---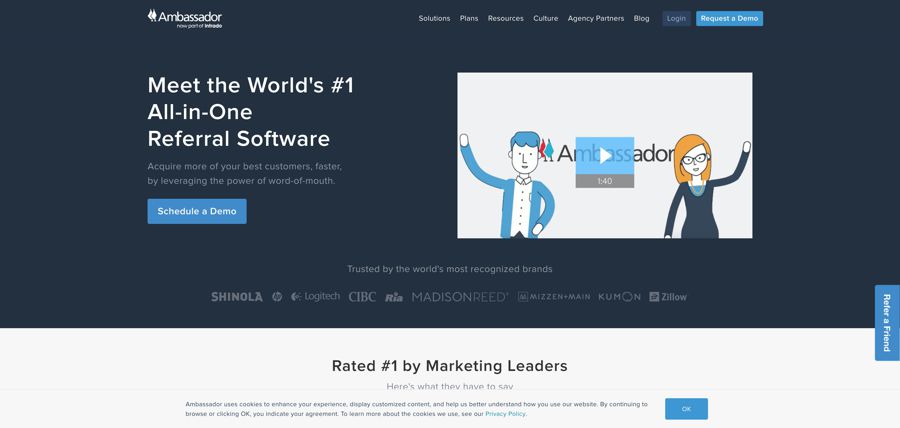 Ambassador's strength is that it is all-in-one referral software. You can use it to handle referral, affiliate, partner, influencer, and advocate programs on a single platform. All of these types of marketing follow a similar pattern:
Identify your ambassadors – customers, affiliates, influencers, partners, employees, and others

Enroll your ambassadors in targeted and personalized referral campaigns

Track your ambassadors and monitor their key performance indicators

Reward your ambassadors with customized incentives and automate the reward process
Ambassador offers multiple referral marketing opportunities. You can tailor specific referral programs based on customer type, deliver unique rewards and messaging while tracking and analyzing every segment and all activities. They provide out-of-the-box eCommerce, CRM, and billing integrations – plus JavaScript & Open API.
---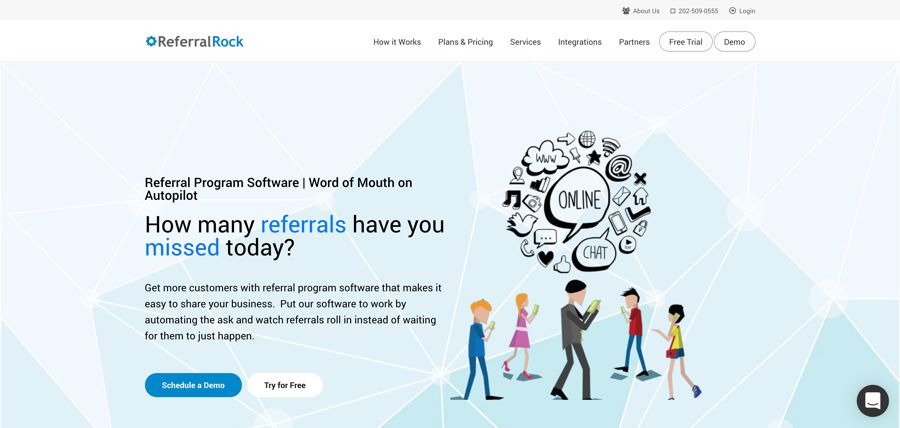 Referral Rock is referral program software, helping firms to set up word-of-mouth on autopilot. It enables you to customize the look and feel of your referral program to match your brand and customer experience. It provides your advocates and referrals a seamless experience so they'll want to engage and participate.
You can control the design, copy, creative, messaging, and more. You build the referral program directly into your customer interactions and marketing channels to provide a seamless experience across all touchpoints. 
Referral Rock includes a dedicated advocate portal to easily share and track results, with pre-drafted messaging to make sharing easy and on-brand. Customization goes as far as providing personalized advocate codes and unique links. 
You give your advocates multiple ways to join and share. These include integrating your email marketing tools to join with a single click, a website referral widget for easy access, automatic enrollment when behind a login page, and single sign-on via Facebook and Google. Advocates can share via email, social, SMS, unique links, and codes.
With Referral Rock, you can get set up in days, not weeks, with an iterative approach to quickly launch and optimize your referral program. They have personalized the onboarding to make it easy for you to get up and running without needing complicated integrations.
---
Referral SaaSquatch is a marketer-driven platform that provides marketers the power to create referral and partner programs. Designed specifically for digital businesses, SaaSquatch acquires customers and increases lifetime value through referrals, special offers, and incentives for brands to utilize into their referral strategies. 
Specific features of the platform include, but are not limited to: 
Multi-program and multi-campaign functionality 

Tiered and purchased based programs 

Success coaching and engineering support 
What makes SaaSquatch a reliable referral marketing software tool to look into? Apart from its award-winning customer service and reliable tech systems, SaaSquatch has: 
An observational engagement engine that allows you to create stunning widgets and customizable program rules 

The resources to track the widest variety of user behavior like purchases, in-app actions, and custom objects or events 

Conversion triggers that let you run referral and loyalty programs that reward users for actions like app install, first purchase, and more
Referral SaaSquatch even allows you to automatically issue the most reward types, build custom rewards and manage all of your incentives and rewards.
---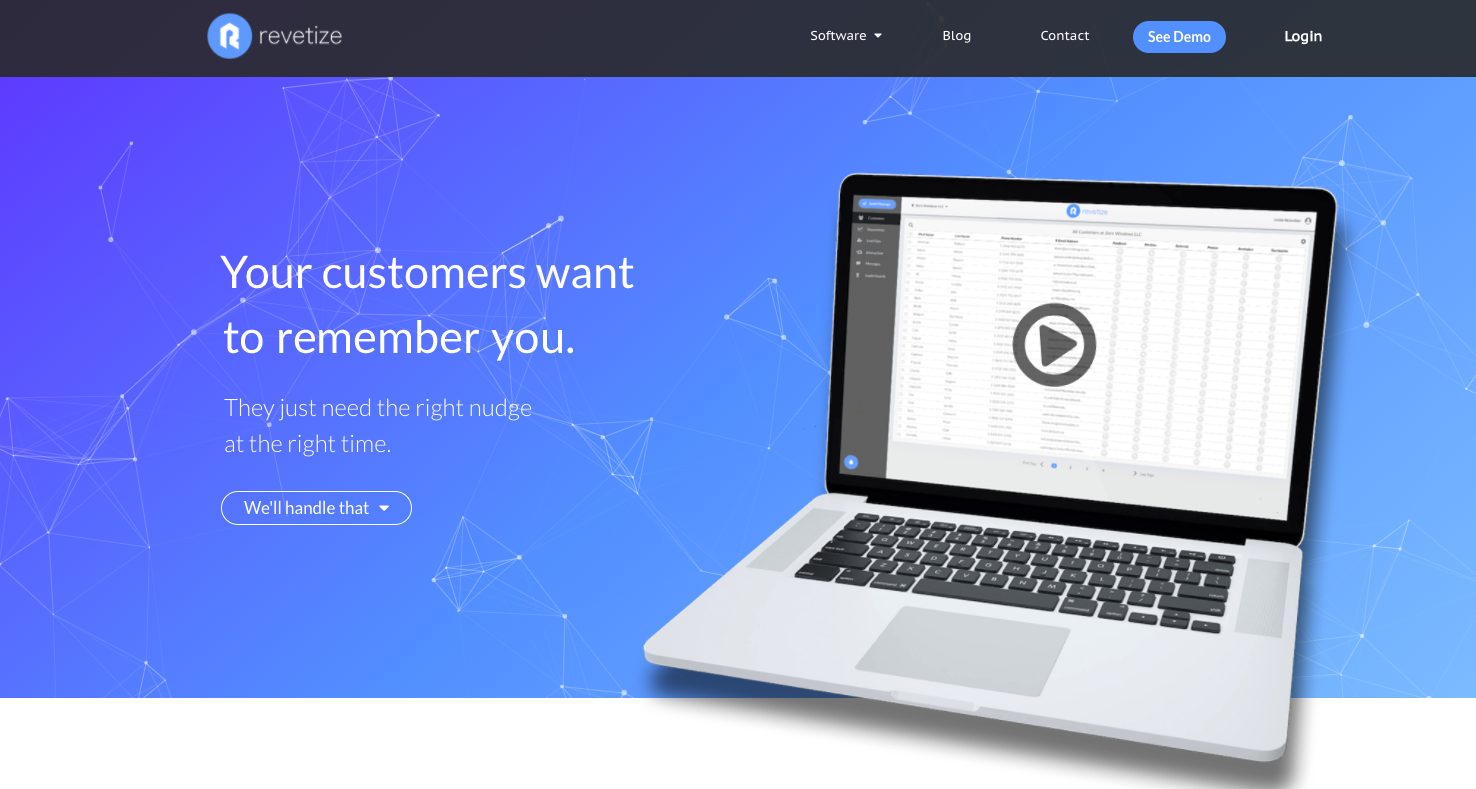 Revetize is a referral marketing software tool that lets you hit multiple birds with one stone. If you're looking for the one-stop-shop for everything lead generation, customer communication, and reputation management, Revetize is the platform for you. 
What makes Revetize different from other referral marketing tools? It allows you to leverage your happy customers and quickly acquire referrals, reviews, and repeat business. It also helps you send personalized, purposeful business texts and generate leads without having to lift a finger. All of your marketing efforts are organized into one spot. 
The software tool allows brands to quickly generate hundreds of online reviews from authentic customers, create and distribute promotions straight from the platform, and even send personalized messages to a mass list of customers.
---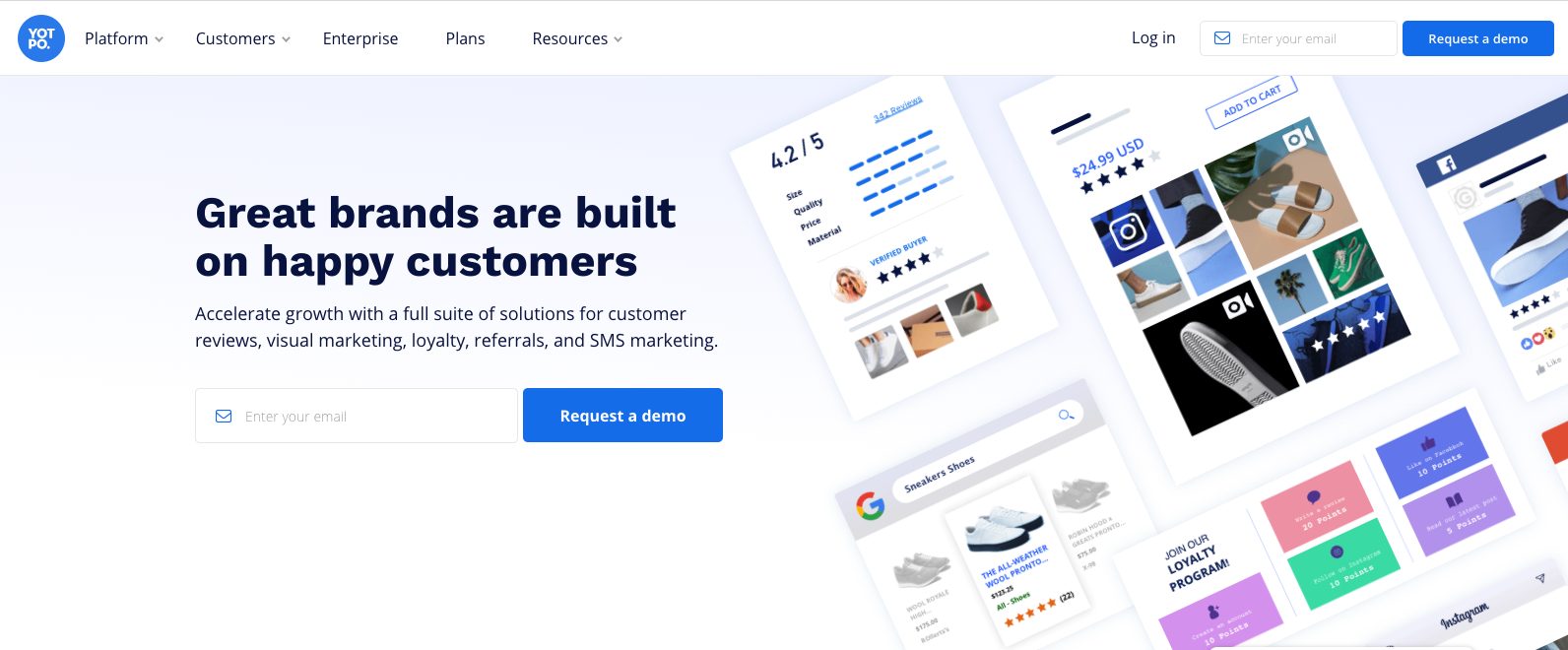 Yotpo's eCommerce marketing platform is one of the best tools in the market. Because it offers one of the most advanced solutions for customer reviews, visual marketing, referrals, SMS marketing, and more, it's no wonder companies like Google and Shopify utilize all of its benefits. 
Yotpo integrates seamlessly with your entire marketing stack. By helping you accelerate growth and accomplish your goals in your overall digital marketing strategy, Yotpo is a great tool for: 
Increasing sales 

Standing out on search engines and social media 

Understanding feedback at scale 

Building a better buyer journey 
Sounds too good to be true with Yotpo, right? What's even better are the available plans it offers. You can vouch for the Premium plan, which provides you custom monthly orders, multi-channel content generation, advanced content management, and more. But you don't have to pay for ANYTHING if you're just starting out. The Free plan includes 50 monthly orders, on-site widgets, basic customization, and more.
---

Who wouldn't want the most comprehensive and feature-rich customer loyalty and online delivery platform on the market? That's exactly what you'll get with TapMango. 
TapMango gives you all of the tools and resources you need to build and run a loyalty program your customers will be telling all of their loved ones about. With TapMango, you get amazing features like: 
A comprehensive marketing portal to manage your campaigns, customers, and more 

A customer-facing tablet to provide an out-of-this-world customer experience that will have your competitors seeing green 

Your own branded mobile app for customers to keep track of their points, offers, and deals 

Branded key tags that double as gift cards 
What makes TapMango a fantastic referral marketing software program to invest in? The tool's fully automated POS integration lets you start converting sales transactions into loyal customers. TapMango integrates with major POS systems including Toast, Lightspeed, Square, and more.
---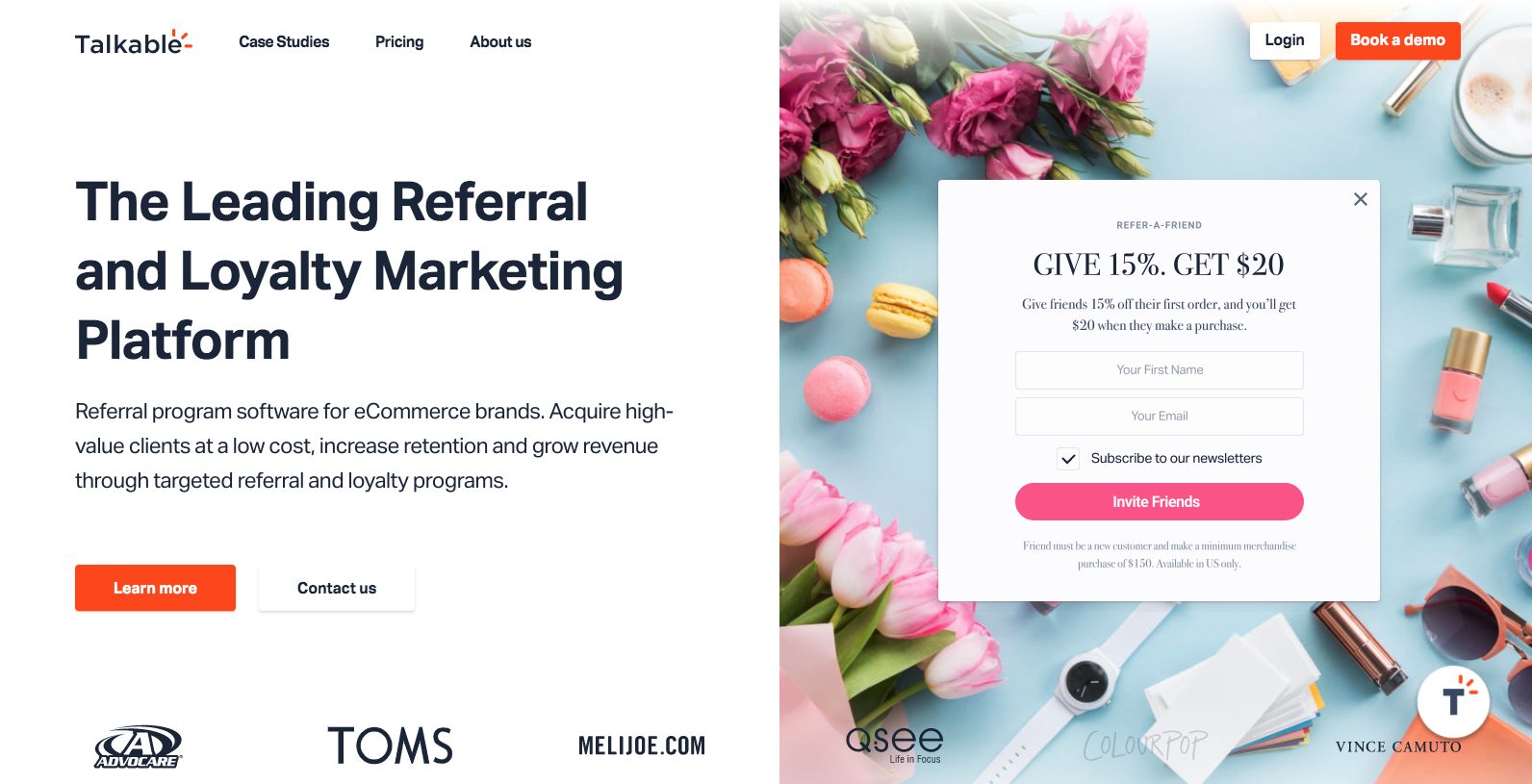 Are you an eCommerce brand trying to invest in a referral and loyalty marketing program? Talkable is a great resource to look into. 
Talkable allows you to acquire and manage high-value clients at a low cost, increase retention, and grow revenue through targeted referral and loyalty programs. 
Through the power of Talkable, you're able to access a team of growth experts in a results-focused company with 9 years of eCommerce industry expertise. Talkable integrates smoothly with any platform so you don't have to. When you unlock powerful customer insights, you will get a better understanding of your target market, and what they love, what they don't love, what makes them tick, and more. It also doesn't hurt to unlock growth thanks to A/B testing and ongoing campaign optimization.
---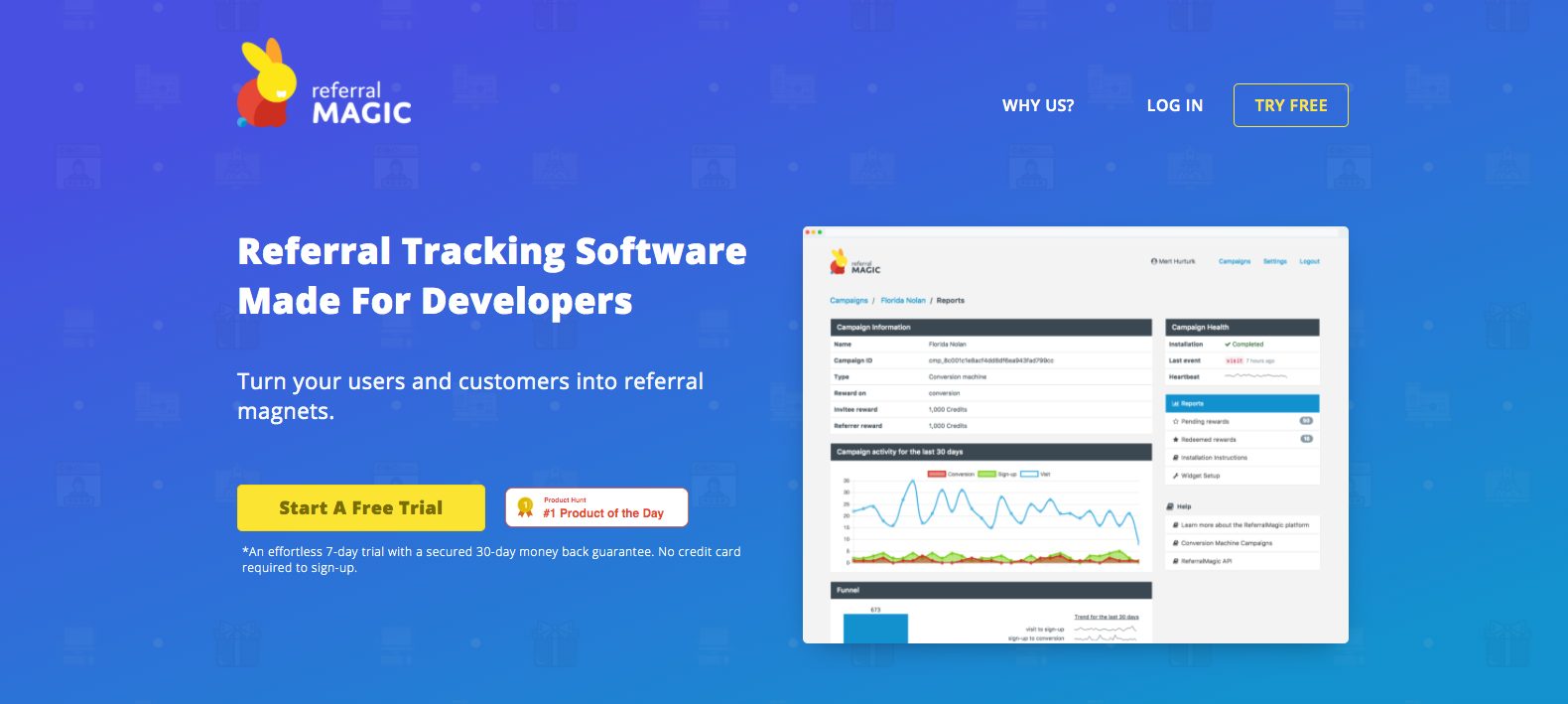 Through the magic of ReferralMagic, you can turn your users and customers into referral magnets. How is that possible? It's not just the easiest way to integrate referral tracking software into your website. You build the right referral program directly into your SaaS, rebrand and resell to your clients, and customize based on your business needs. 
So why should brands and businesses look into using ReferralMagic for their referral marketing? ReferralMagic has a variety of features that make it stand out from other marketing software tools: 
It helps you leverage your existing customer base. 

It effectively tracks all kinds of traffic through your site. 

It's completely customizable depending on what your needs are. 

It welcomes cost-efficiency. 

It is customer-centric. 

It is dedicated to your specific goals. 
ReferralMagic makes referral marketing magical.
---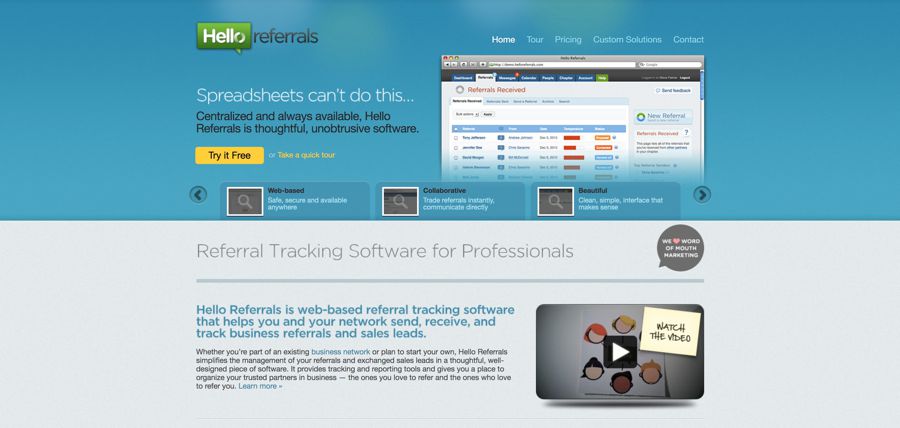 Hello Referrals is web-based referral tracking software that helps firms work with their network to send, receive, and track business referrals and sales leads. It provides tracking and reporting tools and gives you a place to organize your trusted partners in business.
Their website emphasizes the broad canvass of potential users for Hello Referrals, including:
Chambers of Commerce

Rotary Clubs

Small business associations

Trade associations

Business networking groups

Groups of friends
You can use Hello Referrals to send and receive business referrals and word-of-mouth leads. You can also track your referrals and manage your leads. 
It provides centralized communication with your referral group that keeps your networking activity in one place and always up-to-date. The platform allows you to send messages to partners, stage meet-ups, and create events to help each other throughout the sales cycle.
You can pick from three pricing tiers (at $35, $50, or $75 per month) that vary according to the number of members in your group.
---
Frequently Asked Questions
What are the best referral marketing tools?
In this post, we have given you an idea of some of the referral marketing software now available. Examine the features and benefits of these products to find one suitable for your needs. The tools we have analyzed are:
1. Advocately
2. Friendbuy
3. Hello Referrals
4. InviteReferrals
5. InviteBox
6. Mention Me
7. Genius Referrals
8. Amplifinity
9. Ambassador
10. Referral Rock
11. Referral SaaSquatch
12. Revetize
What are the best referral programs?
Referral marketing involves promoting your products or services by using referrals from your existing customer base, usually by word of mouth. But how should your referral program look? One idea is to look at some of the best referral programs other businesses operate. Some of the better known high performing referral programs are:
PayPal – gives cash for referrals
Dropbox – gives free storage for referring friends
Airbnb – gives cash for referring people (and more when they rent out their places)
How do you market a referral program?
Most of the referral marketing software tools we have looked at in this post could help you market your referral program. Some other methods you can use to market your referral program include:
1. Promote your referral program with email marketing
2. Share your customer reviews
3. Make sure you have social share buttons
4. Include your referral program on the homepage of your website as well as a dedicated landing page
5. Include in your customer accounts
6. Find a brand ambassador
How do you reward clients for referrals?
You can automate many of the tasks involved in rewarding your clients for referrals by using one of the referral marketing tools that we have covered in this post. For example, some tools automate your rewards, whether they be coupon code, account credit, loyalty points, gift cards, or something else. Some of the most common rewards for referrals are:
Discounts
Cash/cash back
Store credit
Swag
Gift cards
Free subscription period
Donations
What makes a good referral?
You can determine how good a referral is by whether it meets the CARE elements of a good referral. These are:
C (Consent) – although many referrals are given blindly, they are only useful if everyone involved does it willingly. In some cases, referrals can lead to inappropriate connections
A (Actual) – a real opportunity must exist
R (Relevant) – a connection must be relevant for all parties
E (Exit and Evaluate) – the referrer will disappear from the transaction once the connection is made
How do you create an effective referral program?
The referral marketing software we have covered here will help you create an effective referral program. Some other important considerations include:
Provide exceptional products
Put your customers first
Make sure you have clear marketing goals
Keep your referral messaging clear and easy to understand
Make it easy for people to refer
Figure out who to reward
Determine what reward to offer
Decide on a reward structure
Use reviews to boost your referral marketing
Implement analytics and tracking