Best for:
E-commerce businesses of all sizes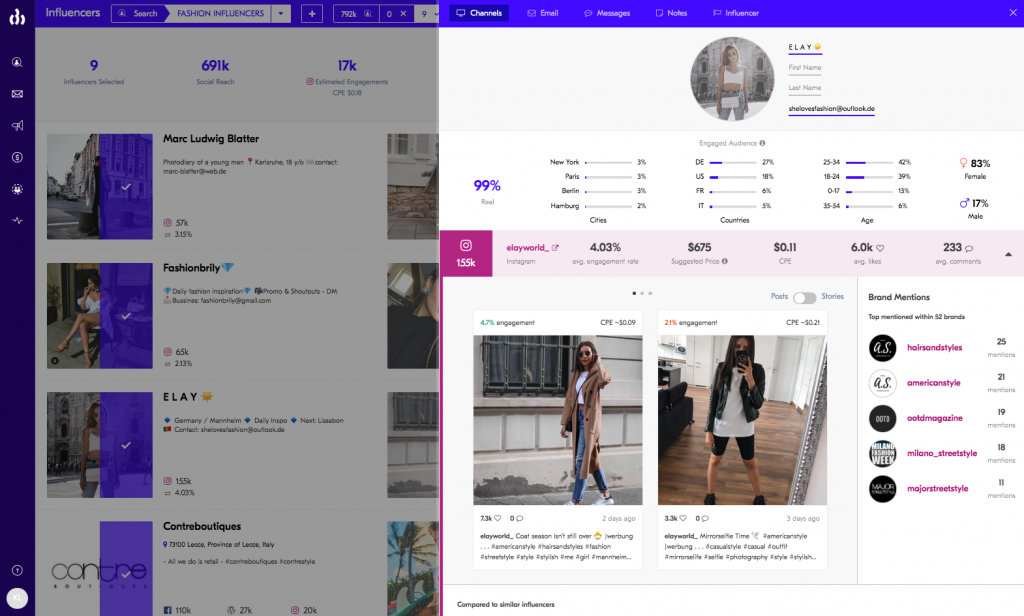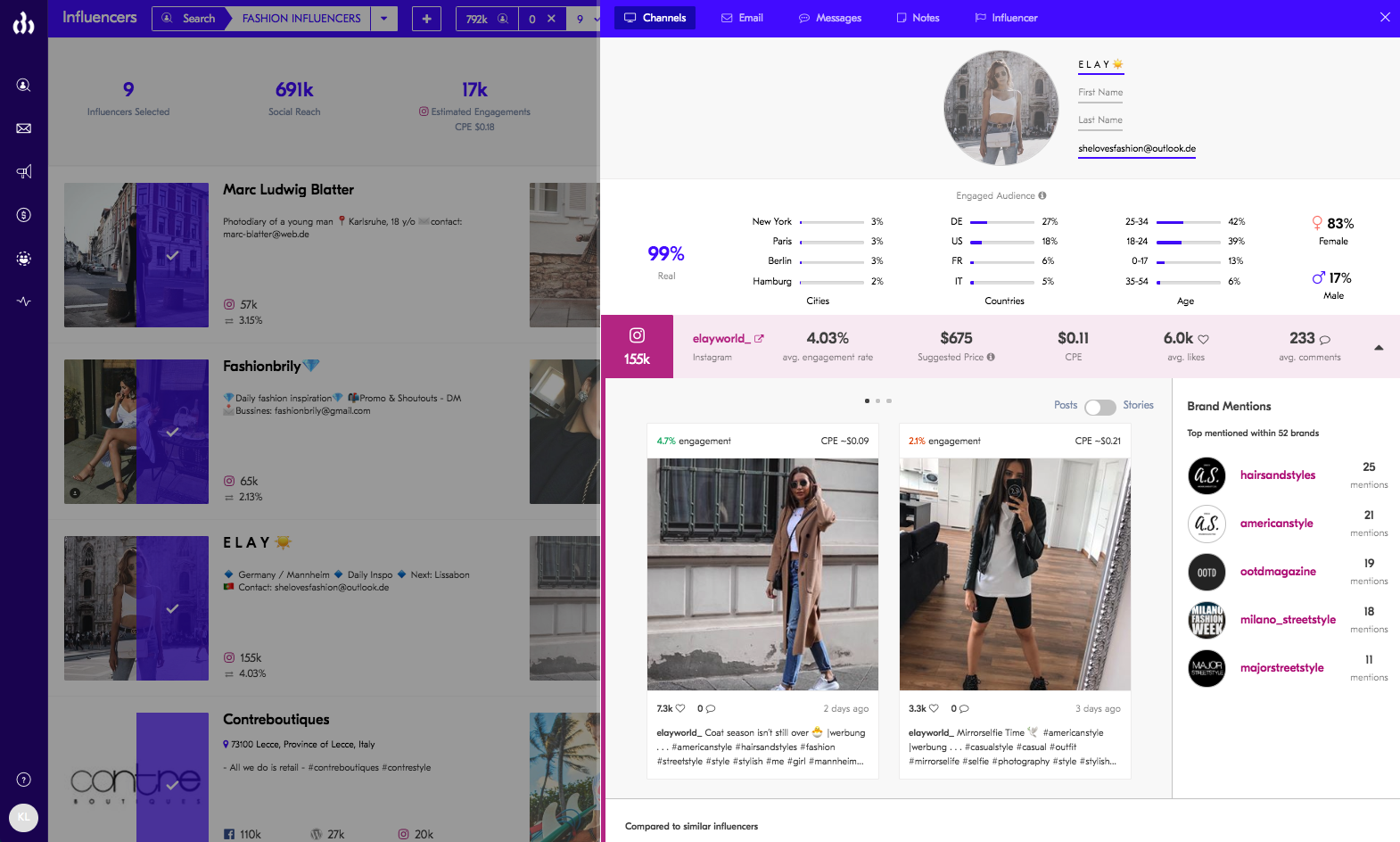 In a way, the story of Upfluence mirrors that of influencer marketing itself. Founder and CEO Kevin Creusy stumbled upon the practice organically, as he sought alternative ways to market his various business interests. Influencer marketing itself is all about the organic connection, and as the industry has refined itself and matured over the years, so has Upfluence.
In fact, Upfluence wasn't even always Upfluence. When we took our first look at the platform in early 2017, the company was in the middle of a rebrand. Prior to our review, Upfluence was a company that made two products:
Facade

, a search engine that used the power of big data to drive extremely precise influencer searches

Publishr,

a robust influencer management system, that also served as a content marketplace
The rebrand was a result of Creusy's own re-evaluation of the influencer marketing landscape. He saw the value of the influencer long game, that the marketing was more successful when it was the result of organic connections and true collaborations. The one-and-done transactional nature of the marketplace wasn't the right direction to take, and the Publishr was shut down. Facade was renamed Upfluence, because consistency is a good thing, and over the course of the last year Creusy & Co. migrated—and then improved—the management tools into the search platform for in all-in-one experience. While they were at it, they added in a flexible yet robust social listening feature that extends Upfluence's capabilities well beyond what their initial two offerings were ever capable of.
---
Summary: Quick Jump Menu
---
Pricing
As a SaaS platform, access to Upfluence is sold on a subscription basis. There are five levels of service, each with a monthly fee (but sold on an annual basis):
Startup — 1 User account, 500 influencers emailed, 1 social listening stream, Basic Training and Support
Small Business — 1 account, 750 influencers emailed, 3 social listening streams, Influencer Demographic Data
Professional — 2 accounts, 2k influencers emailed, 10 social listening streams, Influencer and Audience Demographic Data, API & Exports
Enterprise — 5 accounts, 5k influencers emailed, 25 social listening streams, Influencer and Audience Demographic Data, API & Exports, Publishr Platform
---
The Details
Upfluence is built on a massive database — nearly 3 millions influencers with a collective reach of 82 billion followers. Their proprietary algorithms indexes and updates all their profiles in real time, with every piece of content analysed for reach and engagement. For Instagram, basic audience data is also available (age, gender, location) provided the influencer authorises it.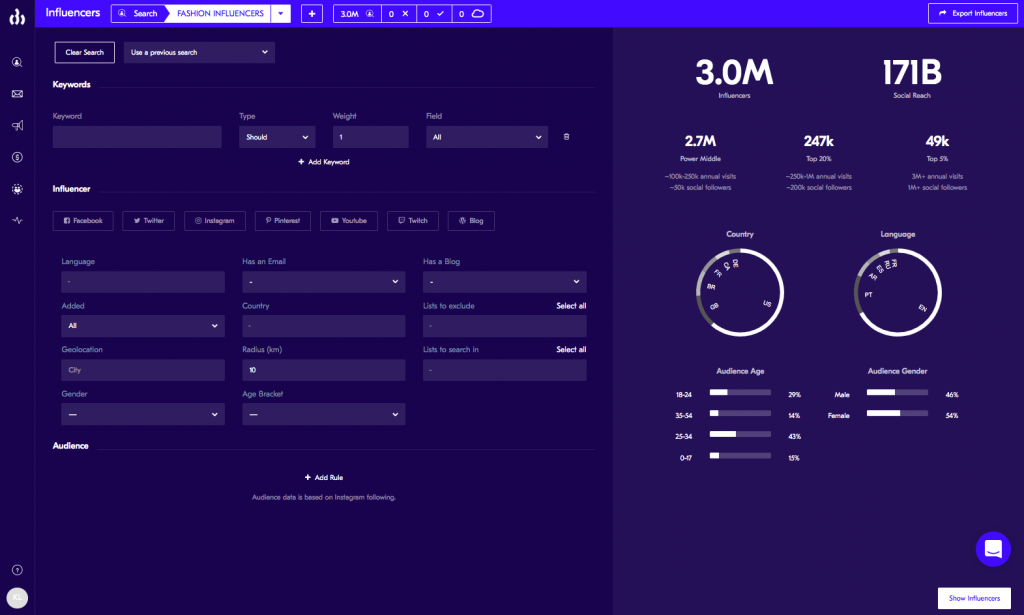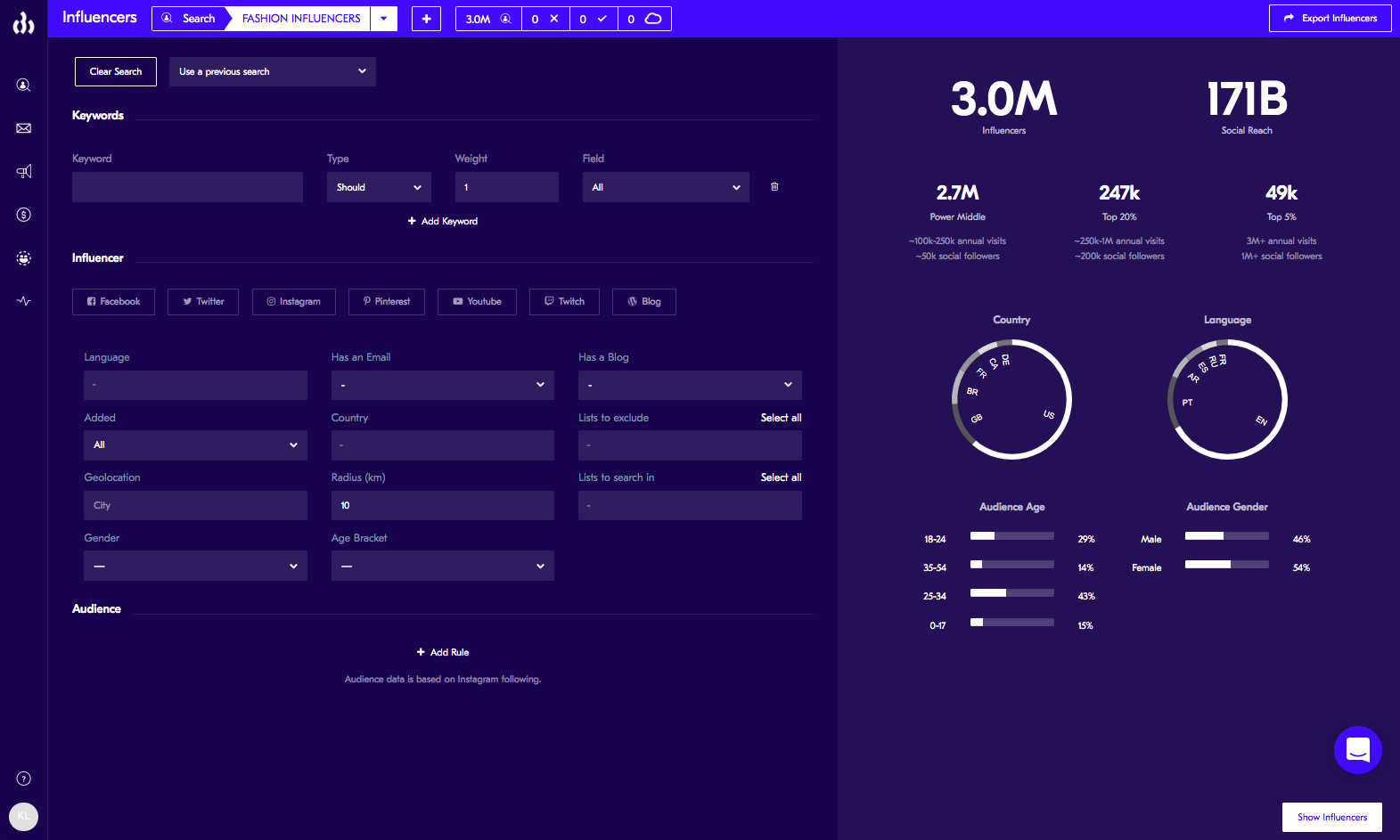 Upfluence recently launched a new identification tool to find the best influencers for your brand called Live Capture, revolutionizing how brands can connect with organic influencers. The idea is simple: your own customers are the best advocates for your brand and can become ambassadors to promote your products. Creusy explains, "Live Capture produces the data businesses need to make an informed decision when locating high-value ambassadors." E-commerce businesses can connect their online store to Upfluence's software to discover influencers who are visiting their website and activate them through dedicated campaigns, allowing them to build their ambassador program and benefit from long-term collaborations. Live Capture does this by launching a pop-up on your website to collect visitor's social handles. The data is then sent to the Upfluence Influencer Relationship Dashboard for the brand to review, essentially allowing brands to passively grow their influencer network. The tool integrates with existing affiliate tools and CMS, including Shopify, Magento, Refersion, Affiliate, Impact, Outlook, Gmail, and Google Tag Manager, so that brands can combine social data with customer purchase history and manage promotion codes in one place.
Brands and agencies can also search through Upfluence to find influencers using as many keywords as necessary. A pizzeria that uses organic and local ingredients isn't going to get anywhere by just looking for influencers who've posted about pizza. Everyone likes pizza. By drilling down with keywords—food, local, and organic—you start to narrow the pool a little bit. What's especially cool is that you can place a relative weight on each keyword (that is, make some more important than others) and end up with some very precise results. It can be narrowed even further using criteria like location, social platform, or number of followers.
The ability to filter by audience data is something new here, and very much welcome. The bad news is you can only do it on Instagram, but the good news is: you can do it on Instagram! Facebook and Twitter are becoming increasingly irrelevant for influencer marketing, while Instagram has maintained its dominance for social media marketing. Still, we'd like to see a greater emphasis on audience data beyond simple demographics on one platform. Psychographic attributes like brand affinities, cultural interests, and more are all readily available, and of great use to marketers. And while we'd never fault anyone for ignoring Facebook and Twitter for their influencer marketing, YouTube is still very much an important social channel to the industry, and getting at that audience data is crucial to running successful campaigns there.
Last year they also added Twitch to their platform and most recently Tiktok. This means that Upfluence covers all the major social media platforms: Instagram, Youtube, Facebook, Twitter, Pinterest, Twitch, and Tiktok.
The interface for all this is intuitive, with results showing up in near real time. Or, rather, the result statistics show up—and this is one of those design elements you didn't know you wanted until you see it. Generally, influencer searches can be overwhelming, as you search for some term and loads of results appear on the page. So you try and filter it down, the results get narrower but you're still looking at a dizzying amount of data. With Upfluence, the left side of the screen is where you type search terms, and the right side displays the number of results based on your search—and categorises them into groups based on follower size. It's cool to watch the stats and pie charts refresh themselves as you narrow your search, but what's great is not being distracted by a bunch of irrelevant profiles while you work your way down to a manageable number.
Here, "manageable results" could mean "thousands of influencers," but remember: searching multiple keywords (each weighted for relevance) means those results are going to be precise. And they're displayed in an easy-to-read format, one that doesn't overwhelm the eye even when you dig deeper into individual profiles. Scroll the listings for high level information—profile bios, followers per platform, engagement rates on each, influence and relevancy scores, and the titles of their most recent posts. See who they might have collaborated with in the past based on brand mentions. Dial in further and find out the reach and engagement rate for each post.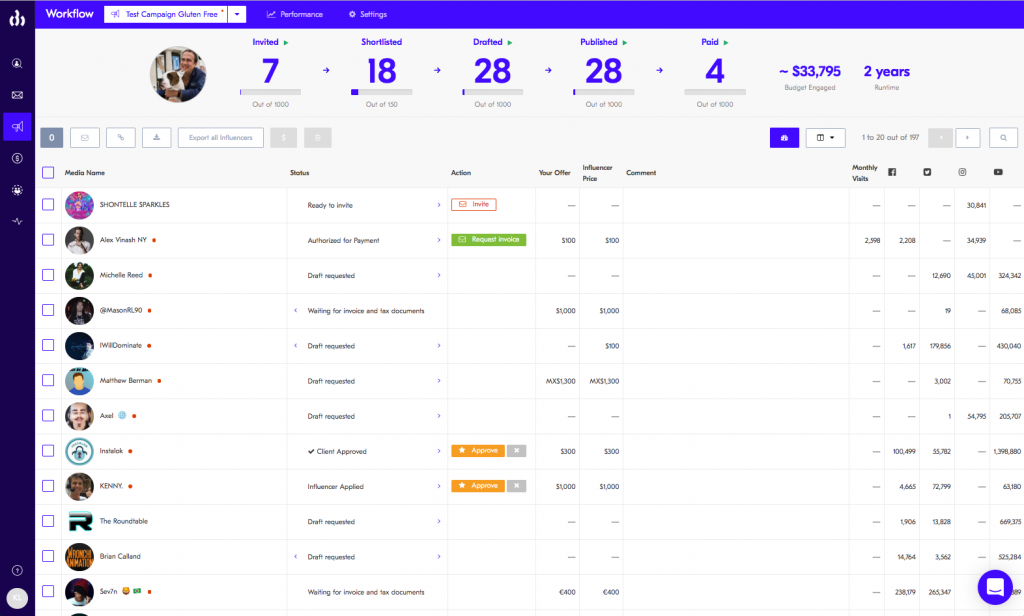 With this many results, Upfluence made sure that their customers could organise them effectively. There are plenty of influencer discovery tools that offer list management, but this platform lets you do more with a list than simply categorise influencers. Particularly powerful is the ability to export these lists to CSV files, and then add new columns of data that you can bring back into the platform. The main function of this works hand-in-hand with another of Upfluence's new features: its emailing tool.
When brands or agencies send invitations out to the influencers they want to work with, sending a generic form letter simply won't do. This goes back to Upfluence refocusing its vision to nurture organic and long-term collaborations. The problem is, it's hard to personalise a letter you need to send to hundreds of people at a time, even with templates. By creating new data fields in the CSV, you can incorporate more personal details into the message templates, which can refer back to these data fields to fill in blanks. So, if you're a dog food brand targeting dog owners to collaborate with, you can add a field with their dog's name that the template grabs as it sends messages out—and every influencer gets her own personal message.
All email correspondence is archived into Upfluence for easy reference—all team members have visibility into any message sent to or from each influencers. There's also a lifecycle management component that shows you your progress for each influencer—who you're negotiating with, who you're waiting for to complete content, who's waiting on payment, those kinds of things. The messaging function is a highlight in what is already a very complete set of tools to manage your influencer relationships.
Most brands will run more than one influencer campaign and will work with a large number of influencers. With Upfluence's campaign workflow, you can easily run several influencer marketing campaigns at once and stay on top of influencer selection & offers. All the tools you need to streamline your campaigns can be found in Upfluence's platform:
Campaign briefs can be directly uploaded into the software
Draft review to moderate & approve influencer content
Email templates to save time sending outreach emails to large groups of influencers
Payment instructions to send to influencers in order for them to complete the steps for a payment request
Influencer status & actions to monitor your campaign progress and know what steps are next
Pricing offers that helps you have an overview of your influencer costs & manage your budget. Directly send payment offers & have influencers submit counter-offers within the Upfluence software.
Influencer payment management takes away the pain of managing influencer payments. Automate invoice requests, influencer bank detail collection, procurement, & payments.
Integrations with all of your favorite tools: Gmail, Outlook, Google Tag Manager, Shopify, Klaviyo, Refersion, Impact, Affiliate by Conversant, and more.
Finally, there's the social listening component, which is more flexible than most we've seen. As you'd expect, you can create several streams with different purposes. Some could simply be monitoring certain hashtags to get an idea what's trending, as means toward creative inspiration. You can create streams to monitor specific influencers, like ones you've got your eye on that you want to engage with. You can monitor your competitors, their activities and their mentions, if you wanted to do some opposition research. And you can mix and match any of the criteria you want to stream for to find out highly specific things—listen for campaign-specific hashtags used by influencers you're working with and you'll get the data you need to see how your own campaigns are doing.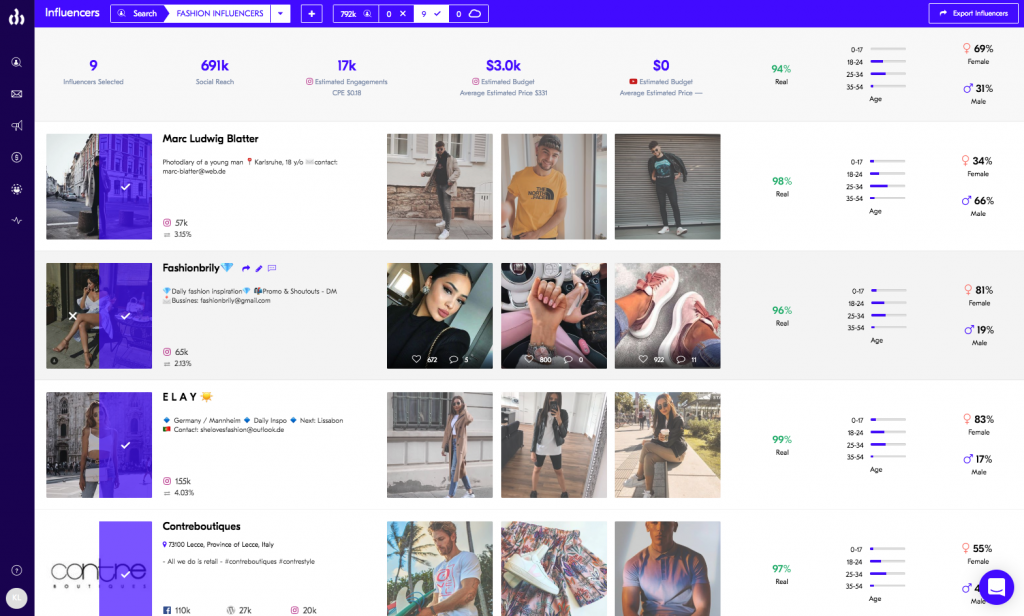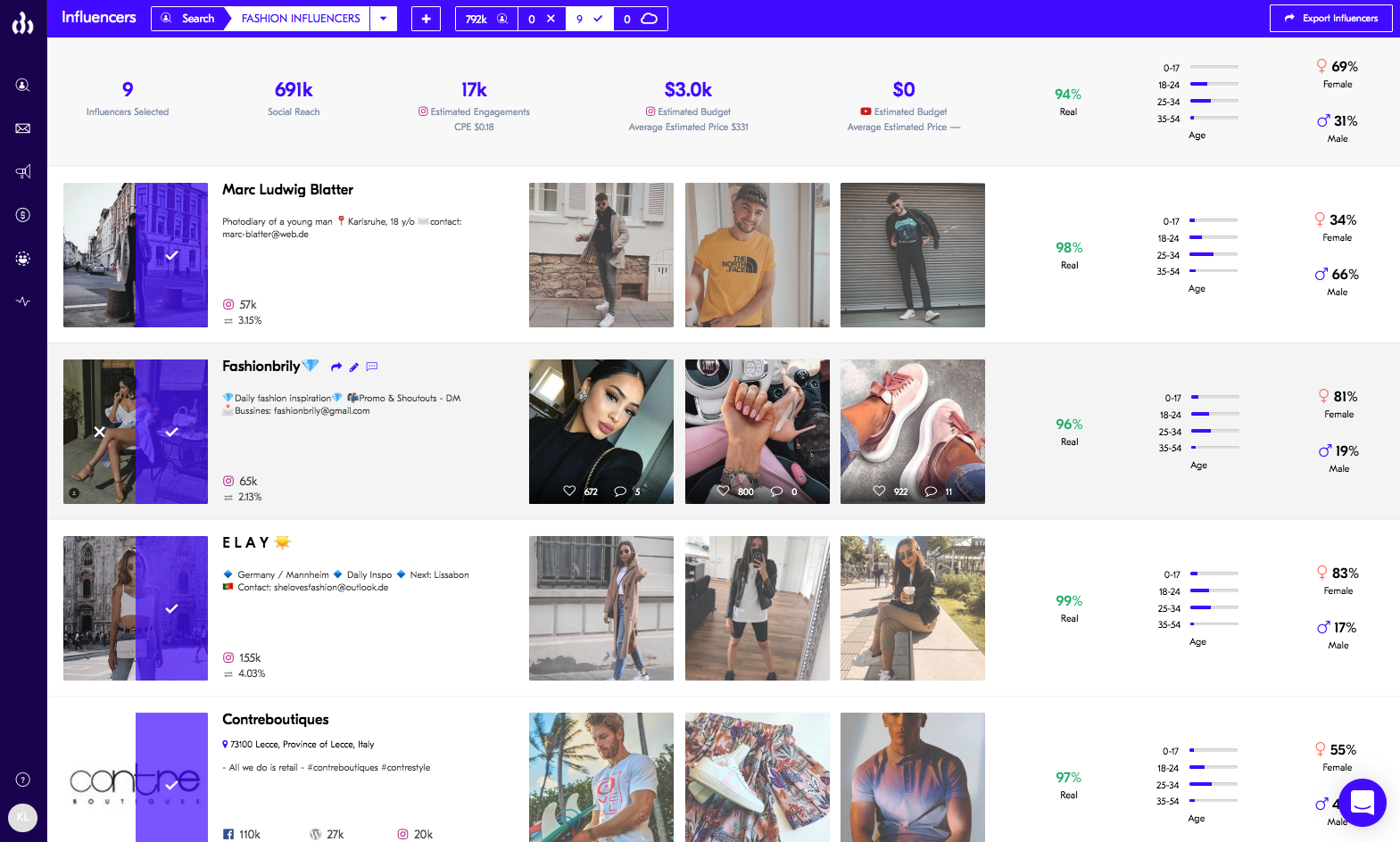 ---
Conclusion
The goal of any influencer marketing platform is, ultimately, to ease the headaches of marketing at scale. That means making it as simple as possible to communicate with all your influencers, track their progress, monitor your campaign content, and get relevant, actionable data when all is said and done. Where many developers approach this by using a one-size-fits-all approach, that can result in unwanted rigidity and unforeseen limitations. Upfluence side steps this by using an approach that stresses flexibility. It's a little more complex than other platforms, but it isn't any more complicated. That is to say, it's not hard to learn—and it's easy to use once you've learned it. The maturation of Upfluence as a product over the last year is truly impressive, and it's probably only a matter of time before our last remaining criticism around the audience data becomes the next thing we're praising them for.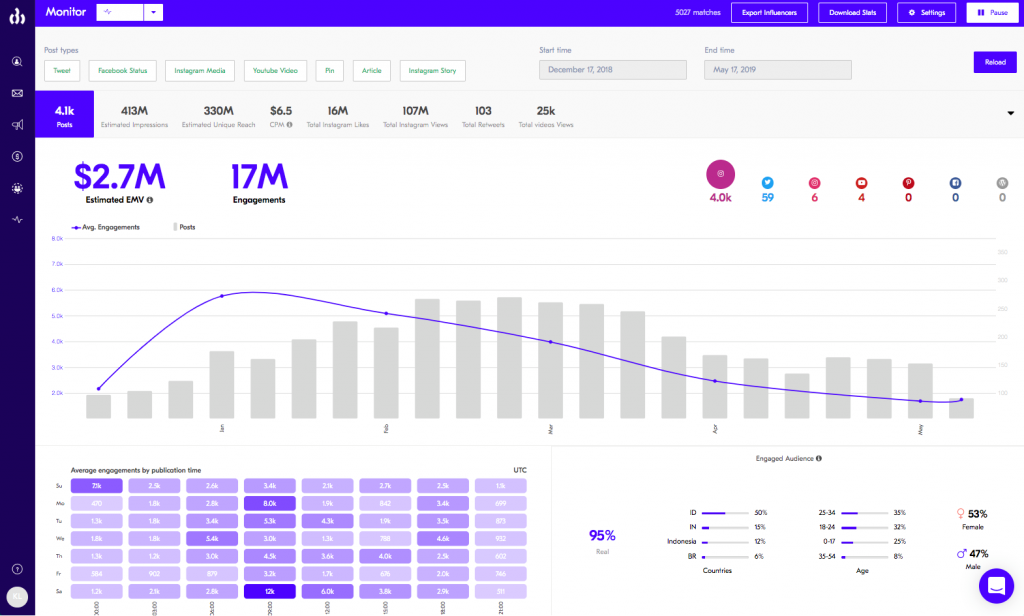 Frequently Asked Questions
What does Upfluence do?
The services offered by Upfluence include: influencer search and discovery, relationship management, campaign management, influencer payment management, email templates and third-party analytics. It connects with all the main social media platforms that include Instagram, YouTube, Facebook, Twitch, TikTok, Twitter, Pintrest and blogs. It also has a robust, yet flexible, social listening feature that extends Upfluence's capabilities far beyond a search engine, influencer management system and content marketplace.
How does Upfluence find influencers?
Upfluence recently introduced a new identification tool, Live Capture, to help you find the top influencers for your brand. This feature revolutionizes how a brand can connect with organic influencers. Live Capture will launch a pop-up on your site to gather the social handles of visitors. The data is then forwarded to Upfluence's Influencer Relationship Dashboard so that the brand can then review it. This way a brand can essentially grow its influencer network passively. Alternatively, brands can search via Upfluence to identify influencers by using keywords.
What are some of the advantages and cons of using Upfluence?
One of its most impressive features is that you can place a relative weight on each keyword. In other words, you can get some really precise results that show up in almost real time. You can then narrow down these results even further using other criteria such as location and the number of followers. Sadly, you can do this only on Instagram.
Is Upfluence easy to use?
The interface is very intuitive. The left side of your screen is where you key in your search terms, while the right side of your screen will display the number of results based on your search. The results are displayed in a format that is easy to read. If you want to dig deeper into a couple of specific profiles, you will not be overwhelmed. What is more, you can also organize your results effectively with the help of a number of influencer discovery tools.
Is Upfluence a good platform?
Most platforms use a one-size-fits-all approach which can lead to limitations and rigidity. Though, Upfluence instead uses an approach that emphasizes flexibility. While it is slightly more complex than other influencer marketing platforms, it is not more complicated. So, once you have learned how to use it (which is not difficult), it is really easy to use. All in all, it is a good tool to use, even more so if you rely on Instagram a lot.
Upfluence
Features

Ease of Use

Reporting
Upfluence
We take care of your inluencer marketing campaigns, and provide content marketing services tailored to your needs.

Services Offered: Search/DiscoveryAutomated RecruitingInfluencer Lifecycle ManagementInfluencer Relationship ManagementTeam Collaboration ToolsContent ReviewCampaign ManagementCampaign ReportingInfluencer AnalysisPayment ProcessingSocial Listening
Channels: Instagram, Youtube, Facebook, Twitch, Tiktok, Twitter, Pinterest, Blogs