If you want to get the most from your Instagram marketing strategy in 2022, you've come to the right place. In this article, we're going to share the top Instagram marketing trends to watch in 2022, so you can get more followers, increase engagement, and earn more revenue from the platform.
---
16 Instagram Marketing Trends for 2022 You Need to Watch:
---
16 Instagram Marketing Trends for 2022 You Need to Watch:
If you use Instagram for marketing, or you're considering it, it's important to stay on top of the latest Instagram marketing trends. Instagram has more than 1 billion monthly active users; 500+ million check the platform every day. In addition, 90% of Instagrammers follow a business on the platform. With such a large user base, it can be really easy to get lost in the noise. By focusing on the Instagram marketing trends we've included here, you'll be able to build an effective Instagram marketing strategy and create high-quality content that gets your followers excited. Let's take a look at 16 Instagram marketing trends you can adapt to meet your goals in 2022.
1. Instagram Link Stickers Will Grow in Popularity
A year ago, we predicted that more brands would use the swipe-up feature to create links in their Instagram Stories, rather than having to rely on a solitary link in their bio. However, Instagram had other ideas about this. They retired the swipe-up feature last August, although not before introducing an exciting new way for brands and influencers to include links in their Stories.
Link Stickers are the latest interactive stickers you can add to your Stories. Like most Instagram stickers, Link Stickers have a relatively consistent look – a rectangular block with a URL on a white background. Users can tap on the sticker, and Instagram will transport them to the chosen web page.
Although Instagram initially limited access to Link stickers to accounts with more than 10,000 followers (the same criteria as the old Swipe Up feature), they made it available to everybody from late October 2021.
---
2. More Marketers Will Use Twitter Card Previews on Instagram
Twitter may not have the reach and popularity it once did; however, it is still a favored platform by marketers. Instagram has now made it easier (once again) to promote your Instagram posts on Twitter, with post previews.
They said it would never happen… Twitter Card previews start rolling out TODAY. 👀

Now, when you share an Instagram link on Twitter a preview of that post will appear. 🙌 pic.twitter.com/XSZRx9dzd1

— Instagram (@instagram) November 3, 2021
If you've used Instagram and Twitter for a while, this might seem like a case of déjà vu. Using Twitter cards on Instagram had been in the app from its early days, but Facebook removed the capability when they took over Instagram in 2012.
---
3. Instagram Stories May Become Longer
As 2021 draws to a close, Instagram is testing 60-second Stories. Previously, they broke longer videos in Stories up into 15-second chunks. Allied with this, you can now add music and effects to a full video, no longer restricting yourself to overlaying the 15-second segments.
This gives the people who view your Stories opportunities to watch with fewer interruptions. It also offers new opportunities for you to create content that tells your story and pique the interest of your target audience.
---
4. Brands and Creators Will Connect Better on Instagram Using the Platform's New Branded Content Features
Instagram trialed various branded content features over 2021. As a result, they now have new tools that help creators and brands connect and collaborate on the platform through brand partnerships, commerce, and more.
Creators can now add participating brands they're interested in working with to their preferred brands' list, giving them priority when brands search for creators.
Instagram has also created a section in Direct Messages for "partnership messages," where brands and creators find and manage their branded content partnerships.
Brands can use data and unique filters to discover and select the best creators for their campaigns. They can organize shortlists to manage multiple campaigns easily.
---
5. Creators Will Increase Their Use of Instagram's Affiliate and New Shop Features
Instagram introduced multiple ways for creators to earn an income on the platform in 2021. One advance was the capability for select creators to tag products from the brands they work with or use Shops if they have their own product line.
Instagram is now testing a native affiliate marketing tool that allows creators to discover new products available on checkout, share them with their followers and earn commissions for the purchases they drive. When people come across an affiliate post from a creator featuring a tagged product, they see "eligible for commission" at the top of the post, making it clear that their purchases help support that creator. This provides a new way to partner with and reward creators who share their products.
Creators who already have their own product lines can now link their shop to their personal profile in addition to their business profile, allowing them to display and sell their products directly to fans. They can also set up a new shop and drive excitement with exclusive product launches from the Instagram app by linking their account with selected merchandise partners.
---
6. Content (Still) Reigns
It should come as no surprise that content is still the most important thing to consider when planning your Instagram marketing strategy. There are several content marketing tools that can help you create amazing Instagram content but don't stress too much over production value. Over the last few years, we've seen a trend toward unfiltered and "authentic" content from Instagram influencers and brands, and that trend will continue.
Of course, this doesn't mean that you can just capture and share any old thing.
While more candid content is on the rise, you still need to ensure that your content is eye-catching and tells a story. Instagram users have become increasingly better at determining if the content they're seeing is genuine and authentic, thanks in large part to accounts like Humans of New York and the influencers who are sharing their failures too, instead of curating their feeds to only show their successes. Just look at fitness influencer Hayley Madigan who makes it a point to regularly show herself posed and unposed in her Instagram posts:
You'll notice that the posts feature high-quality, eye-catching images. This lends credibility to your brand. However, the fact that Madigan uses content that some would consider "unflattering" lets her followers know that they can expect more from this fitness influencer than rehashing society's perception of what "fit" looks like. Plus, it makes her a lot more relatable.
---
7. Even More Instagram Stories
Since its launch in August 2016, Instagram Stories has become incredibly popular with Instagram influencers. According to Meltwater, 86.6% of Instagram users post Stories, and nearly 80% of brands say that Instagram Stories has had a huge impact on influencer content about their brand (Tribe Dynamics). Not only that, but nearly 90% of influencers publish content using Stories, with 63% of them saying they're going to use Stories "much more frequently" in the coming year. Instagram proudly proclaims that more than 500 million accounts use Instagram Stories every day.
Having an effective strategy for Instagram Stories is important to get the most from this feature. We recommend taking advantage of the functionality available to all users—polls, emoji sliders, stickers, and more—to encourage engagement.
---
8. Reels Usage Will Rise
Instagram Reels, Instagram's response to TikTok, lets users create and edit short-form video content of 15-seconds each. Reels was launched in August 2020 and is currently available in more than 50 countries. While TikTok influencers who've built a following on the platform aren't likely to jump ship just because Instagram has a TikTok competitor, Reels is a great option to capitalize on TikTok-style content, trends, and challenges without having to move to another platform and build their audience again.
Brands can leverage Instagram Reels in their marketing strategy in several ways. For starters, even if you're not going to create content on TikTok, it can pay off big to stay up to date on what's happening on the platform. You can then be one of the first creators to launch those trends on Instagram Reels. It's also helpful to ease into Instagram Reels through informational content. Create content on things you're already knowledgeable about and share that with your audience.
---
9. Relatable Influencers
With the trend toward authentic and unfiltered content, brands need to partner with relatable influencers. The average Instagram user is looking to connect with real people whose lives look like their own—not celebrities. When looking for an Instagram influencer to represent your brand, consider all types of influencers. More and more nano and micro-influencers are being tapped for collaborations because of their connection with their audiences. While they might only have a couple of thousand followers, these influencers tend to have better engagement simply because it's easier for them to stay in touch with a few thousand people than hundreds of thousands.
---
10. Cause Marketing
In July 2020, Instagram launched a social fundraising feature. Users can create fundraisers for personal causes, their business, or on behalf of a friend or cause that's important to them. Instagram released the feature in response to the effect of COVID-19 on the economy. At the time of the feature's release, users on Instagram and Facebook had crowdfunded more than $100 million for those impacted by the pandemic. Instagram has said they've also "seen a large wave of digital activism responding to the global conversation around racial justice."
In addition to being a relatively new feature from Instagram, cause marketing is a great way to let your followers know what's important to you. Gone are the days when it was sound business practice to keep quiet about social issues. These days, Instagram users are looking for brands that take a stand on the same causes and issues that matter to them. And don't think that you can just add a black box as your Instagram profile image in support of the Black Lives Matter movement and call it a day—consumers are becoming more and more comfortable calling out hypocrisy or lip service when they see it.
Even better, combine with popular Instagram influencers for your cause marketing. That way, you can work with four potential audiences:
The non-profit you're trying to support and their followers

Your own audience

Important influencers in your niche

Your target audience, whom you want to buy your products (or some other goal).
---
11. More Live Content
Instagram Live use skyrocketed over both 2020 and 2021. According to Business Insider, Instagram Live usage increased 70% in a single month, April 2020. This isn't surprising, considering this was about a month into lockdowns to mitigate the spread of COVID-19. Researchers believe that this increase is because humans aren't built to stay isolated from others for extended periods. To feel more connected then, people have turned to social media. As the world opens up in late 2021, but with the ever-present threat of Omicron hovering, it's clear that COVID-19 is still wreaking havoc on our social interactions. That makes it a pretty safe bet that Instagram Live content will continue to gain popularity.
We have reached the stage now where more than 1 million people watch Instagram Live every day, with 26% of Gen Zs and Millennials now watching live streaming on Instagram.
---
12. In-App Shopping
More and more consumers are turning to the internet for their shopping needs for everything from clothing to food to cars. Since 70% of shoppers already use Instagram to find new products (Facebook), it just makes sense that Instagram is making it easier and easier for users to shop without even leaving the platform. As the pandemic continues to derail plans into 2022, consumers are likely to increase their online shopping activity. In the Instagram mobile app, Shoppable Posts show up in your feed with a little shopping bag in the lower-left corner, and you can tap the products to see more information about them. Here's what a shoppable Instagram post looks like:
Instagram now also has a shopping section, so if you're interested in selling on Instagram, now's the time to get started.
---
13. Focus on Instagram Video
Along with the increase in Instagram Live and Instagram Reels content, keep your eyes on Instagram Video going into 2022. Instagram Video is Instagram's video platform, combining IGTV and feed videos. For a while, from 2018, IGTV was Instagram's push into long-form video. However, IGTV never took off as a YouTube killer, and in late 2021 Instagram rebranded IGTV as "Instagram Video," merging it with the videos people share in their regular Instagram feed.
To make IGTV even more attractive to creators, Instagram had trialed ads on the platform earlier in 2021. They later expanded this to cover more countries and then the revamped Instagram Video. And, since Instagram Video content creators receive the same ad revenue percentage as YouTube creators, Instagram could now find itself in a position to compete against the video content giant.
With Instagram Video, creators have the option to use video editing software tools to make their video content pop. Though, as we mentioned earlier in this article, users are seeking a more authentic view of influencers and brands, so you'll probably want to opt for a mix of "candid" videos and those that have a more polished and produced look.
---
14. The Explore Tab
All social media platforms have the same goal: to keep users on the platform for as long as possible. To that end, Instagram has created the Explore tab. Here, Instagram pushes interesting, not yet well-known content. And it works! More than 200 million Instagram users access the Explore tab every day to find new ways to entertain themselves (Instagram). Through continued refinement of the tab, making it easier to use and navigate, it's more than likely that time on the Explore tab will increase into 2022.
The Explore tab offers shortcuts to users to quickly find content that interests them from Instagram Videos, travel, architecture, decor, style, food, and more. This makes it more important than ever before for brands and influencers to make it to the Explore tab so they can gain access to users who are interested in their content but don't already follow their accounts. Of course, there's no set way to get there. But there are some things you can do to increase your chances:
Expect to see competition among brands and influencers throughout 2022 as they vie for a coveted spot on Instagram's Explore tab.
---
15. Trending Cross-Platform Content
While social media platforms tend to favor native content, a quick scroll through the feeds on any platform now shows a mixture of native and cross-platform content like memes, TikTok challenges, GIFs, special effects, and more. Of all social media platforms, Instagram has been particularly adept at introducing new features that let their users create the same type of content that they've been cross-posting. Now that Facebook has purchased GIPHY and plans to integrate it into Instagram, you can expect to see a lot more GIF marketing on the platform, too, in addition to the TikTok-style content Instagram offers with Reels and long-form video content it provides through Instagram Video.
---
16. Branded AR Effects
While branded effects were ridiculously popular at the height of Snapchat's popularity, Facebook has taken the idea and turned it into an entire platform. Facebook's Spark AR Studio went public in mid-2019, and since then, more than 1 billion people worldwide have used it to create their own AR effect filters. Branded AR effects have been used by brands across industries, from cosmetic companies letting users see how different makeup shades look on them to clothing and home decor brands letting users virtually try on outfits or see how a specific decor piece would look in their space. This is a brilliant way for brands to market their products to shoppers who are increasingly turning to the internet for their shopping needs.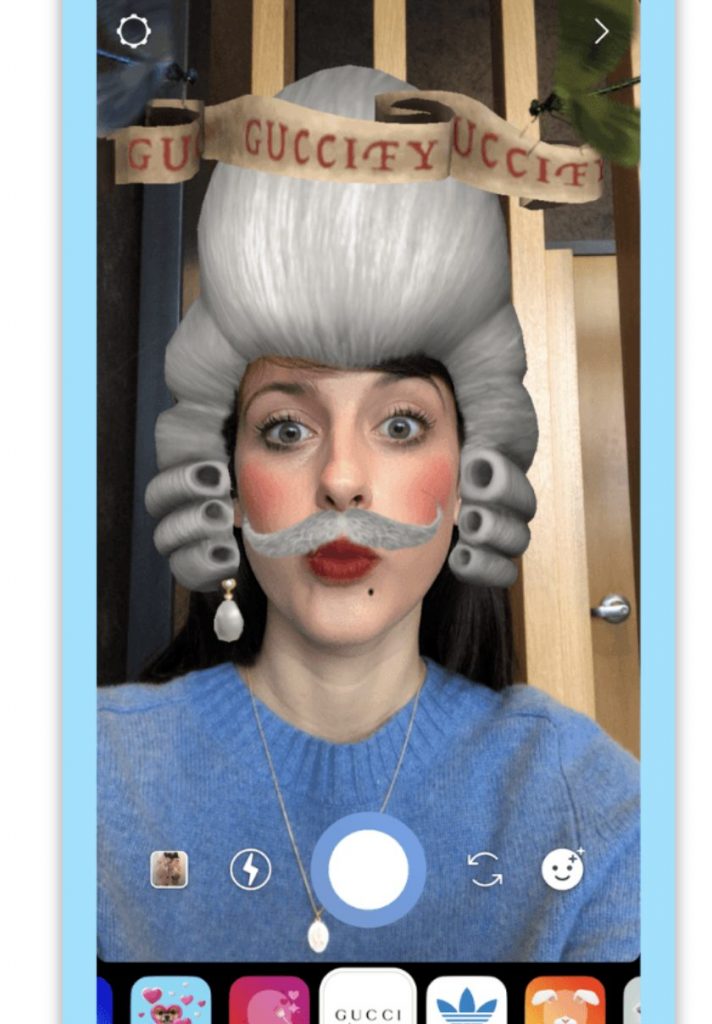 ---
Grow Your Brand in 2022 With These Instagram Marketing Trends
Creating a strong brand presence on Instagram is a big part of any successful social media marketing strategy. It's continually proving to be the platform for influencers, providing tools and even education that helps brands reach and engage with followers. As Instagram continues to evolve, adding functionality and features that make it easier to keep users on the platform, influencers and brands that have already built a following on the platform will find it more and more important to focus their efforts here. With the 16 Instagram marketing trends for 2022 we've shared here, you have more than enough to help you create a brilliant, engaging, and effective Instagram marketing strategy that will help you outperform your competitors every step of the way.
Frequently Asked Questions
What type of content works well on Instagram?
Content remains the most important thing to give thought to when you are planning your Instagram marketing strategy. Since 2019, there has been a trend toward unfiltered and "authentic" content from Instagram influencers and brands. Candid content that is eye-catching and tells a story works well. So, it can be a good idea actually to share your failures as well and not just your success stories. This type of content will make you a lot more relatable to your audience.
How can I make my Instagram Stories more successful?
It is important to have an effective strategy for Instagram Stories so that you can get the most from this feature. For starters, it is a good idea to take advantage of polls, emoji sliders, and stickers that are available to all users. The Instagram Link Sticker feature lets you add links in specific stories that can work well. This way, you don't have to constantly change the link in your bio to match your marketing campaign.
How can I use Instagram Reels?
You can take advantage of Instagram Reels in various ways. Firstly, you should stay up to date with what is happening on TikTok (even if you do not use TikTok to create content) and then make sure that you are one of the first to launch those trends on Instagram Reels. Another way is to create content on subject matter that you already know a lot about, and then you can share that with your audience.
Should I work with a micro-influencer?
Yes! Increasingly more nano and micro-influencers are being used for collaborations because of the connection they have with their audiences. They tend to have better engagement with their users as it is not as hard for them to stay in touch with a few thousand followers as opposed to hundreds of thousands. Considering that authentic and unfiltered content is trending, it makes sense to work with a relatable influencer who can connect with real people.
Should I use Cause Marketing?
In July 2020, Instagram launched a very successful social fundraising feature in response to the effect of the COVID-19 pandemic on the global economy. This feature lets users create fundraisers for personal causes, their business, or on behalf of a friend or cause that is important to them. It is a great way to let your followers know what is important to you as Instagram users are looking for brands that are willing to take a stand on the same issues that are important to them.