Email marketing forms an integral part of any marketing campaign. As a matter of fact, the ROI offered by email marketing is better than any other marketing channel. For every $1 you invest, you could possibly earn $42 in return. So, it makes complete sense why you may want professional help to ensure that you really unlock its full potential.
Luckily, there are countless email marketing agencies that can help you to make the most of this channel. In this blog post, we are going to share the top 19 email marketing agencies (in no particular order) that we have found boast the track record and expertise for your next email campaign.
---
Top 19 Email Marketing Agencies To Get the Best ROI on Your Campaigns in 2022:
---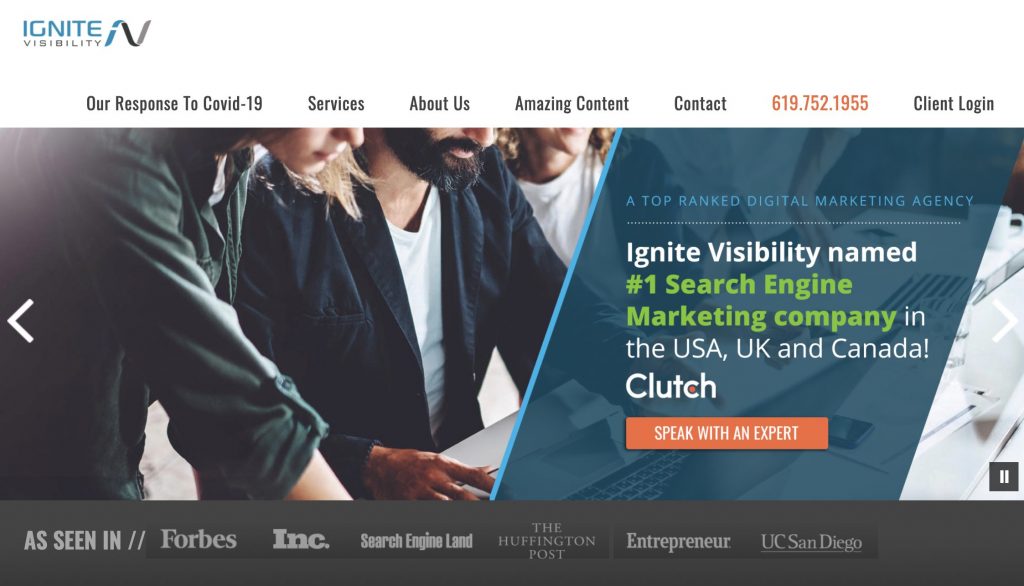 Based in San Diego, California, Ignite Visibility was launched in 2013. Since then, they have received numerous awards for their services. In fact, in the digital marketing industry, they have received some of the most awards. No wonder Tony Robbins is one of their former clients.
In addition to email marketing, their other areas of specialty include SEO, social media, digital PR, interactive campaigns, paid media and conversion rate optimization (CRO). Thanks to their award-winning proprietary digital marketing forecasting system, their clients consistently achieve their goals.
---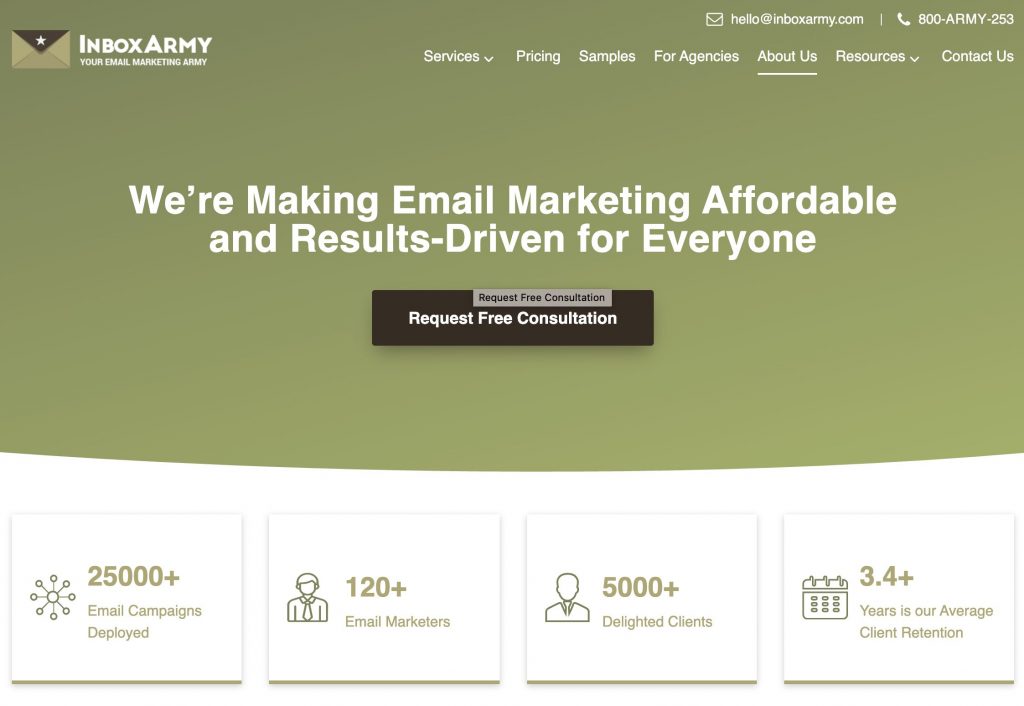 InboxArmy is a full-service email marketing agency that can help you with your email strategy, and to manage your campaigns. Their services also include email marketing automation, template production, ESP vendor evaluation and migration and email deliverability. In fact, the founder of InboxArmy, Chris Donald, is viewed by many as one of the architects of email marketing.
InboxArmy has worked with an impressive variety of industries. From e-commerce to publishers and news organizations, they have helped more than 5000 businesses already. Well-known brands like Airbnb, Expedia and Spotify have placed their trust in them, making them a good choice for large brands. To find out more about their pricing, you have to contact them for a custom quote.
---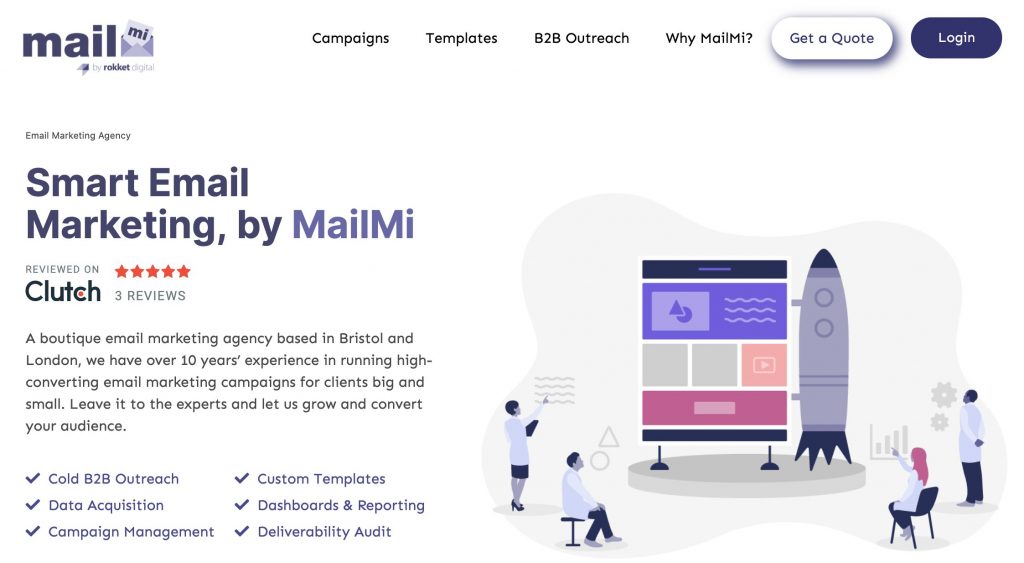 MailMi is a British email marketing agency based in Bristol. They provide email marketing services mostly to small businesses and offer different packages to meet the needs and budgets of their clients. For example, for email campaign management, their pricing starts at £199 per month over four months.
In addition to email campaign management, their services also include B2B outreach, email newsletter design and email marketing strategy. Former clients include TechTrek, Kloodle and Constellation Group.
---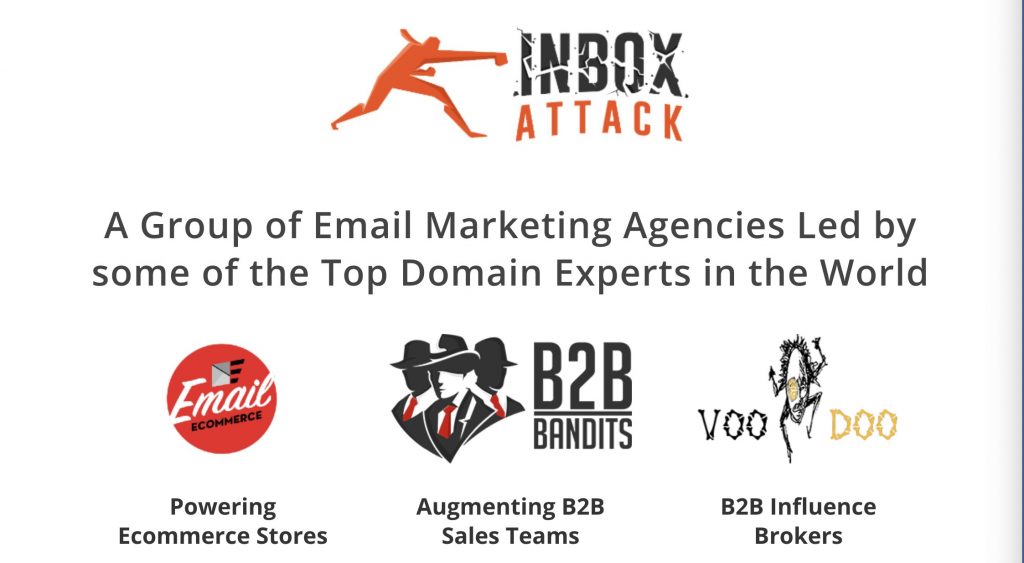 Inbox Attack is actually made up of three unique business units that focus on B2B, copywriting and e-commerce. Initially, they offered many other services that included artist management, video production, social media marketing and even business coaching. Nowadays, they solely focus on email marketing.
Their team has been doing what they do for just over a decade now. During this time, their efforts have been recognized in the press and they have been featured in a number of podcasts and blogs. Even Mailchimp has featured them a couple of times in their blog.
To date, they have handcrafted and launched more than 10,000 unique campaigns. With their expertise, their clients have generated half a billion dollars in revenue. If you ask us, that's no mean feat.
---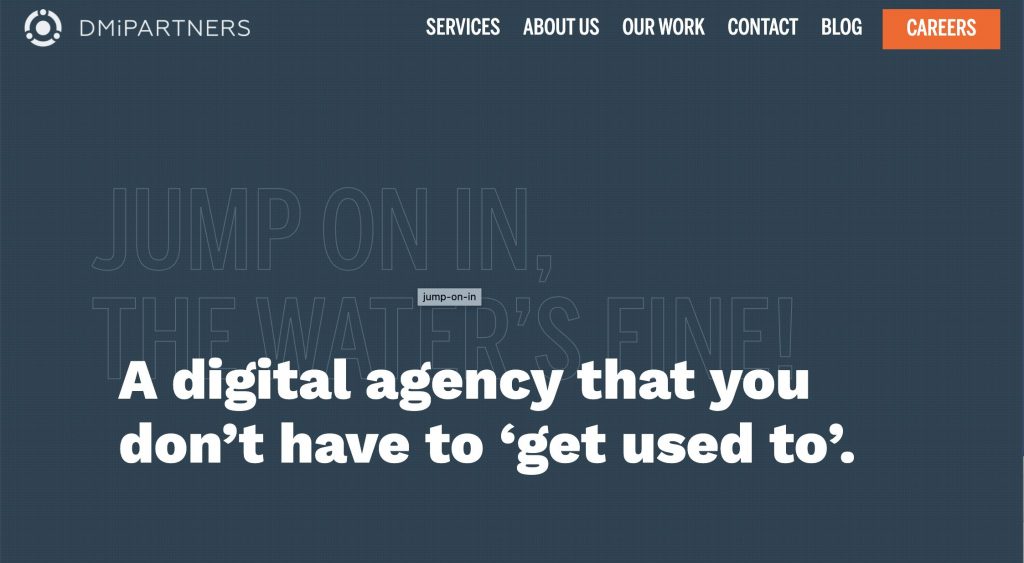 DMi Partners is a full-service digital marketing agency that is based in Philadelphia. They specialize in web development, digital strategy and media buying. With regards to email marketing specifically, they can help with full-service email management, email auditing, subscriber onboarding, and technical integration.
They have been in the business for almost 20 years, during which they have worked with pretty big brands that include Unilever, CNN, The Home Depot and Hertz. We love their website (which, by the way, has received awards in the past). Unlike some of the other email marketing agencies mentioned, they have made sure to apply some clever branding to their own business as well. That is always a good sign!
---

The team at Encircl LLC started out the same time as Inbox Attack. Though, unlike Inbox Attack, they have decided to offer other creative services such as graphic design, creative consultation and social media marketing, in addition to email marketing.
With regards to email marketing specifically, their services include email banner ads, email campaign management, email deliverability, and responsive emails. They have served different industries that include travel and leisure, e-commerce and technology from their offices situated across the globe in cities like San Francisco, Toronto, Mumbai and Singapore.
---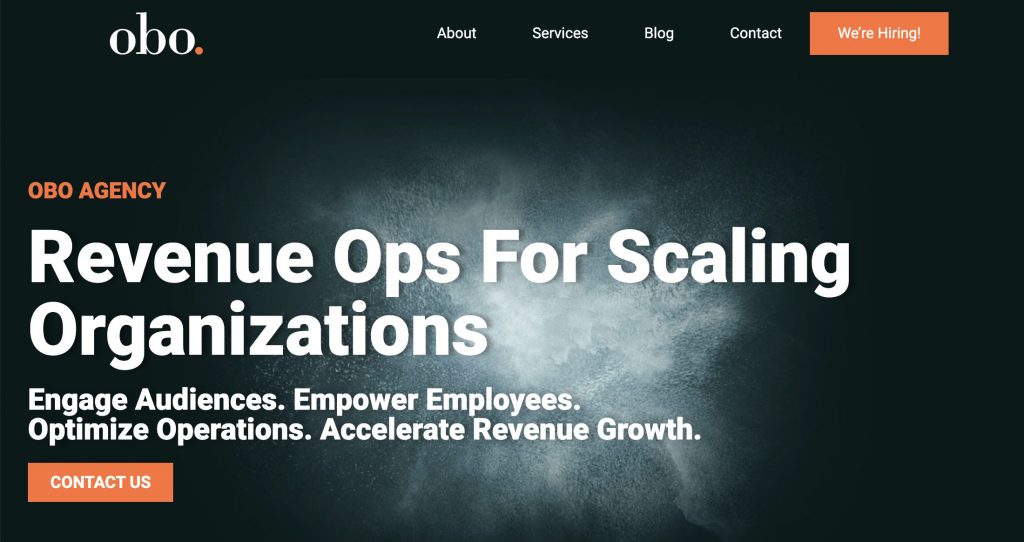 With offices in Washington D.C. and Columbia, Obo. Agency offers end-to-end marketing services and works with a wide range of technologies. From email template design to campaign creation, setup and deployment, they can help businesses of all sizes communicate their mission and brand via email. Both Clutch and The Manifest have identified them as one of the Top 10 email marketing agencies.
---

At the time of writing this blog post, Rejoiner was the top-ranking email marketing company by Clutch and have powered email channels for brands like Guess and Guthy | Renker. They focus solely on email marketing and offer a wide range of services. Their services include: email copywriting, quality assurance, email design, campaign management, and deliverability. If you do not need the additional services such as email strategy, creative production and deliverability consulting, you are free to use their software by itself.
Their pricing works a little bit differently compared to some of the agencies included in this list. Instead of offering set pricing plans, they work out your pricing using the number of contacts that you have. For example, for 500 contacts, you are looking at about $95 per month. For this price, you can send your contacts up to 10 emails per month. Businesses that have more than 150,000 contacts qualify for a high-volume discount.
---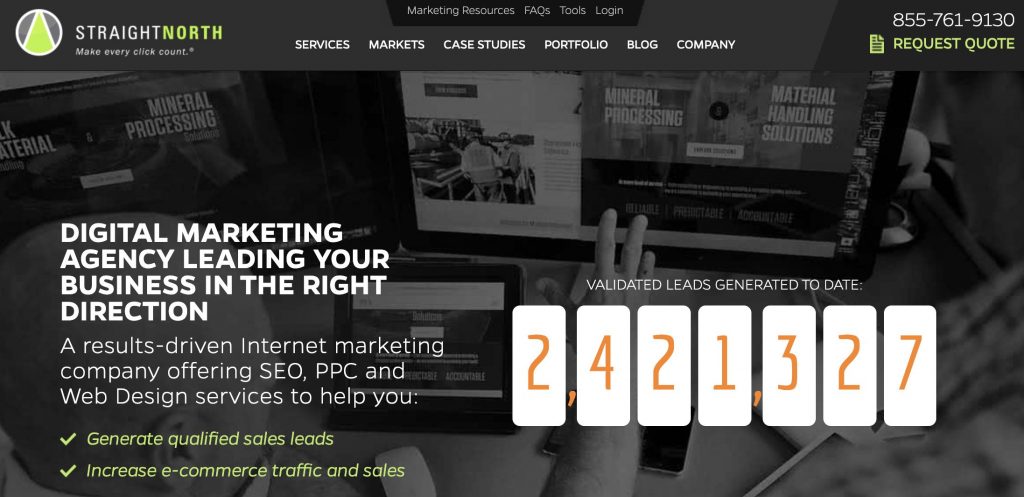 Straight North is an award-winning full-service internet marketing company that specializes in PPC, SEO, website design and development, graphic design, and email marketing.
With offices based across the United States, they bring over 20 years of experience to the table. Their in-house team of more than 100 employees work with small businesses, medium businesses and enterprise businesses in the B2B and B2C sector.
They offer various email marketing services for small businesses. These include: mailing list management, content creation, campaign reporting, responsive email design and ongoing testing to boost conversions. For example, for Newins Insurance Agency Holdings, they designed and implemented a customized campaign for four of its brands.
---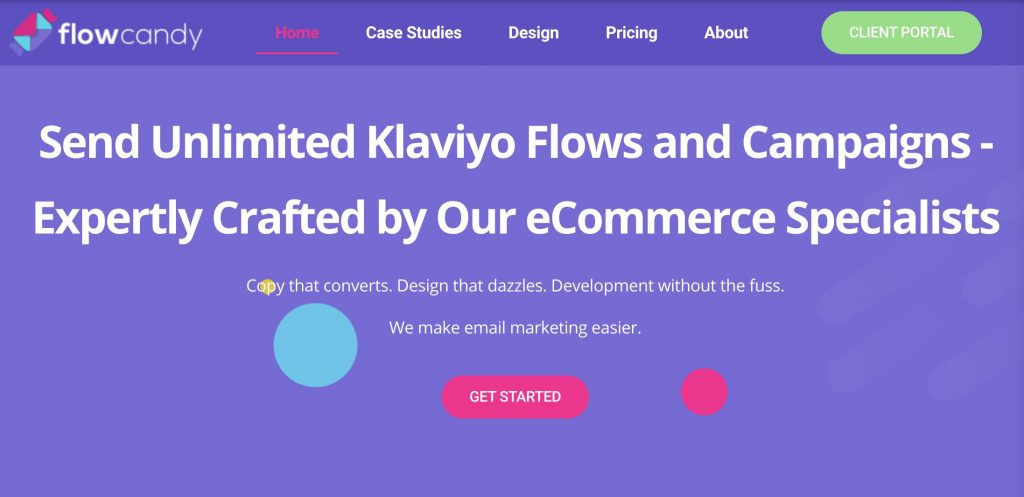 If you need help with Klaviyo, FlowCandy can help you to get some sweet results with your email campaigns. They are very clear about what they don't offer. They don't do SEO, web design, landing pages, or social media design. Though, for anything relating to email marketing, they're your agency.
FlowCandy offers three pricing plans: Basic ($995 per month), Growing ($1495 per month) and Scaling ($2195 per month). From helping a CBD store create a newsletter to increase their Klaviyo sales to working with a niche female apparel store, FlowCandy has worked with clients from various industries.
---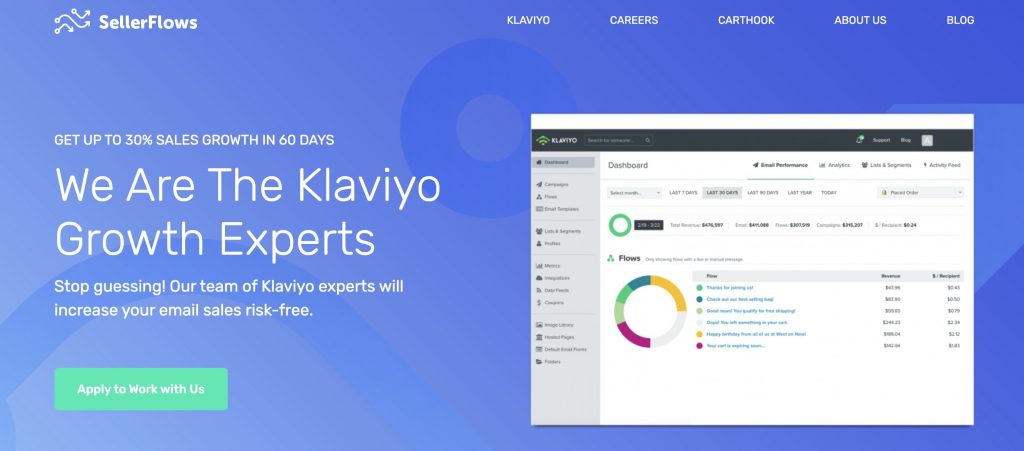 SellerFlows is another top email marketing agency that specializes in Klaviyo (they are a member of the Klaviyo agency partner program). Their other expertise include CartHook and Shopify. While their founder, Will Evans, boasts almost 10 years of experience in e-commerce, SellerFlows focuses only on email marketing.
Their headquarters are in North America, but SellerFlows is a fully remote agency. So, even if you are not based in the US, you are welcome to work with them (as long as you can log in). Another benefit of working with them is that they offer a flexible work schedule which helps them to get the job completed efficiently (irrespective of your time zone).
---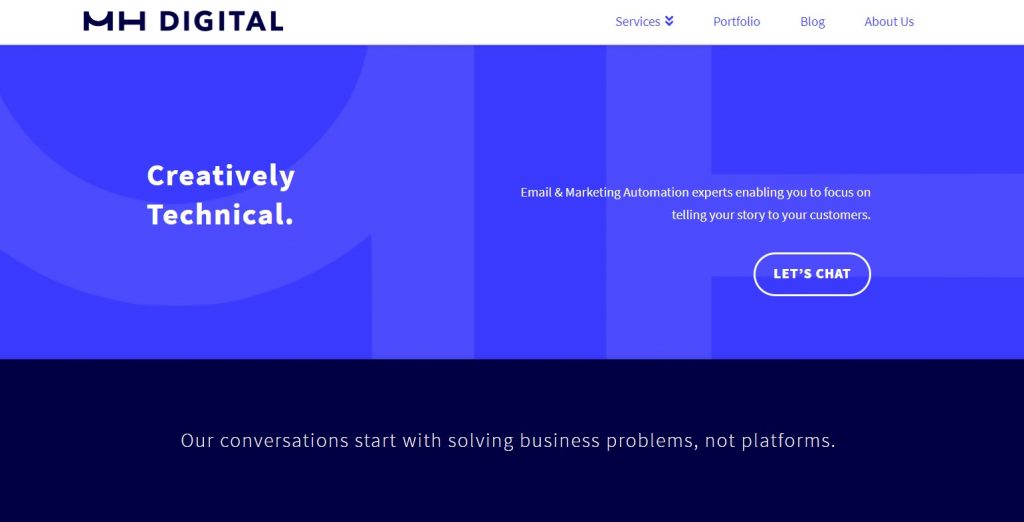 MH Digital Consulting Group is based in Denver, Colorado and is relatively new to the industry. From campaign development and implementation to ROI reporting, they offer a variety of email services.
In addition to email marketing, they can also help you with marketing automation and technical strategy. Brands like Purina and the Donut have used them for email design and development.
---

The Prospectr Marketing team boasts more than 220 combined years of marketing experience. They were founded in 2006 when Dan Piepho joined forces with his son to help businesses generate leads, develop new prospects and increase profits by means of an effective digital strategy.
Compared to some of the pricing of other email marketing agencies discussed in this blog post, Prospectr Marketing is expensive. They offer only two email marketing plans: a 6-month plan that costs $3000 per month plus commission and a 12-month plan that costs $2,500 plus commission. They also offer add-on services like an email newsletter for an extra $500 per month.
---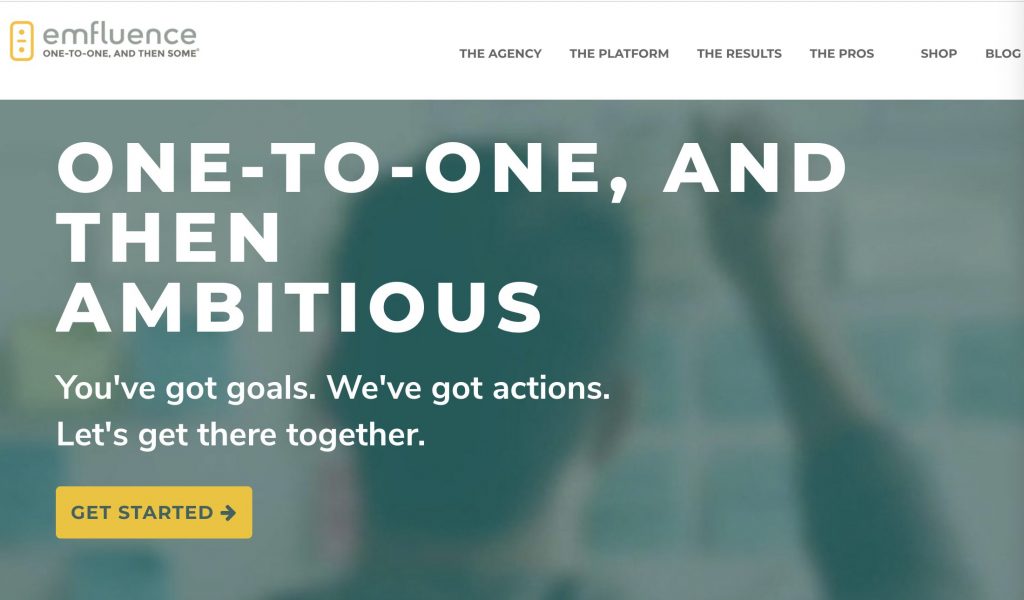 Founded in 2003, emfluence Digital Marketing offers a range of services that include digital strategy and planning, digital tools and optimization, marketing and web design and development. When email marketing first became a thing, they created their own email marketing tool to help businesses get the most from their campaigns.
They have worked with businesses in practically every industry. For example, they helped The Roasterie create a 13-part holiday email campaign and helped YRC Freight to leverage email to boost new account creation.
What sets them apart from other agencies is that they are process driven. They really focus on building a relationship with you and follow a comprehensive four-step process to help you achieve the goals.
---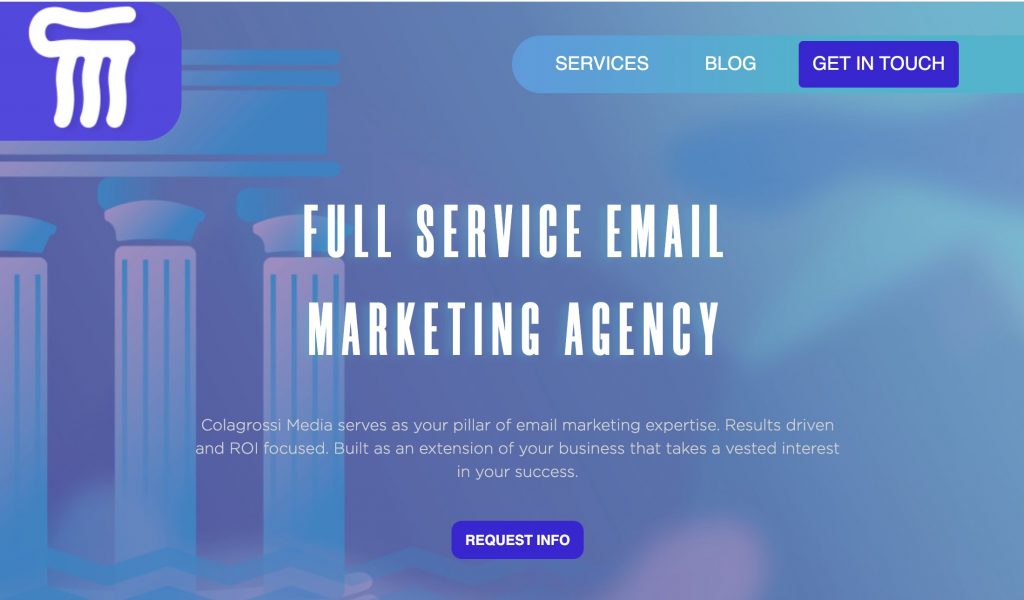 Based in Chicago, the team at Colagrossi Media focuses only on email marketing. Their services include: email channel management, analysis and strategy, automation, segmentation, auditing and optimization.
Unlike some of the other agencies that made our list, they are ESP neutral and will adapt to your platforms and systems. Their efforts have also been recognized by other lists too. The Manifest has named them as the top email marketing firm in Chicago in December 2020.
---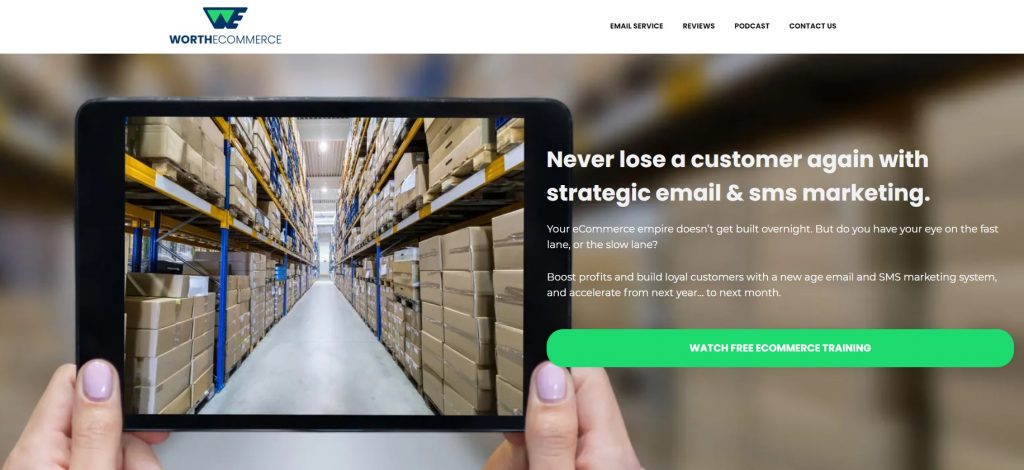 Worth eCommerce has been identified as one of the top-rated agencies by Clutch, Upwork and Klaviyo. In fact, they are so confident in their own abilities that if they do not grow your email revenue by at least 15% of your total revenue in 6 months, they will give you a complete refund.
What sets them apart is that they use their own Revenue Booster program. It is a fully managed monthly service that creates a powerhouse email system to improve sales and repeat customers. They will create an automated system with more than 100 personalized emails and will also send weekly manual campaigns. Though, unlike many of the other agencies, they work with only e-commerce businesses.
---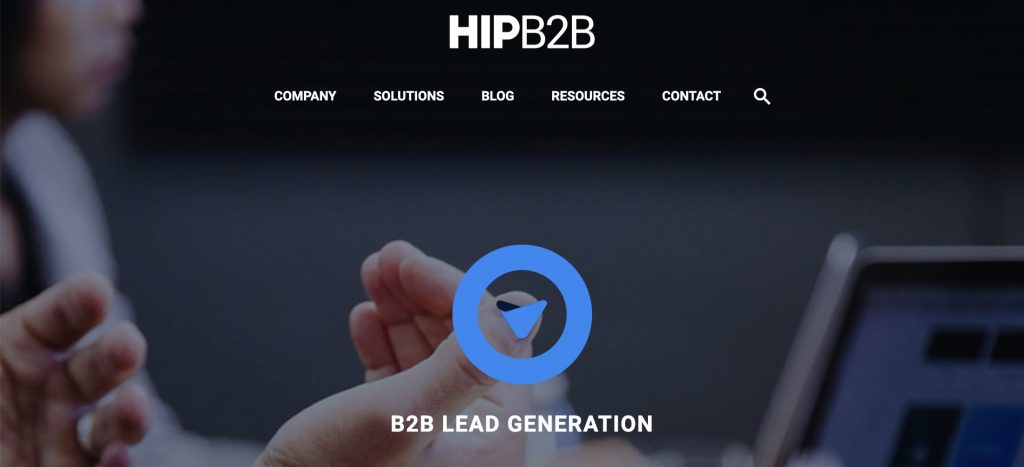 Based in New York, HIPB2B has been helping businesses for more than 10 years to use email effectively to generate demand. During this time, they have worked with clients like Aberdeen, Comcast Business, Dude Solutions and Marketo. They draw from a database of more than 28 million actively-validated contacts and will send emails to only the contacts that match your targeting criteria exactly.
---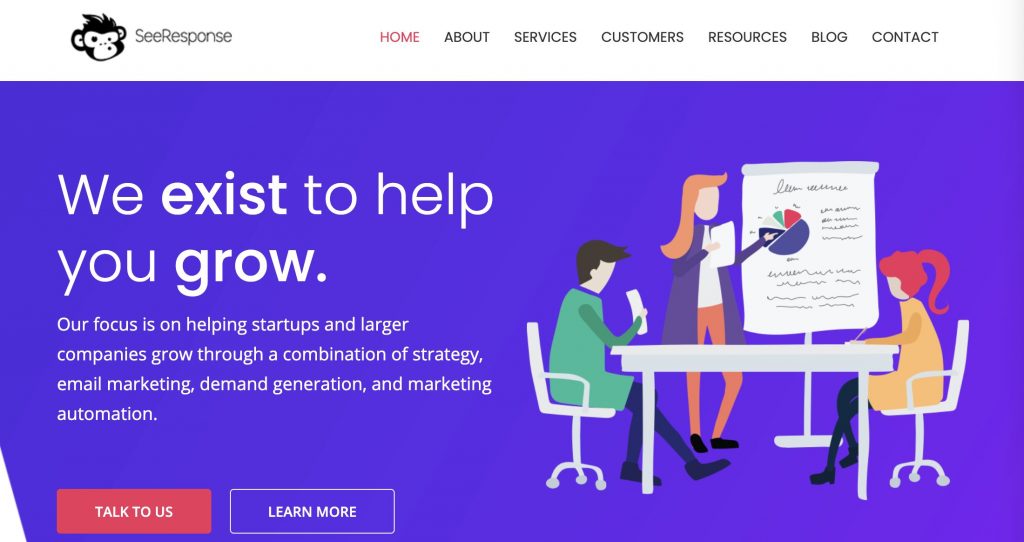 The team at SeeResponse offers a big selection of marketing services. In addition to email marketing, they can also help with persona marketing, marketing automation, influence marketing, HubSpot Inbound marketing and custom prospect list building.
With regards to email marketing specifically, their services include strategy development, list segmentation, quality assurance, and custom reporting to mention only a few. Their expertise has been recognized by HubSpot, Clutch, DesignRush and now our Top 19 Email Marketing Agencies list too.
---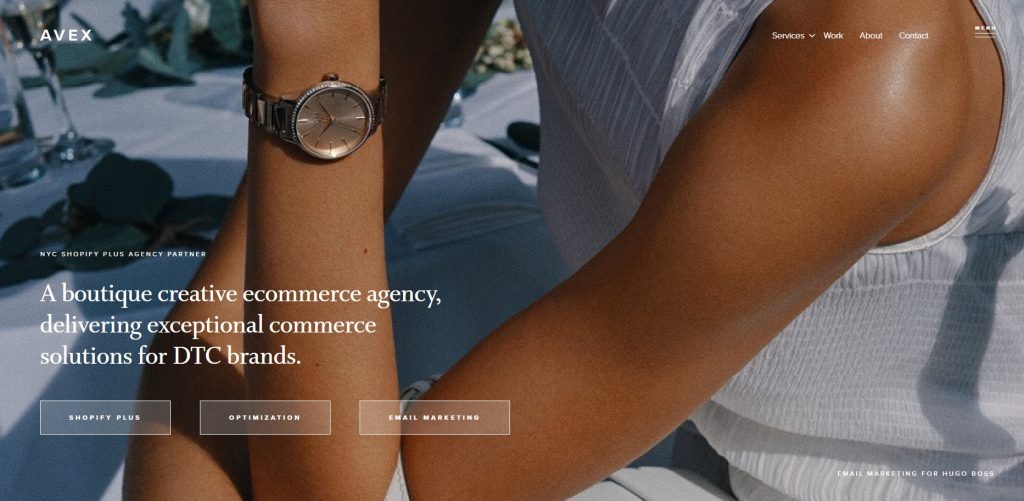 Avex is an official Klaviyo partner and uses Klaviyo to offer different revenue-generating email marketing services. Their services include: email growth strategy, list growth and segmentation, campaign creation, and Klaviyo flows. Based in New York, they describe themselves as a boutique creative e-commerce agency and specialists and experts in growth optimization. They have worked with brands like Hugo Boss and O'Neill.