Best for:
Businesses of all sizes
Although Later allows you to post to your Instagram, Twitter, Facebook, and Pinterest accounts, it has a strong emphasis on Instagram.
Like Instagram, Later, focuses on the visual. Indeed, unlike all the rest that start with a social message and then allow you to add an image, Later requires you to start a post by uploading an image. You then add suitable text to the image.
I initially found it hard to set up Later to allow automatic Instagram scheduling (having now used other social media managers with similar Instagram issues I have concluded that Instagram deliberately makes this challenging).
Eventually, once I had performed every step required to set up Later for Instagram publishing, it was much easier to use. It even has a Stories button you can use to schedule content for your Instagram Stories.
Later continues this graphical approach through the other social accounts. You still need an image to begin a Facebook post or Twitter tweet.
At least Later lets you store your graphic images in a Media Library. This allows to show quite some detail about each image you've used, add media notes, and even distinguish your used media from you unused media.
Higher pricing tiers of Later provide a Conversations module, to help you manage your Instagram comments. You can keep track of and respond to all your Instagram comments from your desktop computer.
---
Summary: Quick Jump Menu
---
Pricing
As a SaaS platform, access to Later is sold on a monthly basis. Later offers five paid plans, as well as a free plan. All paid plans can be paid on a monthly or yearly basis. They offer a 17% discount for annual payment on the paid plans.
Free, $0/mo

– 1 social account per platform, 1 user, 30 Instagram posts, 50 Twitter posts, 30 Facebook posts, 30 Pinterest posts, can schedule photos and upload unlimited photos to Media Library, basic Instagram analytics, can search and repost UGC

Plus, $9/mo

– 1 social account per platform, 1 user, 100 Instagram posts, unlimited Twitter posts, 100 Facebook posts, 100 Pinterest posts, can schedule photos and videos, and upload unlimited photos/videos to Media Library, can schedule Instagram Stories and multi-photo posts, basic and pro Instagram analytics, can search and repost UGC

Premium Business, $19/mo

– 2 social accounts per platform, 2 users, 250 Instagram posts, unlimited Twitter posts, 250 Facebook posts, 250 Pinterest posts, can schedule photos and videos, and upload unlimited photos / videos to Media Library, can schedule Instagram Stories and multi-photo posts, hashtag suggestions, basic and pro Instagram analytics, Pinterest analytics, can search and repost UGC

Starter Business, $29/mo

– 3 social accounts per platform, 3 users, unlimited Instagram, Twitter, Facebook, and Pinterest posts, can schedule photos and videos, and upload unlimited photos/videos to Media Library, can schedule Instagram Stories and multi-photo posts, hashtag suggestions, basic and pro Instagram analytics, Pinterest analytics, can search and repost UGC

Brand Business, $49/mo

– 5 social accounts per platform, 5 users, unlimited Instagram, Twitter, Facebook, and Pinterest posts, can schedule photos and videos, and upload unlimited photos/videos to Media Library, can schedule Instagram Stories and multi-photo posts, hashtag suggestions, basic and pro Instagram analytics, Pinterest analytics, can search and repost UGC
---
The Details
Later is a classic example of how one person's Heaven can be another's Hell. I can imagine that many Generation Z or Millennials will love Later's graphical focus, particularly as it places its primary emphasis on influencer darling, Instagram. As a writer, I found having to begin each new post with an image annoying. I typically start a social post with text and then find the best image to match it. Later requires that you follow the reverse work pattern.
However, I recognize that everybody is different and so I'm reviewing Later open-minded, despite my personal misgivings behind its basic work approach.
Later makes its intentions very clear when you first arrive on the platform, with the big, bold strapline, "Later - #1 Marketing Platform for Instagram".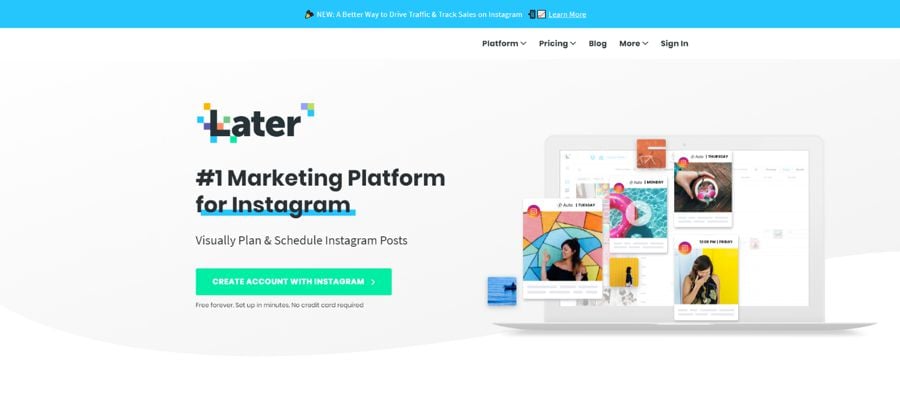 Although you can use Later with Twitter, and Facebook, there would be little reason to pick the product if you don't also have an Instagram account. The one possible exception would be for Pinterest fans, which, like Instagram, is visually based and plays to Later's strengths.
As with most of these social media managers, the first task you should do is to attach your social accounts. Naturally, it makes sense to begin with Instagram.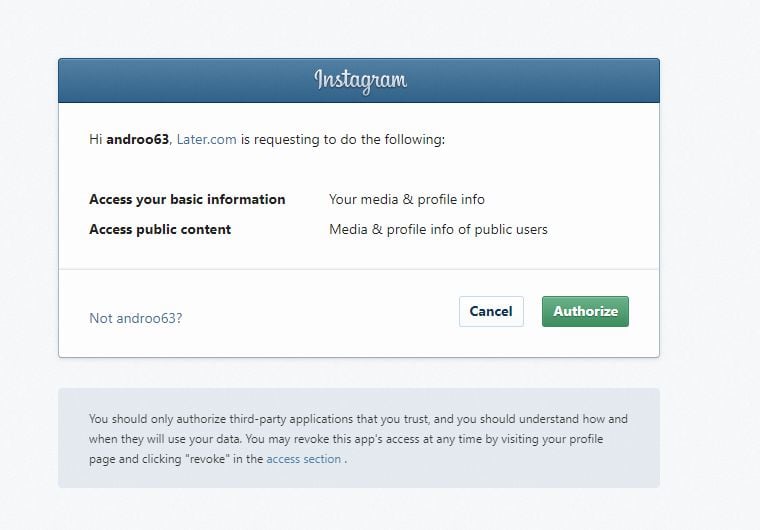 However, this was where I struck my first problem. To seamlessly use Instagram with Later you need to download and use Later's mobile app.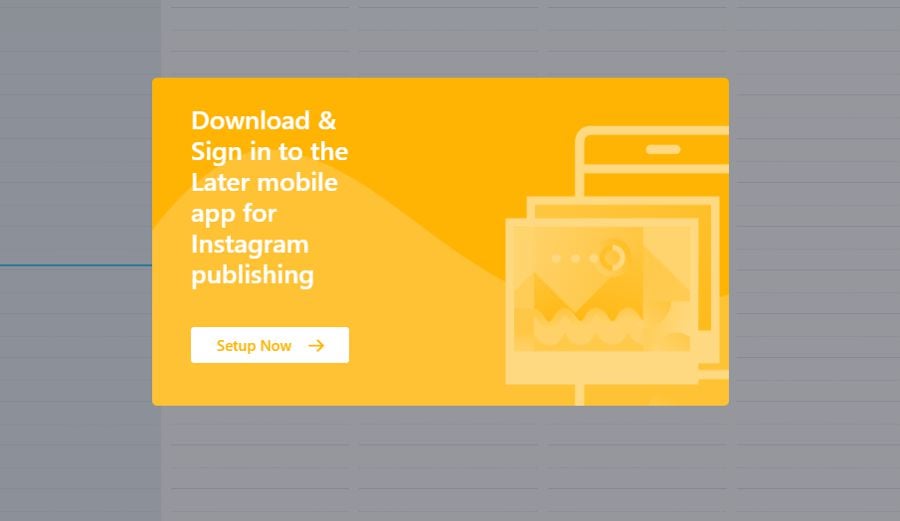 Another surprise I discovered at the beginning was that I couldn't automatically schedule posts to Instagram in the same way I could to Facebook or Twitter. The best I could do was to set things so I would receive a message on Later's mobile app at the correct time reminding me to make the intended post manually.
I later learned that this is a limitation of Instagram itself, rather than Later. There is a workaround though. You must ensure that your Instagram account is set up as a Business Profile and you have to attach it to a specified Facebook page.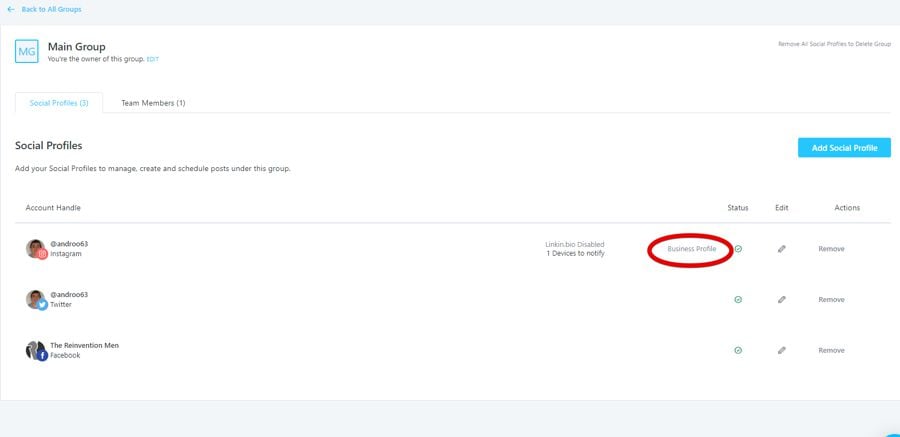 Once I had done that, my Instagram scheduling was fine. I must admit that at the time I tested this I thought it was extraordinarily convoluted and challenging. Having tried a few other products since I must confess that Later has streamlined this to be better than much of the competition.
In comparison, Facebook and Twitter were straightforward to set up, although they are clearly more of an afterthought on Later, compared with Instagram. I didn't try Pinterest, but I imagine it will work fine, as that social network hasn't introduced any rules affecting their API and being graphically-based it seems ideal for Later's central concept.
The heart of Later is its Media Library. You begin every post you make by either uploading new media to the library or reusing media you've already uploaded.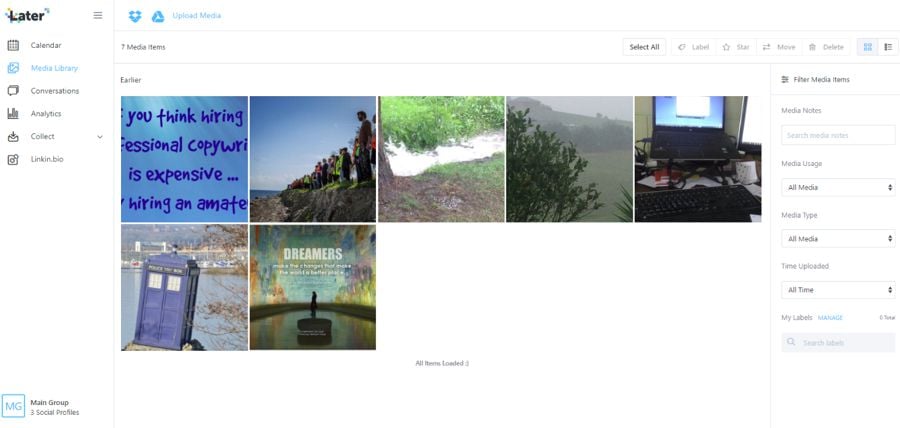 You can add notes and labels to your media items and add a Star to any image you wish to highlight. It also keeps a record of any time you have used a media item in the past. You can filter your images by Label or Star, by media usage, type of media, and by the time frame in which you uploaded your media.
The heart of any social media scheduling app is, of course, scheduling your posts. Once you have got over any problems you may have with an Instagram account that doesn't fit the rules (e.g., using a Personal Profile) you can begin to schedule your posts. The free plan limits you to scheduling static images, but the higher plans add in videos, Stories, and multi-photo posts. You can also tag locations and users if you have a paid plan and receive hashtag suggestions on the business plans. While the different plans have limits on the number of posts you can share on each network, you can store unlimited media, even on the free plan. This means that you can effectively build up evergreen content, particularly if you like to share items like infographics.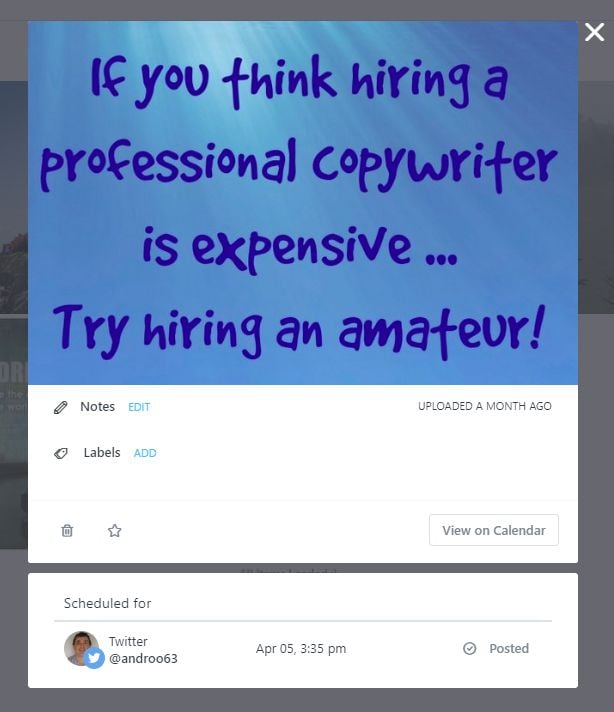 You begin each post by selecting an item from your Media Library (uploading a new image/video/GIF if you wish). You then fill in your caption, adding any links and hashtags. Later suggest hashtags if you need inspiration.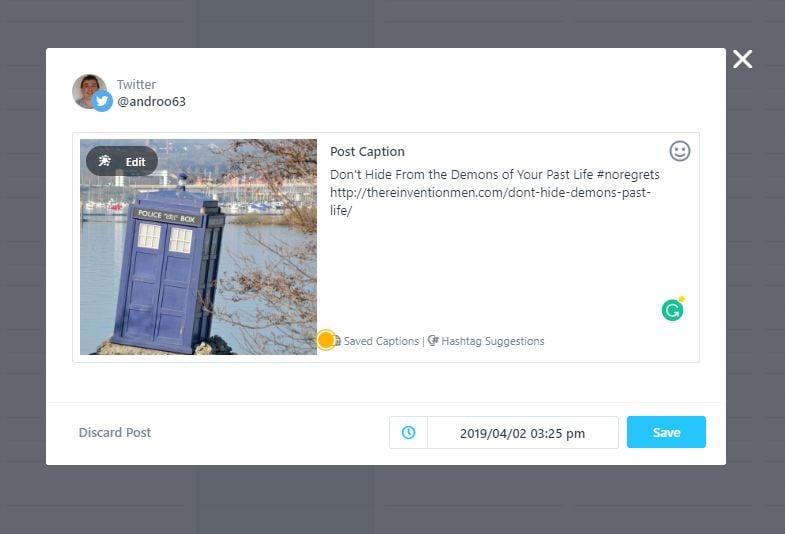 Later also offers Quick Schedule, where you can simply drag and drop posts onto time slots in your schedule. This is effectively Later's equivalent to a queue, as used by some of the opposition apps. You create a weekly time slot to publish content, and then you can simply drag and drop media onto your calendar. Later populates your next available time slot with your media content. Note that for auto-publish to work with Instagram you must restrict your posts to having a single image or video (another Instagram API requirement).
One of Later's Instagram-only features is Search & Repost. This allows you to search Instagram posts by #hashtags to find suitable content for reposting. If you find a post you like, you can add it to your media library and schedule to repost it at an appropriate time in the future. It is a pity that Later doesn't offer the same features for Twitter and Facebook, as unlike much of the competition it doesn't offer other ways to find content to share on those platforms.
If you have the Free Plan, Later offers you (very) basic statistics about your Instagram account. If you buy one of the paid plans, you are given access to more detailed statistics about your Instagram post-performance, as well as your audience and any Instagram Stories you create. Paid users can also access stats relating to their Pinterest posts. The business-level plans also add analytics about your Instagram hashtags
Other interesting features restricted to holders of a business plan are Conversations and Contributors. Conversations allow you to manage your Instagram comments directly inside Later. With Collect, you can collect submissions from your top content creators and invite anybody to upload media, even if they don't have a Later account.
The Later business plans also give access to Linkin.bio which is excellent if you want to engage n eCommerce directly from your Instagram account. You can use it to build a clickable shoppable Instagram feed so you can direct your followers to the right content and product pages. You can connect your Shopify store to Later and start tagging your Shopify products to your Linkin.bio page.
---
Conclusion
Later is clearly designed for regular LinkedIn users. While you can also post to Facebook, Twitter, and Pinterest, these almost appear like an afterthought – offered so that Instagrammers can also post to their other accounts without needing a second social media management app.
Instagram makes automatic scheduling using a social media management app tricky, but Later does an excellent job of working around Instagram's imposed hurdles.
If your sole purpose is to find an easy way to post to Instagram (and perhaps some cross-posting to other social accounts) then Later could be ideal for you. It lacks most of the heavy-duty features offered by some of the other apps, such as social listening, and in-depth reporting, but then it isn't priced at that level, either. The top plan (at $49/month) is less than the lowest plan for some of the more corporate-focused opposition programs.
Just, make sure that you follow the rules for setting up your Instagram account carefully. You need to have a business profile linked to a Facebook page to use Later to its full capability.
Frequently Asked Questions
What can I do with Later?
Later offers a range of services that include: analytics, automated publishing, content management, multi-account management, post scheduling, and reporting. Later allows you to post to Twitter, Facebook, Pintrest and Instagram, with Instagram being its main focus. To begin a post, you first need to upload an image and then add relevant text to the image.
Can I use Later for free?
Yes, Later has a free plan as one of its five pricing plans. With the free plan, you will have 1 social set, 1 user, 30 posts per social profile and basic Instagram analytics. The number of photos you can upload to the Media Library is unlimited, but you will be able to schedule only static images. The free plan also does not offer stats relating to Pintrest posts, analytics about Instagram hashtags or the Conversation and Contributor feature.
How much does the Later app cost?
Later has different pricing plans: one free plan and three paid plans. Since writing this article, the paid plans have changed. Currently, their paid plans are: Starter (from $12.5 per month), Growth (from $20.5 per month), and Advanced (from $33 per month). Depending on how many additional social sets and extra users you require, the pricing will change. If you opt to make an annual payment, you can get a 17% discount.
What are some of the cons of using Later?
Some users will find its graphical focus annoying. You have to start each new post with an image before you can add text. Similarly to most other social media management platforms, it is quite hard to schedule posts to Instagram. Though, it should be noted that this is because of a limitation of Instagram and not really the app itself. It does not offer heavy-duty features like social listening and detailed reporting, but considering what it costs it is still good value for money.
Is Later for Instagram users only?
No, you can also use Later to post to Twitter, Pintrest and Facebook. That being said, its main focus is Instagram (which it's very clear about). If you don't have an Instagram account and mainly use Facebook and Twitter, it doesn't make sense for you to use Later. It's also quite useful for Pintrest which also emphasizes visuals like Instagram. In short, while you can use it for other platforms as well, it doesn't work as nicely with other platforms as it works with Instagram.
Later – Social Media Management Software
Features

Ease of Use

Support
Later
Later is the social media management app for people who think visually (and don't have complex corporate needs). It requires you to focus on your visual media first, adding text, links, and hashtags later. Excellent for Instagrammers, less so for those who prefer to focus on other social platforms.

Services Offered: AnalyticsAutomated PublishingContent ManagementMulti-Account ManagementPost SchedulingReporting/Analytics
Channels: Instagram, Twitter, Facebook, Pinterest