Best for:
Medium-sized to enterprise companies
Overview
Falcon was launched in Copenhagen in 2010. Founder and CEO Ulrik Bo Larsen saw the opportunity to give brands a chance at social media dominance. In 2010, the world was waking up to the power of social media, and with platforms growing rapidly, the importance of brands taking a proactive position was crucial.
Falcon is a social media listening, publishing, advertising, measurement, and customer data management platform. It is designed to give brands a stronger competitive advantage by offering the best and most accurate data to make informed decisions. It's easy to see the value of these features. They offer the kind of insights that brands must have to be effective. As social media continues to evolve, access to data and interpreting what your market is up to is essential.
Today, Falcon has a global footprint. With offices in New York, Berlin, Budapest, Sofia, Melbourne, and Chennai, and employees and customers spread across the globe, they've proven that simple ideas can lead to growth. Falcon's social media marketing platform makes social media easier to understand and navigate, and that's a feat few tools can master.
---
---
Pricing
Essentials $129/mo (with 14-day trial)
Content Calendar & Campaign Planner, Advanced analytics dashboards, Community management, and In-app support.
Full Suite Request a demo.
Unlimited channels, reporting & teams, Content Calendar & Campaign Planner, Social media advertising, Advanced analytics dashboards, Competitor benchmarking, Collaboration & approval flows, and Custom onboarding & support 24/7
---
The Details
Falcon's approach to social media marketing is to break it down into what matters most. The platform is designed to give social media professionals access to a structured set of features that help listen, engage, measure, and publish content that makes a difference.
Platforms Supported: Facebook, Instagram, Twitter, LinkedIn, WhatsApp, and YouTube.
Tools: Mobile apps (iOS and Android), Instagram Widget
---
Feature Breakdown
---
Social Media Management
Social media management is a broad term. It includes everything from calendar and content to tracking how your posts perform. Here's what Falcon's social media management offers:
A Unified calendar: Your content calendar is one of the most important tools you'll work with. It provides a view of all scheduled content. You'll find posts scheduled by date and clearly identifiable by social platforms. You can plan, schedule, edit, and post across multiple networks.
Campaign Planner: Falcon also offers Campaign Planner, a way to develop social campaigns in collaboration with team members. You can map, create a brief, roll-out, and collaborate on campaigns for all social platforms.
Content Pool and Rich-media formats: It's no secret that you must be pushing out a variety of post types to keep followers engaged. Falcon helps by supporting image, video, Instagram Stories, and Facebook carousels. All content is safely stored in Falcon's version of a shared media library called the "Content Pool". All assets can be categorized for repurposing, and whenever you publish a post, it's automatically added to the library. Content Pool also integrates with your digital asset management tool or DAM, and or favorite cloud storage platform.
Approval Flows: Planning effective social media campaigns requires an all-hands-on-deck approach. Often, this presents brands with a number of challenges. Who should have access to certain information, who should be able to edit or delete content, and whose approval is required before anything is published? Falcon's solution is a set of roles, approval processes, and an audit trail to boost quality. Together, these features streamline content planning and creation, and ensure quality standards are met.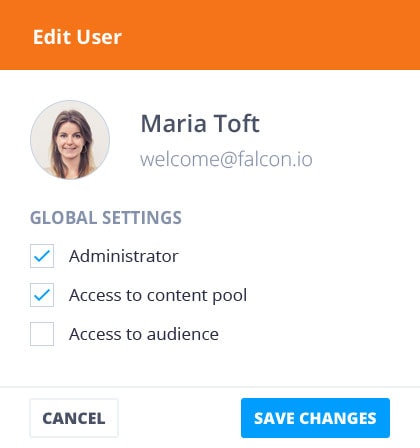 Notes and alerts: Approval flows and collaboration also come with the option to activate email notifications and share notes. This means your team never misses a beat.
URL Shortener: URL shorteners are common, yet essential. With character limitations on Twitter, and the need to make content as appealing as possible, Falcon offers clients two options. The first is to use your own short URL. It can be integrated into your Falcon account with the help of support. The second is to leverage Falcon's URL shortener with the fal.cn prefix. Because URLs help provide important analytical data, Falcon ensures that all custom URLs include tracking UTMs.
Agency collaboration: If you work with an agency, you'll love Falcon. It provides access to agencies to smooth your collaborative processes. You can control all access and set permissions too.
Mobile apps: It's somewhat standard to offer an on-the-go solution for busy social media managers. Falcon provides a collection of iOS and Android apps. These include:
Engage

: a way to manage your inbox from your phone, allowing for content moderation, response, and filtering.

Quick Publish

: helps publish content on the go.

Hub

: designed to review scheduled content, receive notifications when content is engaged by followers, and collaborate with team members.
Mobile apps are helpful, but three may be a bit too much to handle. Users will have to open, exit, toggle between all three to be effective.
---
Social Media Advertising
Social media advertising is big business. And to capitalize on reach, you can promote posts through Facebook and Instagram ads within Publish. Publish is a clean and intuitive tool that manages all ads in one place. The tool allows:
Cross-channel advertising: Schedule and post ads on Facebook and Instagram, and use Click-to-WhatsApp ads.
Automation : Set and apply Smart Labels to automatically activate targeting and objectives on organic posts. This streamlines post creation, allowing you to ensure all promoted content is optimized automatically.
Use saved target audiences: Leverage your audience data or sync it dynamically with your CRM for more impactful and personalized advertising.
Run Ads With Customer Durations: Pick set ad run-times and avoid promoting outdated content.
Automated ROI tracking: Use custom tracking links and automatically enable pixels for all your eligible ads.
Label filtering for insights: Use labels to draw insights based on campaigns and set automatic parameters for posts.
Real-time insights: Access more than 100 metrics for smarter campaign optimization. Track metrics related to core measurables like placements, audiences, and objectives.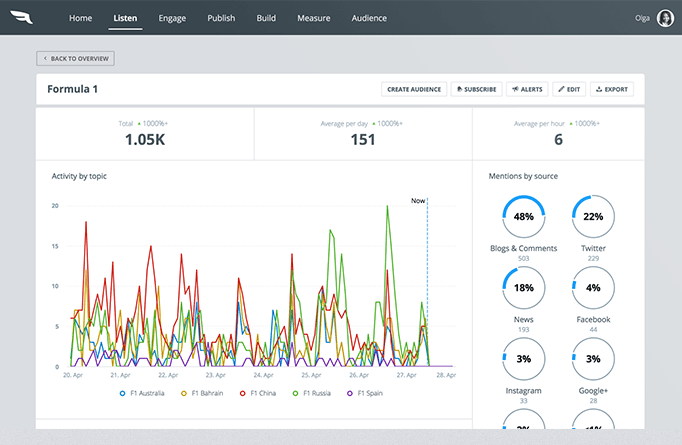 ---
Social Listening
Social listening tools are often filled with somewhat complex features and hard to make-out visuals. That's not the case with Falcon. You get a clear picture of what's happening and who's involved. You can:
Track Trends: Identify popular topics and hashtags to follow and design campaigns and content for better reach and engagement.
Monitor Your Brand: Keep tabs on conversations taking place around your brand and products.
Create Custom Queries: Track anything from brand names, topics, and keywords to phrases, and refine your queries with advanced parameters.
Track Sentiment and Monitor Multiple Languages: Having a global audience means being able to track and engage on a global scale. Falcon offers sentiment analysis in multiple languages including German, Mandarin, and Spanish. Mentions are marked positive, neutral, or negative to help you prioritize engagement.
Filter Extensively: Access and view data by keyword, source, demographics, influencers, and content type. This is all made possible by Falcon's unified filter feature.
Influencer Identification: Identify social media influencers interacting with your topics of interest and create strategies for collaboration and brand growth.
Use Activity Alerts: When a fire breaks out, you'll be the first to know. Falcon allows users to set notifications to alert you if there is a spike in specific listen projects.
Track Campaigns: Keep an eye on campaign performance and compare it in the Projects Overview tab.
Email updates: Set up automated reports of trending topics and mentions that can be sent directly in your inbox.
Create Custom Audiences: Leverage any Social Listening project and produce an audience from the individual profiles detected. This makes expanding reach simpler, allowing for more effective brand awareness campaigns.
Export Data: Export your Social Listening project data via email with a link to a CSV download.
---
Social Engagement
Social engagement is a full-time job. And when you have multiple profiles to manage, the ease at which you can access messages and comments directly influences how well you handle the storm.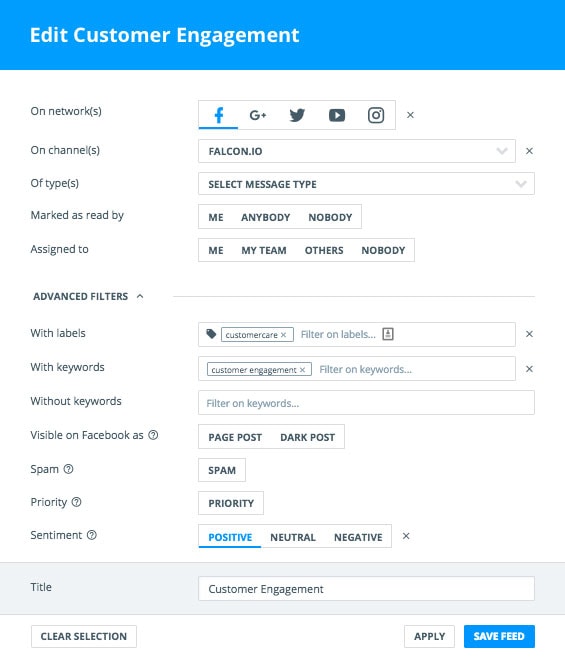 Falcon lets users design their own inbox. You can include multiple feeds, labels, and use filters. You can also create custom response templates for quicker replies and bulk actions, all of which are accessible from the Engage mobile app. Your unified inbox includes:
Multiple Social Platforms: Access content from Facebook, Twitter, Instagram, LinkedIn, WhatsApp and YouTube.
Custom feeds: Choose what you want to see by creating a unique feed. Arrange it by channel, assignment, sentiment, or unread.
Access Audience Profiles: When you're messaged by an existing contact, their profile cards appear beside messages. This helps you create more personalized responses and is also powerful when leveraging CRM integrations like HubSpot, Salesforce, and Microsoft Dynamics.
Custom templates: Develop your own ready-to-use templates to quickly answer common queries.
Label Conversations: Labels help segment conversations and profiles, and also give them context. You can identify people by title, campaign, and more.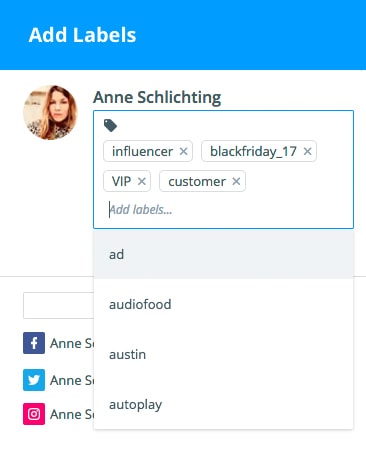 Filter Searches: No inbox would be complete without a powerful filter. Falcon lets you search by keyword, pulling results from all messages in your inbox.
Bulk actions: Complete large updates to messages with a collection of simple actions. You can:
Mark/unmark as spam

Mark/unmark as priority

Sentiment

Like (for Facebook comments & replies only)

Like (for Tweets only)

Delete

Mark as read
---
Analytics
Analytics is the lifeblood of all social media strategies. But often, making sense of what's in front of you isn't that easy. Falcon does more than just track the basics, it goes further to track over 600 metrics.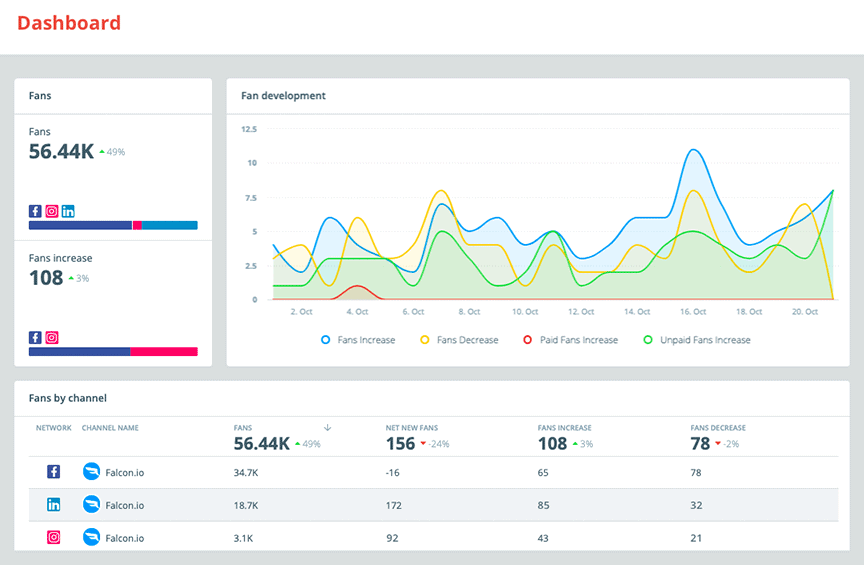 You'll also get to see key indicators like fan increase over time and by channel, and data is also available in real-time. Here's a look at the analytics features you get:
Multiple networks & Post level metrics: Dive into analytics for Facebook, Instagram and Twitter. While not on offer for Twitter, WhatsApp, or YouTube, Falcon provides 100+ post metrics for Facebook and Instagram, and 600+ additional metrics that can be downloaded via CSV and via API. These include organic, paid and viral impressions, reach, post level and page level reactions, demographic metrics about your followers, and video views on page and post level.
Custom reports: Create your own dashboard to track metrics that matter most. The platform offers an intuitive drag-and-drop builder that also allows you to order and resize individual widgets.
Unlimited reporting: Reporting is a mainstay but can be limited on some platforms. Falcon's reports, however, are unlimited. You can set templates and clone and edit them as you see fit. They can also be emailed to stakeholders like clockwork.
Team performance tracking: Track and monitor team performance using set service targets to help measure customer response time and ensure that engagement is speedy and effective.
Easy exporting: Reports can be exported as XLS, CSV, PDF, JPG or PNG.
---
Customer Experience Management
Customer management isn't the first thing social managers think of when considering a new social media marketing platform. But things are different with Falcon, and we think this is a smarter approach. By providing unique features like profile cards, CRM integrations, and merging client information to create enriched profiles, you're able to better understand who your audience really is. And that's worth more than you'll spend on Falcon. The world has a data problem, there's just too much of it. So if you can distill what you have into an easy-to-make-out view, you're ahead of the game. Customer management features include:
Individual Profile Cards: When engaging with clients, Falcon automatically lists social messages, comments, or mentions on owned channels.
An Aggregated View: Easily see who in your audience is discussing particular topics and sharing hashtags. Use this information to empower campaigns and engagement with clients.
An Audience Overview: View overall numbers, networks, key demographics, and top-trending topics in one place.
Track Non-Owned Channel Mentions: Easily track any social mentions made by profiles that meet your search queries are also logged.
CRM Integration: Create one-way sync with Salesforce, HubSpot, and MS Dynamics to centralize data and create enriched profiles or smarter insights.
Network merging: Find and merge all of an individual's social profiles into a single profile card activity feed and develop a better understanding of how your clients take to messaging and interact with content on various platforms.
Labels: Optimize filtering and audience segmentation by adding labels to profiles to quickly find people with similar interests, titles, or behaviors.
In-depth filtering: Leverage filters and find profiles by characteristics as diverse as hashtag, network, and gender.
Custom/lookalike audiences: Use custom and/or lookalike audiences and import them into Falcon or export them to your Facebook Ads Manager.
---
Conclusion
Falcon offers more than what you'd expect from a social media marketing platform. By making some well-informed decisions, they created a product that solves critical problems for brands who want to lead on social media. Combining listening, publishing, engagement, analytics, and reporting tools into one platform, they've made the process of tackling social media simpler.
We like how intuitive the interface is, and that it's largely customizable. We also appreciate how flexible Falcon's search, filtering, labeling, and tracking capabilities are. These save users tons of time in a day. We're also fans of their approach to managing teams with workflows, roles and permissions, and the ability to collaborate.
While they've done their bit to provide access via a collection of mobile apps, having to work with three apps is a little challenging, especially when on the go. But we'll easily excuse this minor setback given the amount of functionality users get is well worth the hassle.
If you're looking for a new social media marketing platform, consider Falcon. It's more capable than most, easy to navigate, and is a powerful productivity tool.
Frequently Asked Questions
What is Falcon?
Falcon is a social media listening, engagement, publishing, advertising, and customer management data platform.
How much is Falcon?
Falcon offers two plans. These include the Essentials plan which is ideal for single users or small teams and costs $129/mo. The Full Suite is targeted at larger organizations and pricing is available on request.
What does Falcon measure?
Falcon tracks a collection of analytics across social media platforms. Metrics are categorized by organic, paid and viral impressions, reach, post level and page level reactions, demographic metrics about your followers, and video views on page and post level.
Falcon.io
Features

Ease of Use

Support

The Platform for Every Kind of Social Media Marketer.
Services Offered: AnalyticsAutomated PublishingContent ManagementKeyword FilteringMulti-Account ManagementPost SchedulingSocial Media MonitoringHashtag TrackingSentiment AnalysisReputation ManagementSocial Media Management
Channels: Facebook, Instagram, Twitter, LinkedIn, WhatsApp, YouTube.